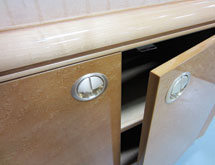 Odyssey Aerospace Components
Making owners of private aircraft feel as if they are in a five-star hotel rather than flying in an airplane is largely the result of a cabin's furnishings. Producing aircraft interior components with a world-class level of luxury and quality that their owners demand while still meeting the aviation industry's requirements for weight and flammability is the specialty of Odyssey Aerospace Components.
Owners of Greenpoint Technologies – which has been furnishing custom interior completions for private aircraft in Kirkland, Wash., for more than 25 years – founded Odyssey Aerospace Components in 2008 in Denton, Texas.
Odyssey's origination ensured a timely supply of interior components with exceptional quality. Besides supplying interiors to Greenpoint, Odyssey supplies components to additional customers, some of them located internationally.
Because of the aviation industry's requirements for weight and flammability of components, what looks like solid wood cabinets on aircraft usually are not. Instead, skilled craftsmen apply veneers of exotic woods in creative and intricate patterns and designs to lightweight aluminum composite panels. The panels may also be covered with alternate finishes, such as stone, as specified by customers.
"These are some of the most ornate, world-class-quality interiors and components that you'll find anywhere," declares Trey Bryson, president of Odyssey Aerospace Components.
"It's never just good enough – that's not the type of clientele we serve or the expectations we have for ourselves. This group of craftsmen has been together for many years."
Locating craftspeople of this caliber is a challenge. "What really sets potential candidates apart is how quality-driven they are," Bryson says. "We do find some success with home cabinet builders. However, when they see what we do, there is a shock-and-awe factor compared to what they expected.
"They were thinking of kitchen-type furniture, and it is so much more than that. I enjoy their expressions when they see the products we produce. It's a complex and intricate manufacturing process to deliver the quality and finish expectations our customers demand."
Monuments to Quality
Odyssey Aerospace Components specializes in the design, engineering and manufacturing of custom, turnkey cabinetry solutions. The company also offers precision machining with full CNC capability and component fabrication. Odyssey supplies interiors and cabinetry for Boeing Business Jets, Airbus, Bombardier and Gulfstream aircraft. The company produces closets, credenzas, galleys, vanities, ceilings, alcoves, peripheral panels and headliners. "We use the terms 'cabinet' and 'monument' interchangeably," Bryson says.
The capacity of the company's 42,000-square-foot plant in Denton allows for three major projects such as widebody interiors in work concurrently along with five to 10 minor ones.
"We build all of our machined parts internally," Bryson says. "Our cabinet manufacturing is exclusively done in-house and made from flat panels. We build and install our own wire harnesses and integrate any plumbing and electrical components the cabinet requires." Cabinets receive a clear, high-gloss polyester finish and are kept in a 90-degree drying room for 24 hours between coats.
Odyssey Aerospace Components formed internal production teams of engineers, program managers and manufacturing personnel to implement lean manufacturing techniques. These include a complete reorganization of the factory floor to increase cell manufacturing, reducing the number of steps in a process and eliminating wasted time.
"We have seen double-digit reduction percentages in cycle time," Bryson asserts. "We believe we can save up to 20 percent of the labor and manufacturing flow time with these improvements. We typically don't build the same monument twice. So virtually every component, every monument is a prototype. A common misperception in the custom aviation industry is that lean manufacturing is unachievable in this environment. Nothing could be further from the truth. There are many areas to apply lean manufacturing even in a custom environment, and we've proven it works."
3-D Modeling
Because assembly on the aircraft occurs in sections, custom interiors require exact fitting. "We design, engineer and create 3-D modeling of all the monuments we build, and do a virtual fit of those models in the airframe," Bryson says. "The 3-D modeling indicates interferences or design issues, which in turn improves our engineering. Some in the industry call it plug-and-play. You set it down, bolt it in, hook it up and you're ready to go. The results are pretty impressive."
A complicating factor is that everything in the interior must fit through the aircraft's existing doors. "Many monuments are modular and fit as a bolted-together unit," Bryson says. "We engineer and evaluate where to put the split lines for the best fit, form and function. 3-D modeling helps with this as well."
Bryson attributes the success of Odyssey Aerospace Components to its quality employees.
"The artistry talent we have in-house is incredible," Bryson emphasizes. "This is a very hands-on, craftsmanship-driven type of business. We have some automated processes, but many men's and women's hands touch and create these cabinets. Their pride and workmanship in what we produce – and have consistently done so over the years – is a huge part of our success."