Charging forward
OE Electrics picked up some of the most prestigious UK business awards in 2019, which reflect the business' inspirational development and remarkable international growth
David Masters – Group Managing Director of OE Electrics – had every reason to be in sparkling mood during our conversation at the beginning of December. The night before, his company had won the 'Product of the Year' category for Lighting, Technology, and Accessories at the Mixology North Awards with its PLY desktop power plug socket and USB charger. It was the latest of a series of acknowledgments for the designer and manufacturer in 2019, the others including winning a Queen's Award for Enterprise for Export and being named as one of the '1000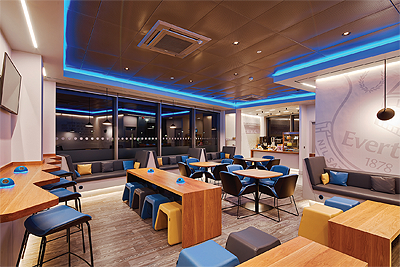 Companies to Inspire Britain' by the London Stock Exchange Group.
"We are an innovative company with a really high reputation for quality and we invest a lot in our people, technology, and R&D, constantly bringing out new products to stay ahead of the competition. It is this investment that has been recognised by the external bodies. We are all rightly proud of these awards, because each and every one of us has contributed to this success and deserves to feel part of it," discusses David.
The Queen's Award won by OE Electrics demonstrates unequivocally that the business' international exploits are meeting with success. While the UK and the Middle East have traditionally been the strongest markets for the company, it is now focusing on Europe, working closely with its partners, and growing all over the continent. "We have very desirable products, because of their advanced technology, but also because of their aesthetics. Customers love the designs we offer them and we often say that we work in a fashion industry where the physical characteristics of a charger or a socket are key," David explains.
He adds: "Trends and customer requirements vary across countries. Sockets often differ in size and shape, so the most important thing is to do your research and understand what works well in every specific place. Thanks to our flexible manufacturing system and good stock level, we have the ability to adapt our products to fit a particular country and this is why we are being so successful in multiple markets."
In support of its ambitions in Europe, OE Electrics opened a facility in Germany at the beginning of the year, which is now starting to pick up pace. Coinciding with the launch of the site, the company released its QikFit range at the Interzum exhibition in Cologne. "There was a lot of interest for the product at the trade fair, which has given us confidence that we are doing the right thing in Germany. It is still a work in progress, but the early signs are encouraging.
"As regards QikFit, it is a modular, plug and play system that comprises a number of components, which allows customers to create their own mixed range of power data and USB charging," David continues. "It is a low-cost and flexible solution, which requires minimum skills to assemble. Owing to the efficiency of our electrical assembly process, we can have a range of products that can be put together. As discussed earlier, most countries have their own type of socket, so variation is pivotal to serving their requirements."
One main challenge for OE Electrics at the moment is keeping up with the ever-changing needs of mobile devices that are constantly updating their electronics. The company has to keep pace of that and, in the meantime, address the increasing necessity for charging solutions that have to be set up in more locations than ever. "People are constantly looking for some sort of charging solution, whether indoors or outdoors, in order to keep their battery topped up. Due to the fact that their mobile phone is absolutely essential in that they can access much-needed apps and even flight tickets, for example, we have to come up with convenient ways to enable the on-the-go charging of a mobile device," David maintains.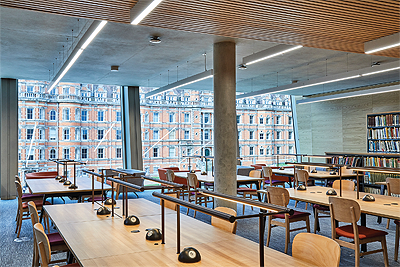 Indeed, what started as a company predominantly operating in the office environment sector, has now grown into a sought-after entity delivering its products across a vast array of fields, such as airports, universities, schools, and auditoriums. Another growing market for OE Electrics presently, is football stadiums. Recently, the organisation has had installed some of its solutions at what is widely believed to be England's finest ground – Tottenham Hotspur's new stadium – having also been specified by AFL Architects who were commissioned by Everton FC to install its PLUTO and PIXEL units at the club's new Academy Family Lounge.
"We are looking for a bit more of the same in the next year or so, with regards to further expansion and cementing our position in these industries," David shares his expectations for the coming months. "We are very excited about a new concept we are going to launch next year, which, hopefully, will provide a solution for some of the pressing demands we are facing."
In conclusion, the Managing Director pays homage to OE Electrics' late founder, Richard Hobbs, who sadly passed away earlier this year. "He is the reason why we are all here today. Despite his loss, we remain a family business, with his son – Tim – being our Technical Director. We have a strategy to grow across the world and we are confident that the business is strong enough to achieve significant global expansion. Richard would have loved that and it will be the best we can do to honour his legacy."
OE Electrics
Products: Power and data distribution solutions