Always innovating
Every so often an industry needs a shake-up, taking it to the next level and pushing the boundaries of what is considered normal. Over recent years, OE Electrics has repeatedly stepped up to that mark: creating iconic power and USB charging solutions, introducing patented features, and proactively developing charging technology in advance of not only its competitors, but also the client market realising it is even needed
Since 1993, when Richard and Tim Hobbs bought Office Electrics (the former name of OE Electrics), their ambition was to make sure that the company was constantly ahead of the curve in
the business of supplying power and data solutions to the commercial furniture industry. "Office Electrics had been set up seven years earlier to cater for the emerging need of plug and play solutions in modular office furniture, especially given the increasing prevalence of open plan offices in the late 1980's," Tim begins.
"At first, we simply distributed a third-party under-desk module, but in 2000, realising the importance of making power outlets a visual desktop product, we started manufacturing ourselves and have since changed perceptions throughout the commercial furniture industry. Because our products are installed in or on state-of-the-art furniture, they have to look good and their design has to match the furniture's characteristics. We really wanted to emphasise that we are the fashion end of the electrical industry and the launch of POLAR-ICE, in 2008, was the moment we were recognised as being truly different to everybody else in that regard."
POLAR-ICE set the ball rolling for the development of a series of round sockets by OE Electrics, which, in turn, allowed the company to further evolve its capabilities and bring the now iconic hemispherical dome of PLUTO to the marketplace in 2012. "These products completely changed the face of electrics for commercial furniture," Tim comments. "They appeared at a time when furniture was becoming increasingly mobile and our clients were asking us to come up with solutions to accommodate this trend, especially in more informal, breakout areas where people are not necessarily working at linear workstations."
Together with PLUTO, OE Electrics launched its first USB charger, cleverly branding it "TUF" (Twin USB Fast), and assumed a leadership position, expanding the usability and improving the efficiency of USB charging. "First of all, we increased the power output from the charger from two amps to five amps, so that you can have two iPads charged from the same USB charger. We were also first to introduce the Type-C USB connector to the market and in the next couple of months, we are releasing our 6th generation TUF charger, that incorporates full voltage range 'Type C Power Delivery'. After that, we are planning to increase TUF's power again, so that it can charge any mobile device, from phone to laptop," Tim reveals.
By introducing innovative practices in USB charging, OE Electrics earned the opportunity to take its solutions to the transport industry and one area that has proven particularly strong for the business is airport seating. "It is not uncommon for a connector to be broken by a user who may be trying to plug it the wrong way around, or maybe even sit on it and break it, once plugged in. For a commercial site to fix the issue, it needs to get an electrician in to turn off the electricity, replace the complete power module, which may require partial disassembly of the furniture itself, and turn the electricity back on. This is not just costly, but also time-consuming. In order to facilitate the process, we patented a USB solution four years ago, TUF-R®, that allows the USB charger to be replaced whilst the circuit is live. This concept of a replaceable USB charger has been instrumental in our recent success," Tim reports.
Having worked indirectly for Hong Kong International Airport, for over two years, at a time when the organisation was buying furniture from three of its customers, OE Electrics is now in direct talks with the airport's new architect consultants to supply all the power outlets across the area. Tim elaborates: "It became clear that they had compared our products with those of other suppliers they were also working with, and that they were very impressed with the features of TUF-R® and the charger's replaceability. However, in order for TUF-R® to become uniquely specified, HKIA asked that TUF-R® accommodate further exacting requirements.
"As it happened, our next generation TUF-R® will have a reversible Type-A connector, targeted at significantly reducing the risk of a USB socket being damaged by someone pushing a plug in the wrong way around, and that suited HKIA. Additionally, Hong Kong International Airport wanted us to introduce some form of fault cause indication. To meet that requirement, we are adding blue and green lights that will flash depending on a number of fault conditions," Tim explains.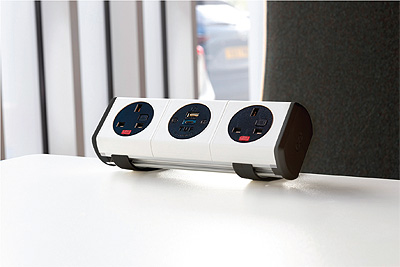 All in all, owing to its engineering ingenuity and the ability to manufacture products quickly, OE Electrics is now actively reaching out to a vast range of industries, which could potentially find an application for the company's distinctive solutions. "We are definitely seeing opportunities in hospitality and transport, for example, and we are trying to understand how different sectors want to present power sockets and USB chargers to their own customers," Tim discusses. "Moreover, and not forgetting our roots, we are developing ground-breaking solutions that will be relevant to new working practices that commercial offices perceive to be gaining in popularity.
"Last but not least, we have also just launched a new range called QikFit, which, although we have been making products of this sort in Australia for 12 years, is a new concept to Europe. Traditionally, our units are wired up to a certain specification in our factory and then sent out in a finished state. With QikFit, however, we are releasing the ultimate electrical Lego kit for people who may not have any electrical knowledge at all, but who will still be able to build what they need onsite, according to their specific needs," he adds.
Judging by the high levels of productivity and the relentless flow of OE Electrics' creative juices, it is no wonder that the company's overarching target in the next few years will be to expand internationally. "We have a very strong manufacturing base in the UK, with 170 employees, together with a second manufacturing operation, with 50 employees, in Sydney, Australia. Additionally, we have sales offices in Brisbane, Melbourne and Dubai, and most recently we have opened a manufacturing site in Germany from which we will be distributing our products across Europe. Slowly but surely, we are realising our objective of becoming the global leader in our industry," Tim concludes with well-grounded optimism.
OE Electrics
Products: Power and data distribution solutions