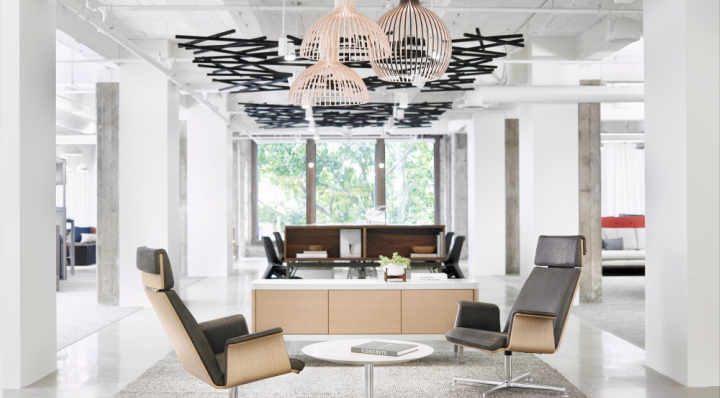 After eight decades, OFS Brands thrives by being flexible and nimble. "We've got to maneuver quickly as client's needs change relative to the new ways we work, learn and heal," President and CEO Hank Menke says. "We have to understand and anticipate their needs and design solutions quickly and penetrate the market."
Based in Huntingburg, Ind., OFS Brands provides contract furniture and logistics services to office, healthcare, education, government and home office markets around the world. Menke's grandfather, William Menke, started the company 80 years ago as DuCraft Inc., a manufacturer of wooden basketball scoreboards.
Over time, the firm moved from producing scoreboards and venetian blinds to contract furniture growing organically, as well as through the acquisitions of other brands, including Carolina, Loewenstein and Highmark. Today, the company has five furniture brands that cater to different vertical markets and channels.
OFS Brands' family ownership has nurtured a strong service culture. "It's just really about putting the customer first and treating them like they're the only customer," Hank Menke says. "Our brand promise is to make every customer feel like our only customer and everyone in our organization is 100 percent invested in our commitment."
This attitude is essential to its success. "Honesty, quality and reliability are critical in building trust.  Trust builds relationships. Relationships transcend fads and economic cycles," Menke says. "We are a relationship company and therefore, all of our investments have to support our strategy."
This focus has earned OFS Brands a strong repeat business rate. "We're not in it for the one-time sale," he asserts. "We're in it for the long-term haul."
Office Spaces
While OFS Brands is diversified across many vertical markets, a little over half of its business comes from the office furniture market. "Private office furniture, once a mainstay of our business, is transitioning to open work areas and collaborative spaces," Menke says.
"With this change, we've retooled our production facilities to cater to these new norms," he says. "Our agility is key to our success and our operations teams have done an incredible job staying aligned with our customers' needs.
"For the first time ever, we now have five generations within the workforce," he says. "Combine this with what the recession did to space planning density; what mobility has done for nomadic work and you now have a dynamic that creates a constant tension within workplace design.
"All too often change happens to people and not necessarily for people," Menke says.  "We are constantly looking at how we can address these issues and make a positive impact on people's lives."
On Its Own
OFS Brands sets itself apart with its trucking and logistics operations. "Thirty years ago, we grew tired of one of the largest complaints about our industry…freight damage. It was then and there that I decided we were going to do things differently and we made our single biggest investment in customer service in the history of our business.  We started our own trucking company."
Since its inception in 1990, Styline Logistics has grown to more than 200 tractors and 400 trailers delivering nearly 100 percent of OFS Brands' products nationwide. "We're the only one in the industry that controls our own delivery network with company employees," Menke says. "It would have been easy to follow what our competition was doing and outsource that function, but that wasn't what was best for our customers."
The company takes a similar approach to its manufacturing. "While others have outsourced a significant portion of the production, we still do a vast majority of our manufacturing ourselves," he says. "With agility and responsiveness being core to our differentiation, we have to constantly invest in technology and new capabilities to adapt.
"We have the some of the latest and greatest manufacturing technology in our industry," he says. "Our lean manufacturing teams are constantly working hand-in-glove with our operations and supply chain teams to make sure we are making smart investments that deliver a better experience for our associates and our clients. Quite frankly, some days when I'm walking through the plants, I'm shocked at how we've evolved from our humble beginnings."
Flexibility
Every customer order is unique and made to order. With the incredible variety of options and choices it can be a challenge to balance supply and demand, both from an inventory and production capacity perspective. OFS Brands strives to keep its inventory as low as possible, while still meeting its customer commitments.
"It's amazing how we're running today compared to how we used to," Menke says, explaining that the company does not start building an item until the client places the order.
The company has been able to accomplish this by building a customer sales forecast tool it dubs its "promise keeping tool" that directly ties into supply and capacity planning.
Secondarily to its forecasting tool, OFS Brands' has also standardized production across its entire 1 million square feet of production capacity so that it can balance capacities. All of its plants are able to produce all products so that in times of large project spikes or even natural disasters, it can balance capacity and still meet customer demands.
"It has taken a ton of hard work to get here but we love a great challenge," Menke says, noting that it takes a constant team effort between operations and marketing. One such outcome of this collaboration is a newly retooled Quickship program that has been lauded by its customers and helps balance the peaks and valleys of project business for production. This win-win scenario has resulted in a surge of day-to-day volume that is built to order and delivered nationwide in 12 days or less.
Supplier Focused
"None of this would be possible with our incredible network of supply side partners," Menke notes. OFS Brands operates with the philosophy of being extremely transparent with its suppliers.
"We try to give them the best forecasting we possibly can," Menke says. "We work with them very early on clearly stating our uniqueness built around agility and that we have to have partners that have the same philosophy. They have to know the expectations that our customers are asking of us so that we all will succeed. We are all parts of an ecosystem that wins or lose together…and we hate to lose."
The company applies this philosophy with The Sherwin-Williams Co., which it has utilized for approximately 20 years. "They supply us with all our urethanes, finishes and dyes," Menke says, noting that both companies have worked together to get a harder and more durable finish.
Menke also praises FEI Marketing Inc., which provides OFS Brands with component parts. "They've been a good supplier of ours of chair frame and table parts," he says. "They're very good and very reliable."
Doing it Right
OFS Brands' growth is a source of pride for Menke. "I'm proud of where we've come from and the fact that we've been able to sustain during different periods of the lifecycle of our company," he says.
"We've evolved from basketball scoreboards and venetian blinds to outfitting best in class offices, hospitals and universities across the globe. It is very humbling and rewarding to work side by side with 1,700 resilient associates committed to one thing…taking care of our customers and community.
"The world today moves so fast you've got to be able to adapt," Menke says. "Like any good athlete you have to constantly be on your toes and be able to move with your customers' needs.  If you sit in one spot long enough, you'll die."
Bright Future
Hank Menke predicts continued success for OFS Brands. "We're on the right rails," Menke says, noting that the company's agility and execution will be crucial going forward. "We've never been more clear about our mission and where we want to go.
"I know that everyone says that they have the best people in the industry, but I truly believe this to my core," Menke notes. "People are what make a company and I wouldn't want to be in a foxhole with any other group than the team we have today."