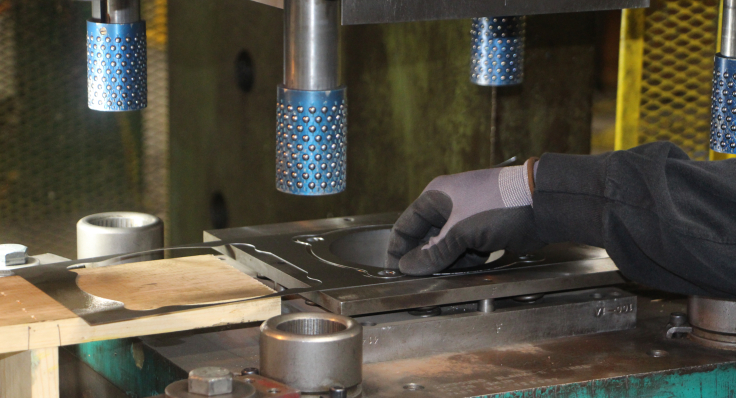 This Ohio manufacturer, celebrating its 60th anniversary next year, makes a point of listening to both customers and employees.
Tom Bader, vice president of OGS Industries of Akron, Ohio, is thinking about succession planning close to four decades after he almost didn't join the family business.
"I got interviewed by several other companies," Bader recalls. "Then my brother and dad sat me down and says they'd like me to join OGS Industries. It was an offer I couldn't refuse. It wasn't so much about the money – to learn from my father was better than a college education and my brother and I get along fabulously."
OGS Industries is a contract manufacturer that specializes in precision metal stamping, gaskets, shims, metal fabrication and machine parts. In May 2019, it will celebrate its 60th anniversary with an open house at its three plants.
In 1959 John A. "Jack" Bader and Jack McBride (Tom's uncle) started what was then called Ohio Gasket and Shim Company in a two-car garage and a small home.
In 1964, John Bader (Tom's father) bought out both McBride and two silent partners and took over the company as president.
His son John, now president, joined the company in 1976 and Tom joined in 1981.
Growth Period
More recently OGS Industries has been expanding by acquisition,
"In the last four years, we purchased three companies," Bader notes.
They were:
LEM, a rivet tool company. "We figured we can make their parts, Bader says. "We bought them, disassembled the company and put it into the Lehner Screw Company."
Royalton Machine Company. "We weren't really in the machining business," Bader explains. "The only way to expand was to acquire. At the same time we purchased them, they lost their second largest account. We struggled and struggled and finally had to make a hard decision to close it down. We did save the jobs for those that wanted to come over."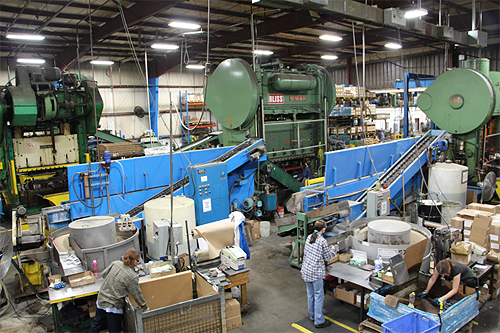 Lehner Screw Machine. "It was always on our radar screen," he says. "All the dominoes fell perfectly and we purchased them."
Along with an Akron-based packaging and distribution company founded in 1984, the four smaller businesses have been incorporated into one larger plant in the Akron-metropolitan area. Now all three plants are within a half mile of each other. The company employees 135 people and produces items for the automotive, trucking, railroad, aerospace and military industries.
Plant No. 1, which is about 30,000 square feet, is headquarters. It contains lasers and brakes presses and manufactures a majority of the aerospace gaskets and shims.
Plant No. 2 is also about 30,000 square feet and contains presses for heavy stamping [up to 400 tons], robotic welding capabilities and a tool and die operation.
Plant No. 3 is the largest at 55,000 square feet and contains the Lehner Screw Machine Company and the newly revamped packaging and distribution center.
Currently, OGS Industries has no plans for further acquisitions.
"We're going to sit back and do great business for a while," Bader says.
Quality Initiatives
OGS Industries is all about quality control and continuous improvement. The three plants work under a common quality control system. Certifications include ISO 14001 [environmental], AS9100 [aerospace] and IATF16969 [automotive].
One innovation at OGS is the "strategy team" that Bader started 20 years ago. It's composed of representatives from different departments who meet twice a week to consider improvements.
"They invite people from outside (the company) and interview OGS employees,' Bader says. "It's all to get ideas and how to implement ideas. They roll out new procedures and equipment."
The improvements can be surprisingly simple.
"Our very first was to improve the speaker system in the plant," Bader says. "No one [on the plant floor] could hear what we were saying."
Another improvement updated the contract review sheet, a sort of punch list. The team added items to check off on the sheet, Bader says.
"I would say the strategy team has saved us money and streamlined procedures like you wouldn't believe," Bader says.
Bader also advises listening to employees.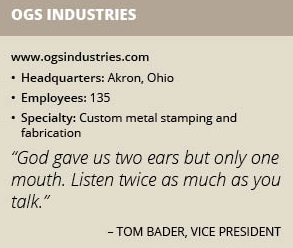 "God gave us two ears but only one mouth," he says. "Listen twice as much as you talk."
One thing he has learned during his tenure is to "take the advice of employees. If you can't implement their idea, tell them a reason why." At plant #3, we recently participated in a continuous improvement meeting with all the employees. They got to say everything they wanted, he says. "They gave us a list. I answered every question they gave me and then posted it outside the breakroom. It's the communications –just be transparent."
Respect for Employees
With unemployment under 4 percent, finding and retaining employees is a challenge.
"We try to coax some people out of retirement or offer a little more pay to get some talent, "Bader says. "We treat our employees honestly so they stay."
This is an especially important point for Bader. "To stay in business comes down to treating employees correctly," he explains. "They are not numbers; they have spouses and children. I know my employees' names and try to say hello to them every day that I visit that plant. You shake their hand the same way you would greet the president of the United States or a ditch digger around the corner. Respect your fellow man."
OGS also works with an entity that educates high school students about job opportunities in manufacturing.
"Ever since high schools dropped shop class, we are all now feeling the ripple effect," Bader says. "College is not for everybody. In machining and tool and die, you can make a great living."
Custom Inventory
Besides maintaining quality, OGS Industries takes other actions to help customers save money.
For example, the company will manufacture and store custom inventory and then ship it whenever the customer needs it.
"A lot of people want to buy 1,000 and ship 1,000, [parts]" Bader says. "If we have a blanket order (contract), we will stock and ship as you need it. They can have parts within 48 hours if they want. We have several customers taking advantage of that."
And while OGS Industries stays up to date on technology, its communications might be described as refreshingly old-fashioned.
"When you call here, you get a receptionist," Bader says. "Whoever the customer wants to talk to, they can talk to."
A key to OGS's success is its vendors. "Our suppliers are as important as our customers," Bader says. "Without great suppliers, you have problems. Some of them go back 30 years with us. We always try to use local. If there is an issue, we go visit them. We always try to go domestic. We are pro American all the way."
In the meantime, Bader is processing with succession planning. "I'm five years from retirement," he says. "My brother wants to stay on because the third generation are his kids."
Those young people are Matthew Bader, who joined in 2012, and Andrew Bader who joined in 2013.
"We don't want to be the biggest, just be our best," Bader says. "We are confident the third generation has those skills to carry on."