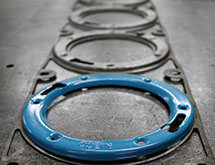 OGS Industries is not the kind of company that sweeps problems under the rug, Marketing Manager Andrew Bader says. If a problem has been identified, "We act quickly to rectify it," says Bader, who is the son of President John Bader and nephew of Vice President Tom Bader.
"Sometimes, if there's a problem with a customer's part, we let them know before they find out about it," Andrew Bader says, noting that clients appreciate its ability to be proactive. "We get it done right away."
Akron, Ohio-based OGS Industries is a contract manufacturer specializing in precision metal stampings, gaskets, shims, metal fabrication and screw machine services. Tom Bader explains that his father, Jack Bader, and his uncle Jack McBride, started Ohio Gasket & Shim Co. in 1959 with two silent partners.
After working for Akron Metallic Gasket, Bader's uncle felt he could start his own business, which he operated out of a house and two-car garage. Over the years, Jack Bader bought out all original partners and as OGS grew, his two sons joined the family business; John Bader in 1976, and his brother, Tom Bader who joined in 1981.
OGS also added to its capabilities by forming and acquiring several other companies. They include Mil-Pak, a specialty packaging division also based in Akron. Its location houses OGS's packaging operations, which helps it meet requirements as a "direct government defense contractor," Tom Bader says. "Sometimes [the packaging] is more expensive than the product [in the package]."
In 1991, it purchased a fledgling stamping company in Akron, which now operates as Progressive Stamping & Fabrication and features stamping presses with up to a 500-ton capacity, robotic welding, a tool and die department, and machining centers. OGS also started OGS Procurement, its global sourcing division. "If we can't make the product, we'll find someone who can," Tom Bader says. And most recently, this past August, OGS acquired Lehner Screw Machine, adding approximately 23 percent to its total workforce.
'Darn Good' Work
Today, all five companies operate under the umbrella of OGS and together have broad capabilities, Bader says. OGS usually works with thin materials, "[But] we can handle the thick stuff," he asserts, noting that it also utilizes lasers and CNC punching machines.
"We're very high mix and mid-to-low volume," Andrew Bader adds. "Automotive, for example, utilizes millions and millions of parts a year. We do some high volume work, but mostly there is new stuff going through our shop on a weekly basis."
OGS backs its equipment with a dedicated and experienced staff, Tom Bader says. "We have a great group of senior managers," he says, noting that turnover at the company is extremely low, thanks to the autonomy it gives its workers.
"[We] don't micromanage and [we] let them treat their department as an inner company," he says. "We do a pretty darn good job. Obviously, our success has proven that."
Starting two and half years ago, the third generation entered the business with Assistant Production Manager Matthew Bader in late 2012, and Andrew Bader in mid-2013. Like Andrew, Matthew is John Bader's son.
Client Favorite
OGS serves a broad client base that includes the automotive, trucking, railroad, aerospace and government defense markets. The diversity has kept the company strong as it has navigated the tumultuous economy, Bader says.
"[When] one or two markets goes down, one or two goes up," he says, noting that OGS tries to make sure it does not dedicate the majority of its business to a single client. "We try to keep all our accounts to 15 percent or less. [We don't] want to be owned by one particular company."
The same policy applies to industries, Andrew Bader says. "Not even one industry is over 25 percent of our business," he states.
OGS also has earned loyal customers, including some who have utilized the company "for over 30 years," he says. They have helped OGS build its reputation as a leading contract manufacturer that puts an emphasis on quality.
With OGS, "You have that hassle-free, worry-free feeling," Bader says. "If you give the job to us, it's going to get done right."
Picking Up the Pieces
OGS regularly copes with changes in its market, Tom Bader says. For instance, "As products go obsolete, you've got to replace some of those lines," he says.
Often, he says, the company's business will shift when the United States enters a time of war or military conflict. "I can almost tell when we're going to go into a conflict," Bader says. "Certain parts go up in volume. You've just got to adapt."
Andrew Bader adds that he sees changes ahead in the number of competitors in OGS's market. "Over the next decade or two, there's going to be less people like us around," he says. "In the '50s and '60s, there were a lot of mom-and-pop shops."
Many of those businesses, he notes, fail to create exit plans for when they leave the market. "You're going to see a lot of manufacturing facilities close up shop or get acquired," Bader predicts.
But unlike those firms, OGS is "in a strong position to take more of the pie in the future," he asserts. "You've got a lot of owners looking to retire and OGS is going to be there to pick up the business, whether it's through more acquisitions or seizing more of the market."
Tough Work
OGS has adopted lean manufacturing techniques, including 5s and Six Sigma, but its role as a custom manufacturer still makes work complex, Bader admits. "We're changing out our parts all the time," he says.
Work at OGS would be easier "if we had a product line that we were hitting out all day long," he explains. "[But] we're a job shop, so it's a little tougher."
Still, OGS's workers try to be as lean as they can in spirit. "It's more of an awareness to be as efficient as possible," he says. "That's where you save money."
Tom Bader adds that the company has a strategy team that meets biweekly. "Their job is to improve the bottom line and lower the costs," he says.
Protecting Legacies
After 33 years, Tom Bader still loves working at OGS. "I enjoy the interaction of the people," he says. "You're going to have issues here and there, but it's surprising the amount of help you can get here.
"My father was my mentor," Bader continues. "My job is to protect his legacy. If I do a good job here, mine will be just fine."
Bader plans for growth at OGS, which will include hiring more workers. "I enjoy the challenges that come with growing, and knowing that I've got good people around me," he says.
His nephews have started working at OGS, representing the third generation of the Bader family to join the business. "I want to make sure when the baton finally does have to be handed off, I'm handing off a pretty slick machine," he says. "I want them to protect my legacy."