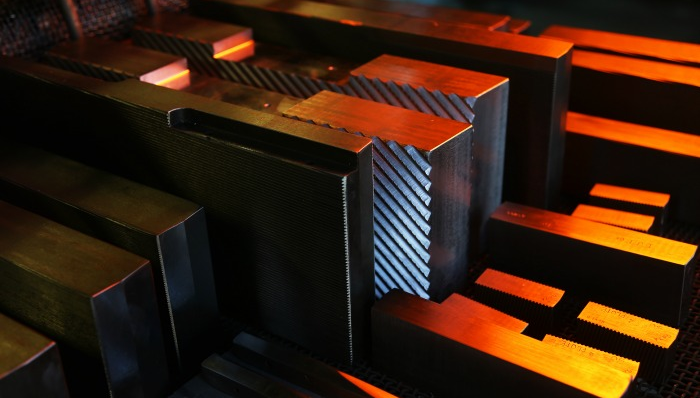 Ohio Metallurgical Service
Heat treating machine components may not appear to be the most glamorous endeavor, but Ohio Metallurgical Service (Ohiomet) is certainly passionate about its business.
"[Ohiomet] believes that the end-result of the heat treating process has to be perfect, precise," President John Gaydosh declares. "Many of the parts we process are safety-critical parts. We have to ensure that the parts are within our clients' very tight tolerances and that level of quality is consistent throughout all of the parts we process."
Gaydosh says that the company processes parts for a wide range of industries. From axles and shafts in lawn and garden tractors, fasteners for power generation equipment to automotive steering components, Ohiomet creates a heat-treating process unique to the part. The firm has experience processing parts that may be found in nuclear submarines, deep sea oil platforms, various types of military and civilian aircraft, and even the tractor in your garage.
Customized Approach
"Under the guidelines of the client's specifications, we develop a recipe for that specific part," Gaydosh notes. "We consider such issues as the optimal temperature of the furnace to achieve the best end-result, how the part is loaded into the furnace so it doesn't distort, as well as times and temperatures of the cooling process." From start to finish, all of the treatment processes are carefully prescribed based on knowledge gleaned by Ohiomet engineers during the company's long history.
The company was established in 1947.
Once the part goes through a rigorous inspection process, which normally includes microstructure, case depth and hardness determinations, the parts are tested and certified per the client's blueprint specifications. Upon completion of the load, Ohiomet engineers verify that all of the processes ran as anticipated before the product ships.
All of the production parameters are then saved so the same process can be used for future orders. "Our customers need to know they're getting quality results consistently," Gaydosh notes. "We have to ensure that we produce clean parts that won't require additional operations on the client's end."
Nadcap Driven
Gaydosh notes that the company tries to stay current on quality systems that are relevant to its industry. As a result, Ohiomet has achieved accreditation in the National Aerospace and Defense Contractors Accreditation Program (Nadcap) for several processes and materials.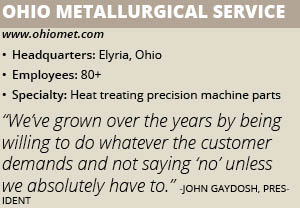 Nadcap is composed of a panel of industry experts and governmental agencies that has developed standardized, yet extremely stringent assessment parameters to meet the very rigorous demands of the aerospace and defense industries. Additionally, Nadcap routinely audits its suppliers to ensure its accredited companies conform to the program requirements.
As a result of involvement in this program, Gaydosh says that the Nadcap standards have been ingrained throughout Ohiomet's operation. "Although only a small percentage of our business comes from processing parts for the aerospace industry, we apply that level of quality to all of the parts we process." he claims. "We follow multiple steps in maintaining our equipment to verify the accuracy of our products."
The company continually performs internal checks on its equipment as well as other parameters including temperature and uniformity of the furnace chamber. Additionally, Ohiomet seeks the input of third-party auditors to ensure the high quality of its processes and end products.
"We continually invest in modern equipment and controls as well as training programs to meet the growing demands of our customers," he adds.
In addition to facility expansions in 2000 and 2003, the company added another 12,000 square feet in 2015. "Our expansions allow us to grow with our customers," Gaydosh says. "This growth has made us able to provide more of our standard services and expand our service offerings for our customers."
For instance, in 1999, the company decided to expand and began replacing all of its integral quench furnaces with more modern and efficient equipment. Over a 15-year period, more than $10 million was invested back into the company. The expansion provided additional capacity for carburizing, carbonitriding, neutral hardening, induction hardening and both automatic and manual straightening equipment. Process control software that is continually enhanced, increased the firm's processing efficiency. "In most of our heat treat processes, we have been able to add controls to our machines that have increased the level of automation and reduced operator involvement," Gaydosh notes. "Our operators are able to process parts more quickly and more proficiently."
Ohiomet's training program is also instrumental in the company's success. In addition to on-the-job and online training systems, supervisors perform periodic evaluations of its employees to verify how well they know their job tasks. "This way, we can determine if they need more supervision to become more proficient at their jobs," Gaydosh says.
Whatever It Takes
Processing almost 100 different orders on any given day, Gaydosh says that Ohiomet is very flexible in its scheduling. "We run our schedule based on customer demands," he says. "If that means working over the weekend to make sure the jobs are completed on time, we do whatever it takes."
"On a regular basis, we get calls from clients that are in danger of shutting down their assembly lines because their parts are late," Gaydosh affirms. "[Ohiomet] then has to make up the time lost to make sure the parts are delivered on time."
These days, Gaydosh says, most companies operate at low inventory levels. If the raw material is not available or some other issue within the supply chain occurs, by the time Ohiomet receives the product to be treated, all of the lead time has been used up. "It's something we have to address with different clients almost every day," he notes.
"Our success mainly has been due to our exceptional customer service," Gaydosh says. "We've grown over the years by being willing to do whatever the customer demands and not saying 'no' unless we absolutely have to."