Ohmite, Davies Molding and ARCOL
Sometimes the pieces of a puzzle that seem totally different are the ones that fit together the best. That is what The Heico Companies LLC found when it integrated its Ohmite Manufacturing, Davies Molding and ARCOL businesses, Derran Smith says.
Smith, the vice president of marketing for all three portfolio companies, says that the organizations have brought their years of experience to each other's advantage. Warrenville, Ill.-based Ohmite Mfg. started operations in 1925 and is a leading provider of resistive products.
Davies Molding, which is based in Carol Stream, Ill., has manufactured plastic knobs, handles, cases and custom plastic products since 1933. ARCOL, which is headquartered in Truro, Cornwall, UK, started operations in 1952 and also specializes in resistors.
The three brands all sell into the electronics, industrial, power, transportation, medical and military sectors. "There's a lot of overlap in their customer bases," Smith says, noting that Heico combined the salesforces of the three firms so that its customers around the globe could deal with a single source.
If a client needs a knob to control a piece of machinery, they will go to Davies, he explains. But if they also need resistors, heat sinks, customized assemblies or similar components, the plastics firm can recommend Ohmite or ARCOL. "We can leverage our strengths to get even more products on a bill of material," Smith says. "We're focused on the collective growth for all three companies."
Chipping In
Ohmite, Davies and ARCOL started their partnership in October 2016. "All three have come together to embrace a new concept that hasn't really been done before," Smith says of the successful partnership.
"Everyone is chipping in for the collective good of Heico," he says, but notes that some adjustments were required. "People had to get acquainted with selling new products and new roles."
For example, team members at Davies had to learn how to sell resistors, while associates at Ohmite and ARCOL had to be trained on plastic products and capabilities. "Mechanical and electrical engineers just had different things that they have focused on in their careers to this point," he says.
However, "It's been pretty well embraced," Smith asserts. "It can only get better once more product familiarity and comfort levels are achieved."
The partnership also has won a positive response from customers. "The distribution channel is pretty excited," Smith reports. "Only having to deal with one primary point of contact to launch numerous new product introductions is very beneficial to them.
"They crave new and interesting products to sell," he continues. "Now they know that they can invest in inventory that will move for them based on new but proven relationships. The three companies in turn will benefit from having greater access into the international markets that were previously unreachable."
Wise Investments
Ohmite, Davies and ARCOL share a strong focus on manufacturing quality. "All three are ISO 9001 certified," Smith says, noting that the companies have continuous improvement initiatives to make them more competitive in the marketplace.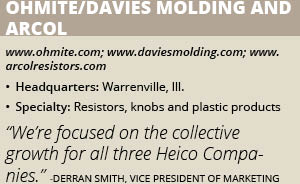 These include investments in new equipment. Davies recently focused on automation to improve its speed and its ability to manufacture multiple product variations. "In the last year and a half, they have invested in three brand new CNC machines," he says. "[They also] purchased some large tonnage rotary vertical injection presses to specialize in insert molding."
Ohmite also invested in new lines on its thick film and wire wound resistors to increase throughput and increased capacity in its new testing lab. ARCOL purchased a brand new saw to cut its aluminum-housed resister casings and added a military grade lab. "This year, we're going to invest in some new compression machines for ARCOL and Ohmite to replace the ones that are aging," he adds. "We'll be more automated with tighter controls and faster loading."
Getting Leaner
All three companies have adopted lean manufacturing disciplines. "It's been a culture shift," Smith says, noting that the companies adopted practices that include daily walks through their plants to identify and eliminate waste.
"We're not all the way there yet, but from where we were, it's a significant improvement," he says. "You can see it in the pride of the employees. The workstations are clean. Our work flows better without having to add any more people."
Product Partners
Ohmite, Davies and ARCOL's suppliers have contributed to their success, Smith says. One example is the Hanau, Germany-based Heraeus Group, which provides Ohmite with resistive inks to make thick film resistors. "We're constantly working with them on new product development," he says.
Davies has a long history with Plastics Engineering Co. (Plenco), a firm based in Sheboygan, Wis. "They provide so many materials which have great high-heat and dielectric properties, which lend themselves fantastically into the electronics and plastics spaces we target," Smith says.
Smith adds that he is proud of how Ohmite, Davies and ARCOL have united over the past four months. "There's definitely a lot of upside as these mature companies are able to reinvent themselves," he says. "We can start leveraging our experience from the product space and combine the manufacturing capabilities to create products we haven't even thought of yet."
The three also are planning to grow. "We've already started talking about making an acquisition into something that adds strategic value," he says. "We want a company … that can complement any or all of our product lines and we can collaborate with trusted channel partners that we've been successful with already."
Top Training
Ohmite Manufacturing Co., Davies Molding LLC and ARCOL provide extensive training to their employees, Vice President of Marketing Derran Smith says. "We require over 80 hours a year of safety, technical skills and legal compliance training," he says.
"All managers that are promoted go to outside courses on how to be a better supervisors," he adds. "It's not just us saying, 'Here's your new job.'"
The companies also support employees who show a willingness to learn more and grow their skills, Smith adds. "We will send those that qualify to specialized training such as tooling maintenance, 3-D modeling and programming. The more skills and versatility employees demonstrate lends to greater earnings potential."
A Strong Portfolio
Based in Chicago, The Heico Cos. LLC is a holding company for more than 55 manufacturing, construction and industrial services businesses with 180 locations in 82 countries. "Since its founding over 30 years ago, our company has been built by aggressively reinvesting its earnings into both internal growth and new acquisitions," it says.
Heico's businesses generate more than $2 billion in revenues. "As a privately held, long-term investor, we provide our operations with the resources and stability they require to excel in today's competitive marketplace," the company says.