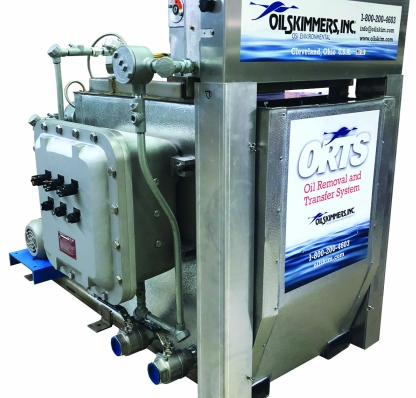 When some think about oil on water, they think only of oil spills in open water. "But mixing oil and water is quite common in the manufacturing world," Jim Petrucci says. "People who use water to any degree in manufacturing are going to get oil in it, whether it's on purpose or by accident," he explains.
When manufacturers want to remove the oil from the surface of the water, they turn to Oil Skimmers Inc. Petrucci is the vice president of the Cleveland-based company, which provides oil skimmers and oil removal systems to manufacturers, as well as power plants, food plants, mines and military bases.
Oil Skimmers started 50 years ago and introduced the floating tube skimmer. "As we started marketing that around the world the company grew steadily," he says.
Over the years, as the company encountered new clients with other issues that traditional skimmers could not solve, "We expanded our offering to include a wide variety of oil removal equipment and today we operate in 122 countries and have literally tens of thousands of successful applications in wide variety of industrial segments," Petrucci says.
One of its products is the "CoolSkim" Oil Water Separator Petrucci says, which was made for coolant applications.
"It's a small sized system that uses a weir skimmer with a small separation tank," he says, explaining that it will draw liquid from the surface and pass it through a small separator that cleans the liquid before sending it back to the tank. "We developed it for coolant applicants, but we found it has other homes such as in parts washers and other places where space is tight."
Today, Oil Skimmers Inc serves a base of clients that includes metal and plastic manufacturers providing stampings, forgings, machined parts or plastic components. "They clean or machine parts regularly. We're involved with any company where oil based products are found in their process or in their waste treatment, which can be anywhere that oil comes in contact with other fluids," he says, "and that's a great many industries."
Extending the Life of Costly Process Fluids
Environmentally beneficial practices are currently top of mind, but manufacturers' need to separate oil from water has been around for decades, Petrucci says. "They use the water for cleaning, quenching, [and] for pickling," he says.
"It's instrumental to the operation to keep that process as clean as you can on a continuing basis," he says, noting that skimmers benefit their users economically by allowing them to continually clean the solution and use it again. "It reduces the cost of replacing the liquid."
Eventually, all process water reaches the end of its usefulness. "It doesn't have an indefinite life," Petrucci says, "but Oil Skimmers assists clients by helping treat the water one last time before it is turned over to the city, or recycled.
"In that water treatment process, the degree of treatment depends on which contaminants are in the water," he says. "It may simply be oil or various chemicals, or it could be certain solids. In any case, getting the oil out is the first step that makes all other fluid treatments more efficient."
During that first step, Oil Skimmers helps remove the oil, which reflects its philosophy of "Skim First," Petrucci says. "We say skim as close to the source as you can and make that your first step," he says, noting that clients can use its Separate and Skim (SAS) Tank, which removes the oil before sending the water onto the next step.
Product Partner
Petrucci is proud of how Oil Skimmers goes the extra mile for its customers. "The thing about Oil Skimmers that I've enjoyed over the years is that we are expert at adapting our equipment to the customer's needs," Petrucci says.
The company also is an expert at designing new, clean sheet solutions to meet a customer's need for oil removal. "We keep our design engineering team pretty busy." Petrucci says. 
"One of our large railroad customers commented to me [that] what they like about Oil Skimmers is that when we provide our equipment to them, we become a partner with them," he says. "They know they can call us and we'll do everything we can to help them with their oil removal challenges. And since our products last for decades, our customer relationships tend to be long and strong," he says.
"We're creative technically, and tenacious," Petrucci says. "We do whatever is necessary to create a cost effective solution for the customer and make their application work. That's pretty well ingrained in our culture and business practices, and has been since the company was founded 50 years ago."
Petrucci sees continuous growth ahead for Oil Skimmers, as more customers move away from less cost effective
oil removal methods and toward its products, which provide continuous, efficient oil removal. The company will also will continue to add more products and systems to its offerings as customers' needs require.
"We've gone well past the floating tube skimmer we started with," he says, although that remains a core product that continues to evolve and grow. "Oil Skimmers, Inc. will continue to innovate and add new products and systems in our core business so that we can continue to help our customers reduce their costs and improve their process and product quality, worldwide."
In fact, the company will be exhibiting these at the upcoming International Manufacturing Technology Show in September. "We have a number of products that can handle whatever application comes up," he says.