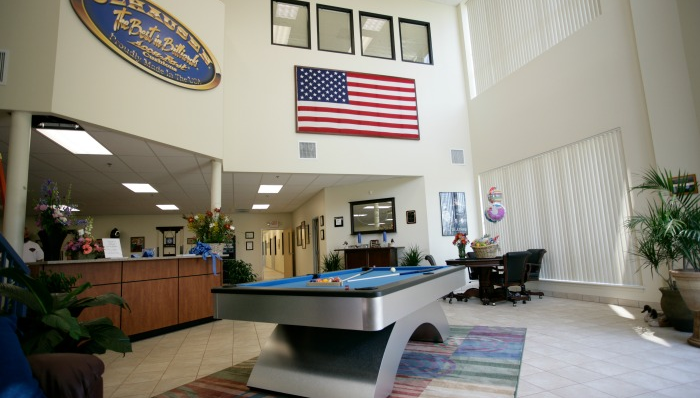 Brothers Donny and Butch Olhausen's lifelong passion for billiards laid the foundation for Olhausen Billiards. The pair founded the company more than 40 years ago and Donny Olhausen says he now operates the world's largest pool table manufacturing facility. "Even though our capacity to produce pool tables has greatly increased, our constant dedication to quality has not changed," says Donny Olhausen, founder and CEO. "Every Olhausen pool table is still built to order."
The Olhausen name has been synonymous with the billiards industry for more than 70 years, when the brother's grandfather grew tired of growing corn in Hartley, Iowa, and sold the farm to buy a poolroom in town. Olhausen's father, Jerry, learned about the billiards industry from his father before leaving Hartley for Las Cruces, N.M., where he started his own billiard sales and service business in 1953.
Both brothers worked for their father while growing up in Las Cruces and decided to begin their own venture in 1972 when they moved to San Diego to start Olhausen Billiards. Today, Olhausen Billiards operates out of a 250,000-square-foot facility in Portland, Tenn., and has manufactured more than 500,000 pool tables.
"Our tables have become known in the industry as the 'Best in Billiards' and I am very proud of that," Donny Olhausen says. "We offer every type of pool table imaginable from ornate pieces of furniture to professional tournament-quality tables."
Vast Selection
Olhausen Billiards has debuted new pool table models every year since its inception at the annual Billiard Congress of America's (BCA) International Billiard & Home Recreation Expo. "Every year we come out with new models, but we also keep every model we have manufactured from the past," says Colby Olhausen, Donny Olhausen's son. "A lot of manufacturers dump their old models and bring in their new ones. We offer all our models – old and new."
Before the housing market crash, Olhausen Billiards was manufacturing almost 30,000 tables a year. That number has decreased today to about 10,000, but the company has diversified its product offering to remain viable, Colby Olhausen notes. "We needed other options and integrated other games to supplement our sales," he adds. "We started manufacturing shuffleboard, air hockey and foosball tables. We also distribute home theater seating."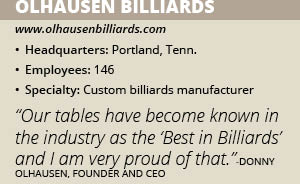 Even though production has slowed, pool tables still account for 60 percent of Olhausen Billiards' business. At one time the company mass-produced pool tables, but has turned into a "full-blown custom shop," Olhausen says. "We don't anticipate huge growth in people wanting pool tables anymore," he adds. "We are trying to erode marketshare from other manufacturers by offering the customers what they can't get anywhere else: a custom-made pool table that we make faster and with more quality than anyone." E
very Olhausen Billiards table is designed and constructed with American made products. The company insists on using only the best materials for its tables, such as Hard Rock Maple and Northern Oak. Suppliers are required to document each mill run to ensure lumber quality. The frame is carefully assembled on a specially designed bench and moldings are then attached by hand.
A 100 percent-custom pool table, depending on how intricate the design, can be ordered and at the customer's doorstep in six to eight weeks. A semi-custom table can be completed in two weeks. "We have basic designs and components customers can pick from," Olhausen explains. "We have at least 50 different models and finishes, and four sizes of each table model. The configuration of these features is where they come up with a custom design."
Homeowners, mostly ones with established families, are Olhausen Billiards' core demographic. "A pool table makes the home a hub for the kids," Olhausen says. "You can keep a better eye on the kids if they are in the house."
Quality Craftsmanship
Scheduling is key to the manufacturing process at Olhausen Billiards because more intricate tables need to be placed among those that are less detailed. "Even though we custom-make each table, there are certain styles that are similar so we can knock those out and increase our production runs," Olhausen explains. "If we put all our hard custom tables on one day that wouldn't work."
Automation is invaluable in the beginning stages of Olhausen Billiards' manufacturing process. Automated drilling and cutting allows for four to eight pieces to be processed at once. "I don't think we would ever get done with our work without it," Olhausen notes.
Olhausen Billiards continues to look for ways to further streamline its manufacturing process. "We are constantly analyzing our process and determining what machines we can add to make things easier, safer and more efficient," Olhausen explains. "For example, we put in a new climate-controlled spray booth that will speed up the process and are adding a small CNC machine in the packaging department that will allow us to skip a step early in the manufacturing process."
The company employs 130 people on its manufacturing floor. Every employee is cross-trained to ensure they have a thorough understanding of the entire manufacturing process and how their work will impact the next person. "Olhausen craftsmen are specially trained to operate computer-controlled and precision machinery," the company says. "This high-speed machine, which was designed by Olhausen engineers, ensures a perfect pocket fit on every rail."
Increasing Interest
Moving forward, Olhausen Billiards will continue to train its dealer network in order to grow sales. "We will talk about all the different options with our dealer network on how to sell our tables," he adds. "We host sales training events twice a year at our facility, as well as the annual BCA trade show where we educate our dealers about our product."
The company also hosts a dealer forum where it invites 20 of its top dealers to spend a few days at Olhausen Billiards. "Our dealers are our friends," Olhausen says. "Communication is the way we keep the relationship alive. About 80 percent of our dealers have my dad's cell phone number and mine. They can call us on the weekends; we are friends with a good bit of them."