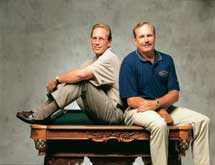 For President Donny Olhausen, Olhausen Billiards is not only a business, but also the extension of his family's legacy in the billiards industry. Based in Portland, Tenn., the company manufactures pool tables and shuffleboards that are used around the world. Olhausen and his brother, Butch Olhausen, founded Olhausen Billiards in 1972 in San Diego. Prior to founding their company, the two brothers worked for their father's pool table repair service in Las Cruces, N.M., moving pool tables and replacing worn cloth on tables in pool halls, homes and bars throughout the Southwest. "[Our father] learned to service pool tables in his dad's pool hall in Iowa," Donny Olhausen says. "We spent around 10 years working for my dad's company."
In 1969, Butch Olhausen moved to California. Donny Olhausen followed him three years later and the brothers started their own business, moving and recovering pool tables in San Diego. One of their clients was a small local pool table manufacturer who hired the two to deliver his tables.
When he offered to sell them his company, the brothers decided to buy it. "We bought it in February of 1973 and that's when we started making pool tables," Donny Olhausen recalls.
Today, Olhausen Billiards employs a staff of 90 and operates from a 250,000-square-foot facility in Portland, Tenn. "Due to the increasing difficulty of finding trucks to haul our pool tables across the country from San Diego, we made the decision to relocate the company to Tennessee in 2006," Olhausen says.
"The move eliminated the problem of securing transportation for our pool tables and at the same time, it brought us closer to our customers and to our lumber suppliers," he says. "The move has proven to be one of the keys to surviving the economic downturn of the past four years.
"The freight savings for us on our raw materials and the freight savings for our customers on items they purchase from us have made Olhausen much more competitive than it was in San Diego," Olhausen says.
"It's al­most like we had a crystal ball."
The company enjoys a steady growth of sales, reflecting the American public's appreciation for domestically produced products. Olhausen Billiards recently branched off into the production of custom shuffleboard tables to match its pool tables.
It also distributes pool table cloth, cues and play equipment packages, matching cue racks, pub tables and dart board cabinets and other items used in game rooms, such as Foosball tables, dome hockey tables, air hockey tables and ping pong conversion tops. The company plans to eventually distribute other game room related items to increase business.
"Every pool table we sell requires cloth, cues, chalk and balls before a game of pool can be played," Olhausen says. "Our goal is to provide cloth and play equipment for every table that we manufacture.
"The other items that we offer add to our bottom line, and because these items are shipped to our dealers along with the pool tables they order from us, there is little or no freight cost to our dealers on the additional items they buy from us," he continues. "This is a huge advantage for us and for our dealers."
Olhausen Billiards sells tables all over the world, but the majority of its tables are distributed through a nationwide dealer network. "The growth of Olhausen Billiards is tied directly to the growth of our dealer network. Many of our dealers started their businesses around the same time my brother and I started our company," he says.
A Secret Step
Olhausen says he still enjoys the billiards business after nearly four decades. "There's a lot of good people that we sell to," he says, noting that he gets satisfaction out of building relationships with clients and manufacturing quality products.
"The people that you're selling these things to are buying something that is good for their family," he explains. "We've done a lot of engineering to make that happen."
One of the factors in the company's success, he says, is its use of high-quality materials in its tables. For instance, "We developed our own cushions almost 20 years ago," he states.
"Since that time, we have made over 400,000 tables using our 'Accufast' brand cushions and we have not had to replace even a single set of cushions," Olhausen says. "The resilience of Accufast cushions will remain un­changed for more than 150 years, so they will not need to be replaced for at least that long.
"I have been asked many times what makes our cushions so good," he continues. "The answer is the quality of the rubber we use and technology. We have a secret step we use in the curing process of Accufast cushions that prevents the rubber from aging."
 The Good Ideas
Olhausen believes the company's success also is due to his and his brother's experience in the industry. He explains that this know-how particularly pays off in the company's construction of the pool tables.
"[After] all those years of working on different tables, you pay attention to the things that are [important]," he says. "You incorporate all of the good ideas [you learn] from experience."
An example of this is Olhausen Billiards' frame construction. "We build our frames so they will never sag from the weight of the slate playing surface," he says. "The slate will never become lower in the middle on any of our tables."
However, "This is not an idle claim," he asserts. "We have scientifically tested the strength and rigidity of our frames numerous times over the years at the Weyerhaeuser testing facility near Seattle, Wash.
"We can say with confidence that our pool tables will remain level forever and we have a lifetime warranty to back up this claim."
Ready For Growth
Due to the slow economy and the housing market, Olhausen Billiards has downsized by 65 percent over the past four years.
"We have seen many of our competitors go out of business and we are now the only major manufacturer making pool tables in the United States," Olhausen says. "All of our major competitors import their
pool tables from China and other Southeast Asian countries.
Today, "We feel we have by far the best product we've ever made or shipped to our customers," he says, noting that when the company moved to its facility in Tennessee, it did not plan on its business decreasing by 65 percent."Over the past four years, we have worked hard to improve our products while at the same time becoming more efficient.
"We have introduced more new models than at any other time during our 40-year history and we have introduced the best line of shuffleboards in the business. We have everything in place, including personnel, state-of-the-art equipment and lots of space to grow. When our sales start increasing again, we're ready for it."
The Right Attitude
Olhausen says he is fortunate to have employees who "are dedicated, knowledgeable and have a lot of experience. If we put our heads together, we can make something better."
The company's key employees include the eight department heads who maintain quality on the factory floor, all the way from the mill, where it processes rough lumber into pool table components, to the packaging department, where employees in­spect each part before it is boxed.
"Our goal is to make our tables as quickly as possible, but quality is always first, even though it means spending more time to make our tables," he says. "Because of the technology incorporated in our wood working and finishing equipment, we have managed to cut the man hours required to manufacture a pool table down to about 12 hours, despite the fact that almost every table is now customized to our individual customer's specifications. Our ability to make custom tables has helped us survive the onslaught of low cost imported tables that have flooded the market since the late '90s.
"We stress quality to all of our employees – they're trained to do their jobs properly," he says. Quality control ultimately is the responsibility of everyone at Olhausen Billiards.
"It's not like there's just one person whose position is quality control," he asserts. "It's just an attitude that people here are proud of what they do. You don't get to be the largest pool table manufacturer in the world just because of good marketing. You have to make the best pool tables."
Survival Skills
Making the best pool tables is not all there is to ensuring customer satisfaction, Olhausen notes. "You have to listen to your customers and you have to be aware of changes in the styles and finishes that they are buying for their homes," he says. "For years, we had heard from customers that they did not want to hang a cue rack on their wall, so we designed a competitively priced cue storage drawer for many of our models.
"Adding the cue storage drawer option has helped our sales tremendously over the past two years and we are constantly developing new finishes and new styles to keep up with our customer's demand," he continues. "Today, our best selling models and finishes are entirely different from what we sold just a few years ago.
"We are also seeing a lot of requests for custom tables and shuffleboards," he notes. "We were recently asked to make one of our ornately carved pool tables, called the St. Leone, in a gold leaf finish. The same customer asked for an Art Deco shuffleboard.
"We had never done gold leaf before and we had never even thought about making an Art Deco shuffleboard, but we took the job anyway," he states. "The gold leaf St. Leone pool table and the Art Deco shuffleboard are now in the lobby of the Royal House Hotel in Las Vegas and they are probably the two most striking pieces we have ever built.
"We have the ability to make just about anything a customer asks for – and we never say no – which is another important reason why we grew to be the largest pool table manufacturer in the world."
Olhausen predicts that the company will continue to maintain its status as the "best in billiards." During the economic crisis, "We've seen a lot of competitors go by the wayside," he says. "We've managed to survive through this. I think that speaks volumes [about our company]."