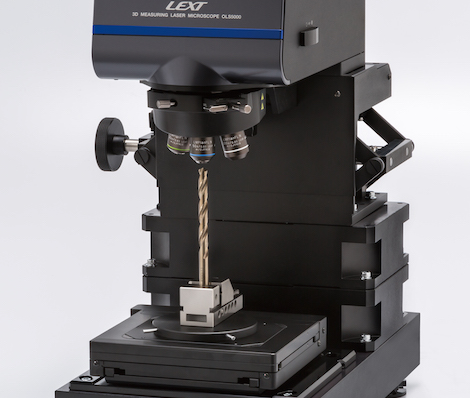 Olympus Corp. of the Americas
One of the world's oldest manufacturers of microscopes and other optical equipment is leading the way in its industry by thinking small. Olympus' new LEXT® OLS5000 3D laser confocal scanning microscope will make it easier for researchers and other users to see details at a nano level.
"This is the new flagship system of our industrial microscope product line," says Guangnan Meng, product manager of industrial microscopy for Olympus' Scientific Solutions Group. "This system is so special because it has a very high resolution, and is designed to detect 3-D structures on a sample in great detail.
"Most optical microscopes have a resolution of up to 300 nanometers, which is the wavelength of visible light," Meng notes. "The OLS5000 is unique because it can reach down to the single nanometer level of resolution."
The OLS5000 features 4K scanning technology and optics that enable the detection of near-perpendicular features and small steps. The device acquires data four times faster than its predecessor. "We designed a completely new software solution for this microscope to increase our efficiency and speed," Meng says. "We are leading the way in scanning speed compared to other confocal microscopes."
The OLS5000 features an expansion frame and a dedicated long working distance lens that allows it to perform precise measurements on samples up to 210 millimeters in height. "Our lens is specifically designed for 3D applications," he adds. "We performed a lot of optical engineering on our lenses, giving users a flat and accurate measurement along an axis.
"We are the only vendor who has dedicated 3D optical objectives for surface metrology and LEXT dedicated objectives. Our eyes are a lot sharper than those of our competitors," Meng says.
The Next Level
The OLS5000 microscope differs from other conventional methods – such as scanning electron microscopes (SEM) and atomic force microscopes (AFM) – that are typically used to view samples at similar levels of resolution. Both methods require contacting or breaking off portions of a sample before viewing, and the SEM method typically requires 45 minutes to prepare a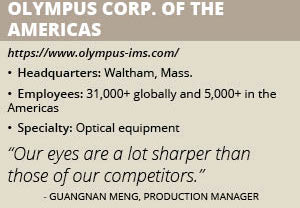 sample. "Using the OLS5000, you can receive results for 10 samples in the same period of time," Meng adds.
The microscope is non-destructive. "In the past, inspectors conducted surface shape and roughness measurements using direct contact, stylus-based roughness instruments," the company says. "But an increasing number of samples such as fragile films, or samples with height variations less than the diameter of the stylus, gave rise to a need for more precise, nondestructive and non-contact measurement techniques."
The OLS5000 is also more compact than comparable technologies. "We're very proud that we've delivered a high-end product with a lot of engineering behind it," Meng says. "This microscope is smaller than a desktop computer and can still reach an amazing nanometer resolution at high accuracy and in a 3D environment.
"[The OLS5000] will push the 3-D surface metrology market to the next level," Meng says. "It has better accuracy, higher speed and efficiency, greater flexibility, and is easier to use."
Industry Applications
The OLS5000 is ideal for research and development, as well as quality control inspection in industries including automotive manufacturing, metal processing, additive manufacturing, and electric component and semiconductor manufacturing. For example, the microscope can be used to inspect the surface of a piston ring used in a car engine, Meng notes.
"Manufacturers want to optimize their yields and want the products they produce to be high quality, making it important to check the quality of their products during each step of the process," he adds.
The rise of nanotechnology such as optical sensors makes precise measurements particularly important to manufacturers. "Everybody is talking about Industry 4.0 and the internet of things; all of those upgrades to manufacturing technology have to get to the nano scale to work," Meng says. "Compared to other technologies with similar resolution or capabilities, the OLS5000 has the best operational efficiency and productivity."
Sharp Eyes
Olympus Corp. of the Americas is the U.S.-based subsidiary of Olympus Corp. For nearly 100 years, the company has excelled at developing optics products. In addition to microscopes, the company's products include cameras, ultrasonic flaw detectors and thickness gauges, videoscopes, borescopes, microscopes, in-line and advanced nondestructive testing systems, XRF and XRD analyzers, and interferometers. Olympus Corp. also offers a large selection of industrial scanners, probes, software programs and instrument accessories.
"Our goal is to supply reliable, economical systems globally that enhance safety, security, quality and productivity for customers and that contribute to society," the Japan-based company says. "We are committed to actively pursuing the development of new technologies, products and services that offer the best solutions to customers' needs.
"Our commitment to designing quality products is directly linked to our customers' responsibility to comply with the highest industry standards and regulations in order to ensure public safety," it adds.