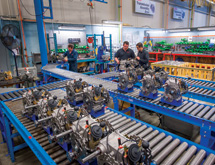 In the 50 years that Ontario Drive & Gear has been in business, it has seen a number of technological innovations shake up the power transmission industry. What has helped the company set itself apart from its competitors in the sector, according to Vice President of Sales Norbert Benik, is its ability to adopt new technology and put it to use in creating the highest-quality gears and transmissions possible.
"We have continued to invest in the latest technology in terms of machines and equipment," Benik says, adding that Ontario Drive & Gear recently brought the latest gear-shaping technology from Europe into its production facility. The new $1 million Liebherr gear-shaping machine with full automation allows the company to cut gears faster and with greater accuracy than with its previous equipment, and Benik says customers value these traits in a supplier more than ever.
"Our business is built on flexibility, it's built on accuracy and it's built on a higher level of service that we can offer to our customers," Benik explains.
Based in New Hamburg, Ontario, Canada, Ontario Drive & Gear has been manufacturing gears and transmissions since 1962, but that's not all the company is known for. Alongside the company's gear division, Ontario Drive & Gear's vehicle division produces the industry-leading ARGO line of amphibious vehicles. In everything the company does, it succeeds through its technological edge, its commitment to quality and its proximity to many major OEM customers.
Manpower and Technology
The core of Ontario Drive & Gear's success can be found in its 105,000-square-foot production facilities in New Hamburg. Benik says the company made the commitment years ago to utilize automation whenever possible in its production process because it reduces the potential for human error and creates consistent quality. For components such as gears, the ability to produce parts that are virtually identical in every conceivable way is something highly valued by OEMs, and Benik says Ontario Drive & Gear is proud to give customers that peace of mind.
The human element remains a crucial part of the manufacturing process, however, and Benik says Ontario Drive & Gear is committed to making sure it has the best and brightest operators in the industry. Not only does the company offer compensation comparable with the upper end of the industry, but Ontario Gear & Drive also helps employees keep their skills up with an in-house apprenticeship program. Although finding skilled manpower to operate today's sophisticated manufacturing equipment has become more difficult in recent years, Benik says the company's training programs give it the ability to look only for those with a strong work ethic and give them everything else they need to contribute.
"Skilled labor is a big factor and a concern of ours on our growth path," Benik explains.
Lean Principles
Having the latest equipment and the most highly skilled operators goes a long way to making Ontario Drive & Gear one of the leaders in its marketplace, but that's not the whole story. Benik says the company has taken steps to address improvements in its manufacturing processes from an operational standpoint as well as from a technological or manpower perspective. "We are focusing heavily on lean initiatives," he says.
One major shift that has come along with that focus is that Ontario Drive & Gear no longer simply waits for customers to provide specifications before manufacturing. Benik says the company's engineers and designers now work with customers during the design phase to develop products that require little adjustment as they enter production. "One of the things that we're really focusing on in development and support of our customers in the design of gears or gearboxes," Benik says. "The best way to take cost out of a project is in the design stage."
Lean manufacturing principles also have found their way onto the company's production floor. Benik explains that equipment has been grouped together more effectively to reduce the movement of parts through the facility and reduce steps. One of the side effects of this organization is a much cleaner and more organized manufacturing plant. "The old days of manufacturing – the dark and dirty – has gone by the wayside," Benik says.
Better Position
In the near future, Benik says Ontario Drive & Gear will place a bigger emphasis on helping customers with noise reduction. Many electric and hybrid vehicles experience problems with noise in gearboxes, and Ontario Drive & Gear is using its increased involvement in the design phase to work on engineering noise out of components.
The company has grown by an average of 15 percent per year over the last two decades, Benik says, and it sees plenty of opportunities for that trend to continue. More OEMs are turning away from offshoring as concerns about quality and lead times make overseas vendors less appealing. With Ontario Drive & Gear's North American base, Benik says the company is in a good position to help its customers achieve their goals. "They want their suppliers to be close and nearby," he says.