Delivering the buses of the future
With over 100 years of industry knowledge, the Optare Group utilises a century of expertise and the latest technologies in bus design and manufacturing to deliver the vehicles of today and tomorrow
From its production base located in Sherburn-in-Elmet near Leeds, the Optare Group (Optare) operates as part of the Hinduja Group through its parent, Ashok Leyland – a company ranked within the top four global bus manufacturers. Although the roots of the business date back to the formation of the Leyland Motor Company during 1907, Optare itself was founded in 1985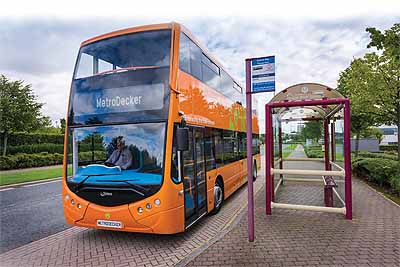 following a management buyout of the Charles H Roe body building factory in Cross Gates, Leeds. Throughout the subsequent years, Optare has introduced several iconic vehicle designs including the Excel, Solo, Solo SR and Versa models. During 2008 the Darwen Group acquired the business with Ashok Leyland acquiring 25 per cent of the business in 2010 and increasing its stake to a controlling share in 2012.
As Optare has continued to grow it has gained a reputation as a leading player in the design and manufacture of buses. During 2011 the then Minister of Transport, Norman Baker officially commissioned the company's current manufacturing plant in Sherburn-in-Elmet and by 2012 Optare had celebrated the production of its 10,000th vehicle. During 2012 the company also introduced its Metrocity bus, which was followed by the introduction of the prototype of its Metrodecker double deck bus in 2014. These achievements have placed Optare at the core of innovation and design for the wider Ashok Leyland organisation. "We have listened to the voice of the loyal Optare customers and are delighted to support Optare's evolution and long term commitment to the bus industry," says Ashok Leyland Senior Vice President Global Bus, Thyagarajan Venkataraman. "Ashok Leyland and Optare's new management team have aspirations for Optare to become our 'Global Centre of Excellence' for buses."
Optare products are currently sold worldwide, 95 per cent of its buses are sold to the UK market, and the remainder purchased by customers across New Zealand, Australia, the Middle East, Europe and South Africa. Each of the vehicles that are designed and ultimately manufactured by Optare are based on the fundamental principles of innovation and lowest whole life cost. The innovative, light weight, modular design of Optare vehicles ensure maximum kerb appeal and incorporate environmentally aware low-carbon options. To ensure a low lifetime cost for each vehicle, both simplicity and ease of maintenance are at the heart of Optare's innovative designs. Optare also believes that extended warranties and professional aftercare are important in reducing whole life costs.This philosophy has contributed to Optare to retaining its position within a highly competitive market.
"2015 saw growth in the UK bus market, however the first quarter of 2016 saw a slight decrease in demand. Twelve to16 tonne single deck and double deck buses dominate UK sales and this is therefore the most attractive market segment in terms of growth and size. The UK bus market is highly competitive, with a focus on fuel efficiency moving away from heavy weight single decks. Optare's lightweight design presents an obvious advantage in these market conditions," elaborates Optare Group President, Graham Belgum. "There is also planned growth in electric vehicles (EVs) not only in UK, but across Europe, the Middle East, India and Oceania. As the leading bus manufacturer in this area with over 100 operational EVs we see huge opportunities for us in the future."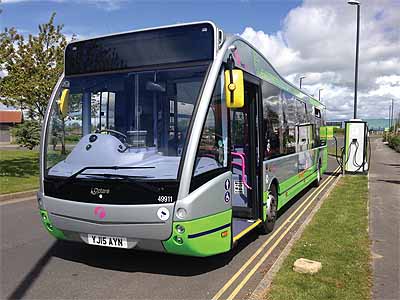 Although Optare has taken an early lead in the development of EVs, the demand for EVs and other low emission buses as well as £30 million in Office for Low Emission Vehicles (OLEV) funding will further drive the demand for low carbon solutions between 2016 and 2018. "Optare electric vehicles were independently verified by TfL in January 2016 as some of the most efficient vehicles in London. Optare vehicles were found to be using an average of 1.2kWh per mile, while other electric buses in the capital were using an average of 2kWh per mile," Graham explains. "However the challenge set by TfL and operators has always been to achieve a whole day's operating range with little or no need for opportunity charging throughout the day. Optare have taken on the challenge to improve the range of their vehicles and recent development work has increased the range of a Solo electric bus by 50 per cent without compromising the passenger capacity of the vehicle."
During the coming months the company will continue to solidify its place in the market through the development of its Metrodecker and EV buses as the key trends in modern transport solutions, which will take Optare and its clients into the future. "Double deck buses account for around 40-45 per cent of the market and we expect this market to increase to around 50 per cent in the next five years. This is a sector that Optare has been absent from for the last ten years and we see the Metrodecker as an opportunity to grow our share of the market. The operators we have spoken with have welcomed a further player in the double deck market, which they believe can only lead to more choice and better overall products," Graham concludes. "We will continue to focus on introducing production of the Metrodecker and further improvements in our EV range including the development of a fully electric Metrodecker. We hope this will enable us to increase our market share both within the UK and globally."
Optare Group
Products: Bus design and manufacturing