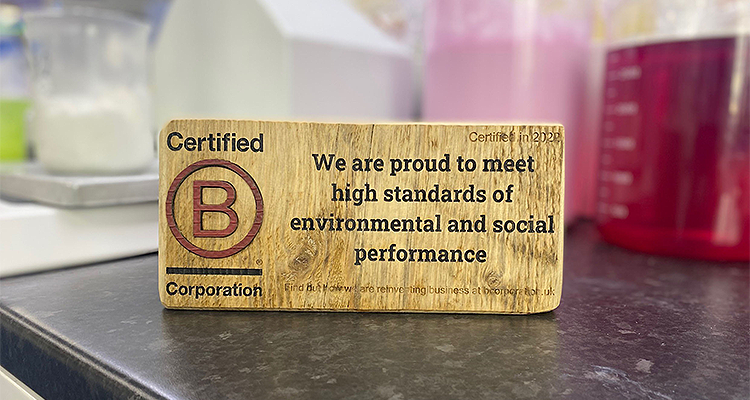 Orean Personal Care provides the perfect case study for growing within the industry 
Dan Williams, CEO, joined Orean Personal Care (Orean) around 12 years ago, as a sales director. During his tenure, the private label cosmetics manufacturer has increased its turnover tenfold, from £3 million to £30 million, despite the seemingly controversial strategy he implemented upon his arrival.  
"The organization had been stuck at £3 million revenue for a number of years," he begins, "and it didn't seem to be going anywhere. At the time, the company was putting all its resources into acquiring new accounts, which I decided to put a stop to. In place, I realigned the approach to focus on managing our existing clients, each of which had enormous potential. It's an industry in which success is generated from reputations and relationships.  
"My theory was that once our current brands started to spread the word about how great we are to work with, others would abandon their posts and wish to join our ranks, and that's what's been happening. Our success has come from backing the better brands, not just the established ones. As such, we employ a stringent approach to taking on new clients. We examine potential customers' backgrounds and make the effort to talk with them properly, to really understand who they are and where they come from. Consequently, we don't lose the brands we work with, despite our ongoing growth. It's not a case of one comes in another goes out. 
"To be honest," he continues, "there's no secret sauce to it, other than providing really good customer service and care. Things go wrong all the time in manufacturing, and you can't hide that, but it's more about how you deal with issues that arise. We will always front up and deal with it, but sourcing the root cause is never our first port of call. Our initial response is to fix it and get the customer to a comfortable place no matter what, then we'll return to figure out how we can avoid repeat incidents in the future." 
Organic growth 
Orean's strategy is heavily focused on organic growth, to which its research and development and formulation departments are integral. Following R&D, a typical customer's journey will involve scaling up, before the liquid is manufactured, filled, packed, and transported to their warehouse. Aside from aerosols and color products, such as lipsticks, the company offers every form of cosmetics, and is purely a contract manufacturer on behalf of its brands.  
"From a minimum order quantity (MOQ) perspective, we've always been fast paced," says Dan. "That's one of our key USPs. We do everything we can to turn products around quickly for clients, while avoiding any form of friction. Going back to our model of not advertising, working with retailers or owning any of the brands, but just growing organically, it means we typically work with a lot of startups.  
"Traditionally our MOQ was 5000 units, which seemed like a reasonable entry point to offer some of the smaller enterprises. Regardless of this, we're fully equipped to operate at far greater scales. We're typically running between 500,000 and one million units at any given time. However, during the pandemic, I was very conscious that lots of people would be losing their jobs, and cashflow was going to tighten across the nation, so I decided to reduce this to 2500. As I say, we practice great due diligence when it comes to taking on new clients, so I was confident that this smaller number would enable us to give a foot in the door to some up-and-comers, whilst everyone else was raising their minimum entry levels.  
"It's also proven to be a huge success with our existing customers, who are able to stock up every three months instead of six, and use the excess working capital to improve other areas of their business," he adds. "As a result of this, people are able to drive their brands further, and trial out new innovative ideas without committing to such large initial orders. The data that these three-month runs produce is invaluable when clients are approaching retailers too." 
Customer focus 
Almost six years ago, the company identified a trend among some of its top brands, in that they were gaining good traction in the US, but not sure where to start in terms of manufacturing overseas. Another similarity was their keenness to continue with Orean, and the importance they placed on such long-standing relationships. 
"So, we decided to facilitate this," Dan explains, "and we initially set up a filling station in Illinois, where we could ship over the products we'd manufactured here in the UK. This meant our clients could avoid the costs and admin of transporting goods into the US, however, it did mean that they incurred increases in lead times. We were aware that this practice couldn't last forever, but then we started to see some real growth on the US side. 
"Year one saw $250,000, year two $500,000, year three $750,000, year four $4 million, which grew to $6 million by year five. This happened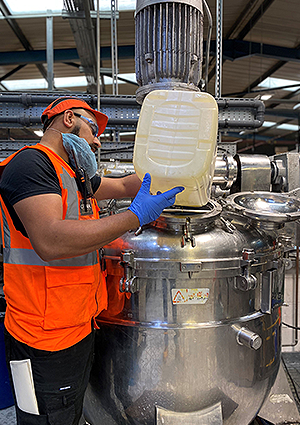 during the pandemic, and it wasn't anything to do with hand sanitizer, just standard skin and haircare products. So, we relocated over the border into Indiana, and set up a full manufacturing operation, which reflects what we have here in the UK. I don't think there's anybody else currently doing that. At first, this was just to support our UK brands trying to make it over there, but it soon developed into US producers reaching out for our services, which has further grown into these same US customers wanting us to manufacture for them here in the UK, to distribute to retailers across Europe.  
Can-do attitude 
"Another of our USPs is that, as a business, we don't charge for product development," he continues. "Furthermore, once the client has paid the first invoice for their product, we transfer the IP directly to them, and operate on an exclusive manufacturing contract. This means that they have two or three years of working alongside Orean at least, by which time they will love what we have to offer. 
"Over the years we have focused on how we can continue to accommodate such speed and flexibility as we grow, which we truly owe to the culture carried by our phenomenal workforce. When recruiting new members, we place a great deal of emphasis on a can-do attitude, because nothing is too much of an inconvenience for our staff. From an operations perspective, we set our schedule for the following week on a Thursday, to facilitate as much flexibility as possible. This approach would horrify many, but our planning teams relish it, because they see the bigger picture and understand why." 
To encourage autonomy among the workforce, Dan and his team have proactively removed any form of blame culture from Orean. This facilitates employees to trust their own initiative when making decisions, without fear of reprisal. By instilling the core values of integrity and collaboration in everyone's daily practices, the entire enterprise now operates on the same page. 
"A manufacturer I used to work for, would only allow account managers to communicate with clients," Dan concludes. "I didn't want to let that bottleneck model encroach on our capabilities, so I make it clear to our customers that they can speak to anyone in the team. In fact, they could spend a day asking everyone the same question and guess what, they'd receive the same answer every single time. We don't need to control our dialogue here, because everybody works with integrity and openness. 
"It was through building this community, that we started down the path to becoming a B Corp company last December. Everything we were doing within the business, and the wider community, in terms of ESG, and by looking after our stakeholders, led to people viewing Orean in a different light. It was easy for us, because we were already exercising many of the key practices associated with being a B Corp, however, once we were certified it meant that people could instantly identify us and understand exactly what we're about."  
www.orean.co.uk