Providing a personal touch
An award-winning manufacturer of private label cosmetics, Orean Personal Care provides expertise and guidance throughout the entire production process, from brief to shelf
With its headquarters and manufacturing facilities based in Cleckheaton, West Yorkshire – and a US satellite operation based in South Holland, Chicago – Orean Personal Care (Orean) is a multi-award-winning private label cosmetic manufacturing company. Specialising in producing bespoke high-end skin and hair care products, it has accrued a reputation for a personal, quality service and speed of response when offering its clients a complete package of services, from product development with onsite testing facilities, and full regulatory support, to manufacturing and filling, together with a gift packing operation.
"The current ownership of the business has been in place now for around 12 years, and in that time, we have really emphasised our focus on meeting the needs of the brands and partners we contract with. In doing so, we have successfully grown to the point where we are now producing some 2.5 million units per month and turning over around £20 million per year," begins Orean's Managing Director, Dan Williams.
"The values embedded within Orean – collaboration, ambition, expertise, integrity and agility – blend effortlessly with the flexibility and dynamism of our people, and our speed of response,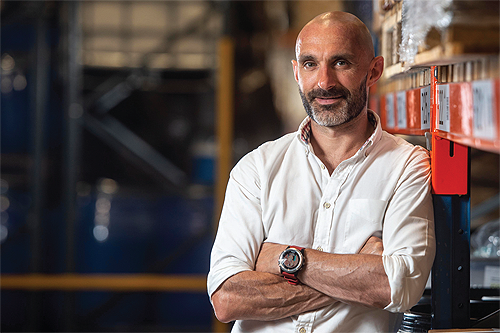 which really helps to set us apart from our peers within our field," Dan continues. "We benefit greatly from having a relatively young, diverse, female heavy management team and a fantastic group of manufacturers, a great regulatory team, and full formulation and product stability testing facilities all under one roof. All of these functions fall under the complete service offering we provide our clients with."
Operating to ISO 9001, 22716 and 14001 standards, Sedex membership, COSMOS certified and FDA audited, together with being members of the Cosmetic, Toiletry and Perfumery Association (CTPA), Orean exclusively creates private label products for brand owners, turning their concepts into cosmetics that are loved worldwide, and find themselves on the shelves of premium retailers such as Sephora, Ulta Beauty and Harvey Nichols. "Everything we do, we do with our customers' business in mind," Dan states. "We work with around 25 established brands – ten of which make up some 90 per cent of our turnover alone – as well as another 15 or so start-ups. We particularly enjoy working with start-up businesses, providing them with all the support needed to get their products to launch. All of our customers are UK-based, while our Chicago office also acts as a platform for giving their respective brands traction in the US market."
Dan himself joined the company seven years ago, first as Commercial Director, and has been in the role of Managing Director since January 2019. In that time, he has helped to oversee heavy investment in Orean's people, introducing more training and development initiatives, and encouraging a more collaborative culture across departments, while also instilling a higher degree of autonomy and trust. "We are an important part of our local community, in that today we employ around 160 people directly, as well as some 30-odd agency staff," Dan reveals. "Going forward we will be increasing our in-house recruitment, providing more people with stable, fixed-term contracts, which will also give the business a greater degree of operational flexibility in the process."
Dan recognises how blessed the company is to have a hugely talented people from top-to-bottom, and it is they who provide it with the unrivalled speed to market that Orean has become renowned for. "This really begins at the decision-making stage," he says. "The speed in which we respond to a clients' brief, commence production, conduct testing and complete the packaging phase means that, on average, we are able to launch new products – from brief to shelf – within nine to 12 months. This is phenomenally quick when compared to the industry average of 18 to 24 months. One of our other USP's is the service level agreement that we have in place with our clients, whereby we commit to filling their supplied packaging within one week of receipt, and delivering it the week after, subject to sight of their individual order specifications and access to the required raw materials."
Having reached a year within the Managing Director's chair – as it were – Dan has a clear idea of what he wants Orean to achieve during 2020. "The primary goal sounds relatively simple, but what we want to do more than anything else is to continue to provide clients, employees and suppliers with the most desirable contract manufacturing experience possible," he declares. "We are told repeatedly that our clients and suppliers love dealing with us, and this has resulted in a situation where virtually all of our new business arrives through referrals, and we would like to see this remain true going forward.
"In the meantime, it is the management team's overwhelming wish to retain Orean's status as the most desirable place to work, and to ensure that those that do join our team in the future want to stay here for as long as possible. This is a business that is built on the skills, expertise and – above all – passion of our people, and that continues to shine through each and every day."
Orean Personal Care
Products: Private label cosmetics