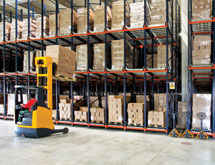 When Overstock.com first hit the Internet scene in the spring of 1999, the concept of liquidating excess inventory through an e-commerce website was still in its infancy, and Overstock.com was one of the few players in existence.
While Overstock.com can claim its role as a pioneer for e-commerce, it certainly isn't alone anymore. There are thousands of online retail sites the Salt Lake City-based company must compete against these days, ranging from cyber extensions of traditional brick-and-mortar retailers like Bestbuy.com, all-encompassing department store-style websites like Amazon, auction sites like Ebay, or specialty niche online stores like Etsy.
However, Overstock.com has separated itself from these competitors not just through its prices and the breadth of products it offers, but through a level of unparalleled service that brings customers back to the site again and again.
"We do a lot to protect our brand," President Jonathan Johnson says. "We have set the bar for online retailers by providing great customer service, largely due to our executives running that department and the fantastic agents that are on the front lines and deal with customers more directly than anyone else."
A Premier Mission
Overstock.com CEO Patrick M. Byrne launched the web retailer in 1999 with the mission of becoming the premier company selling excess inventory through the Internet, the company says.
Since the operation was founded, Overstock.com's GAAP revenue has grown from $1.8 million in 1999 to almost $1.1 billion in 2011, it says. The company also says since October 1999, its customers have saved millions of dollars off the manufacturers' recommended prices.
Today, the company offers more than 720,000 books, music, movies and games (BMMG) products as well as more than 63,000 non-BMMG products. Overstock.com maintains headquarters in Salt Lake City, where it employs 1,300 people and stocks as many as 890,000 items at a time.
Finding Justice
With so much competition in the cyberworld, Johnson admits online retailing has become more of a commodity than anything else. Overstock.com realizes there are plenty of sites consumers can use for their Internet shopping needs, which makes a commitment to customer service an absolute necessity.
However, vendors and suppliers have plenty of online retail outlets vying for their products, as well. And while the old adage, "The Customer is Always Right" still rings true, Overstock.com understands that what's right is not always fair, and the company aims to make sure everyone who works with it feels they've been treated fairly and are willing to work with the site again.
Leading this initiative is Stormy Simon, senior vice president of partner care and customer care. By creating this melded position, Simon says it shows Overstock.com believes its vendors are just as vital as clients and should be made to feel that way, as well.
"The similarities are, to Overstock, that they are both customers in the sense that they want to be treated fairly as well as have a partnership and trusted relationship," Simon says. "We have to earn their trust on both sides of the coin. Whether an order goes through seamlessly or effortlessly, or if there is an issue with the order, we have to earn trust."
When Simon took on this role in 2005, one of the first rules she implemented was that customers aren't always necessarily right, but they always deserve justice. This creates a culture of fairness and balance between consumers and vendors.
"It's to be expected with thousands of partners and millions of customers, not everyone will be happy, but they deserve to be treated with justice and what's fair," Simon says. "It can be challenging to find the right balance between Overstock vendors and customers.
"However, I tell agents to treat everyone like you would want your mom to be treated – you can argue with mom, but she must always be respected," Simon continues. "You must show absolute respect and have an absolute understanding of both sides of an issue, and that means executing on both of their behalves."
Simon cites an example of a customer who ordered a $250 chair that is delivered with a broken leg. Since this particular chair happens to be quite large, the easiest solution would be to replace the leg instead of having the customer ship the entire chair back to Salt Lake City.
However, real life problems often insert themselves into situations like this. For instance, what if the customer had plans to host a party shortly after the chair arrived? Is it fair that they leave a large disassembled piece of furniture in their home as guests arrive?
"If they're not happy because of that, the question is what will it take to make them happy," Simon says. "It could be the vendor's fault, but should they get a free chair? Of course, the consumer would say, 'Heck, yes,' but I would say not necessarily so.
"It might not be a $250 error, but maybe it's a $25 or $50 error," Simon adds. "Everybody is pretty reasonable."
"Justice" in situations like these is found in the gray areas, according to Simon, and customer service agents are trained exhaustively to determine what is best for all parties.
"We have awesome agents who seem to find the right resolution," Simon says.
On the Horizon
The growth of online retailing has unlimited potential, as Johnson sees it. That means more competition most likely will reveal itself in the near future. Johnson explains this is the reason why Overstock.com focuses on keeping clients happy with service as well as competitive prices for its products.
"I think online shopping is going to continue to grow, so Overstock is in a position to grow faster than the industry if we keep focused on pricing and providing a good customer experience for our online shoppers," he says.