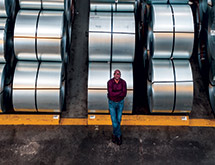 Pacesetter is a family owned business with humble beginnings. Steve Leebow, the founder, worked in his family's steel distribution center until he started his own company in Atlanta, Ga. in 1977. He successfully and quickly grew Pacesetter to be known in the market as a leading steel supplier. Now, Aviva Leebow Wolmer, his daughter, who was appointed CEO in September 2014, runs the company while Steve remains immersed within the business as Pacesetter's COO.
Beginning in galvanized steel, Pacesetter's products now consist of galvanized, galvannealed, galvalume, aluminized, stainless, cold-rolled and pre-painted materials. The company primarily distributes steel to a wide range of global OEMs, who produce products from HVAC units and ductwork to garage doors and vending machines.
"We serve a large variety of customers, each valuing different things," explains Gary Roberts, vice president of procurement at Pacesetter. "Some want stability of pricing and inventory, others want extreme flexibility.  To support that, we purchase steel using a variety of methodologies. We supplement this with a deep knowledge of our supplier's steel-making capability, personnel and culture. This helps us make sure we're matching the best suppliers to each customer."
Pacesetter serves all of North America, with three service centers in Atlanta, Chicago and Houston. "We have inventory in 40 locations throughout the United States," Leebow Wolmer says. "All of these partnerships are strategically placed. We do extensive auditing of any partner to ensure they fit our standards."
Pacesetter has a passion for finding solutions. Customers do not merely hire them as a vendor; they depend on Pacesetter as a collaborative partner. Each customer has one thing in common: different steel requirements that must be precisely executed.
"Each job that we have is slightly different in regards to length, width, gauge, weight and steel type. We adjust using a very disciplined and effective quick-changeover method that has added as much as 35 percent more run-time to each of our lines," says David Cosgrove, vice president of operations. This flexibility has enhanced its scheduling response and last-minute insertions. Pacesetter now has the capability of making new products in less than 18 minutes.
"Quality and productivity are often considered mutually exclusive in most manufacturing environments," Cosgrove says. "By using a cloud-based tool Pacesetter designed to gather statistical process control data at the machine level, we are constantly monitoring and improving quality and productivity."
Pacesetter's customers always get what they ask for within the time they need it, according to Leebow Wolmer. "But we do much more than sell steel. We are partners to our customers. We create mutually beneficial relationships to impact their bottom line," she says. "Our goal is to find good companies that we can partner with and make both of our companies better and stronger."
Recently, Pacesetter was certified by the Women's Business Enterprise National Council. "We have a shared vision of leading the industry in innovation and becoming a genuinely collaborative partner with our customers, our suppliers and our community," Leebow Wolmer says. "Our certification will allow us to add even more value to our current customers, helping them reach new markets and their supplier diversity initiatives."
Family Driven Culture
Pacesetter sees all 160 of its associates as family.  Leebow Wolmer emphasizes the fact that everyone is on the same level as an "associate," rather than an employee.  "People stay after work playing ping-pong and other activities because they enjoy hanging out with their colleagues here," she says. "This leads to collaboration and teamwork on a daily basis. We all have our roles, but we step out of them if something needs to be done. We work hard and play hard. We celebrate our successes, give back to our community and have fun while doing it."
Pacesetter employs extensive onboarding processes for every new associate. Each associate learns how every area of the business works, no matter what his or her role may be. "We want them to live, breathe and feel every stage of the process and how their role will impact everything, good or bad," Leebow Wolmer says.
Recently, Pacesetter installed "Can You Imagine It" whiteboard walls at all of its locations and the associate-generated ideas flooded in. The vast impact of these ideas over the last eight months pushed Pacesetter into creating its "Innovation Implementation Team."
"We have the best talent," Leebow Wolmer says. "We are very specialized for every position at the company with very skilled and talented associates at each level. Really, truly and wholeheartedly, we are open to anyone who wants to make Pacesetter a better place. Pacesetter is a force of nature in the most rapidly changing landscape in history."