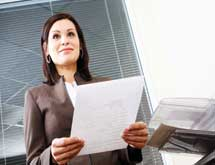 Pacific Office Automation
One corporation describing itself as a problem solver is hardly a novelty, but actually being able to stand up to that claim is another matter. With more than 30 years as a leading distributor of document imaging and office technology, Pacific Office Automation (POA) proves it is capable of offering companies valued solutions. POA says it features the most respected names in state-of-the-art technology, and is recognized nationally for award-winning sales, service and customer support.
"When you partner with Pacific, you're partnering with a company that's dedicated to making your workflow more efficient and less complicated," the company explains.
With deep roots in the pacific region of the country, POA says it is the industry's largest independent dealership. Headquartered in Beaverton, Ore., with 460 employees across 16 locations throughout Washington, Oregon, California, Arizona, New Mexico and Utah, the company provides document and image management products, services, support and supplies to customers within its markets.
"Our standing in the U.S. makes Pacific one of the world's largest dealers for Sharp, Konica Minolta, Toshiba, Ricoh, Lexmark, Xerox, Canon and HP copiers, printers, faxes and multifunctional devices, as well as Muratec faxes," the company notes.
As problem solvers, POA strives to provide for its clients' needs in document management and distribution, while preventing any possible future problems. "At POA we believe the best solution to a problem is a proactive approach to preventing them," the company says. "With this in mind, we partner with our clients to review, evaluate and make recommendations to their current situation. With over 30 years of expertise in the office equipment industry, we know we can bring value to our customers and a strong return on their investment. When we do so, POA prospers as well, and we believe this is the backbone of our ongoing success."
Efficient Solutions
POA monitors its technical performance daily with support structures of teams and workgroups, which also allows it to continuously monitor quality and productivity.
POA explains that it understands how companies can become confused from technical jargon and terms that are tossed out to explain how to increase office productivity. Instead of using an acronym such as ECM, or enterprise content management, POA prefers to use a simpler term to describe the capabilities of the latest software and hardware – business solutions.
"For us, 'business solutions' refers to the efficiency, the degree of productivity associated with the way you capture, manage, store, deliver and preserve content, content being the documents, email, graphic images, web pages and all the other elements of communication that exist within your enterprise," POA explains.
In addition, it says that companies can begin to appreciate opportunities to enhance productivity through the few simple steps POA provides.
POA makes itself available to customers for assistance at all times, pointing out that if service, supplier or support are needed, clients are able to contact a live person. Service calls are placed with the dispatch office in Beaverton, and each service dispatcher is trained to help with phone support when possible.
If an on-site technician is needed, dispatch places a service call for response. Through Nextel cell phones, technicians have immediate communication for consultation with another service technician, their supervisor or manufacturer technical representatives.
A Recommended Team
When POA surveyed its entire customer base about its performance, it says more than 98 percent of its customers responded that they would recommend POA to a friend.
"Pacific's growth has been, and always will be, founded on meeting the gold standard in customer service, support and satisfaction," the company states.
POA believes accountability is the best way to ensure performance, and by effectively "keeping score" it can monitor performance through multiple reporting sources. These sources are its daily operation, service history and customer satisfaction reports.
The daily operation report is broken down by branch and team, and allows the entire company to view performances of branches and individual technicians and their teams. The report tracks response time, number of completed calls, number of open calls, effective rate, incomplete percentage and parts per call.
The service history report can be ran by account, type of machine and individual machines. It details re­sponse time per call, overall response time per machine, service call detail, parts usage and preventative maintenance detail.
POA calls its growth over the last 15 years remarkable. "Pacific ranks nationally among the top five dealers for Sharp and, for the last several years, has ranked as Konica Minolta's top North American dealer for color equipment," it notes. "The secret is our people: we've got a phenomenal team. If [potential employees] like to contribute to a great team and enjoy the many benefits of being part of a successful and growing organization, Pacific offers [them] a fantastic opportunity."