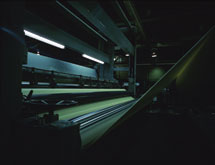 Pacific Paper Products Inc.
With a history that spans more than 60 years in the industry, Washington-based Pacific Paper Products Inc. has manufactured nearly every kind of packaged paper product at one time or another. CEO Brian Maggio explains that the company was founded to produce examining table paper for medical customers, but over the years it has changed its focus at various times to include napkins, towels, tissues and other packaged produces. Although the company's product line has changed over the years, Maggio says the one thing that has held constant is the company's devotion to quality products.
The company is based in Sumner, Wash., with another plant located in Memphis. From those two facilities, Pacific Paper Products serves customers with private-label products, contract manufacturing services and its own line of away-from-home sanitary products. In every market that it serves, Pacific Paper Products encounters some stiff competition from regional and national players, but Maggio says there's a reason why the company has survived more than six decades in such an unforgiving environment. "We do have some distinct capabilities that other people might not have," he says.
Thanks to management's intense involvement in the production process, its emphasis on having up-to-the-minute information and the flexibility of its equipment, Pacific Paper Products has built a comfortable niche for itself in the industry. According to Maggio, maintaining a focus on the fundamentals is crucial for any company to survive, and Pacific Paper Products takes this to heart.
Dedicated to Quality
Although many manufacturers believe having the latest equipment is absolutely essential, Maggio says Pacific Paper Products knows that newer isn't necessarily better. This is especially true of an operation that relies on flexibility because heavily automated equipment is difficult to reconfigure on the fly, Maggio says. He adds that the company uses mainly refurbished equipment and is still very focused on manual operation because it gives the company the ability to switch products on the fly for different customers. Because the company handles small-run contract manufacturing for some major customers like Kimberly-Clark and Scott Paper Co., being able to offer flexibility is a major distinction for Pacific Paper Products.
Maggio adds that advanced equipment is no substitute for an engaged and dedicated team of people working on the production floor, and that's something Pacific Paper Products has in abundance. He says he and other members of the senior management spend more than eight hours a day on the floor with the equipment and the people who operate it, creating an environment in which everyone is heavily involved in the process. "We're a manufacturing-oriented company," Maggio says. "There's not a big chasm between the main office and the shop floor."
Contributing to that atmosphere is the company's emphasis on data. Maggio says Pacific Paper Products is a very report-driven operation, with two-hour, eight-hour and daily reports providing the company with a clear picture of its operational flow on a regular basis. "We tend to be very focused on the here and now," Maggio says.
The advantages that stem from the dedication to its work give Pacific Paper Products an edge over many of its competitors. "We've seen people come into the market and just buy multiple pieces of equipment and not really have a passion for it," Maggio says.
Eliminating Waste
Pacific Paper Products boasts some significant advantages in the packaged paper product industry, but working in that marketplace also presents it with some real challenges. First and foremost, Maggio says, is the issue of cash flow. "In this industry in general, one of the biggest challenges is cash flow," he says.
Not only is the competition the company faces fierce, but profit margins in the packaged paper product industry are razor-thin. Maggio says a $25 product can cost up to $22 to produce, and this is complicated by the fact that Pacific Paper Products is at the mercy of the market when it comes to the price of raw materials.
Combatting these issues isn't easy, but Maggio says Pacific Paper Products is working hard to eliminate waste wherever it can and consolidating vendors to get the most for its money.
Before the company can shift into growth mode again, it has to look at maximizing profit margins on its existing products. "What we continue to look at is getting more for less," he says.
Maggio says that as long as the company keeps its nose to the grindstone, Pacific Paper Products should have the momentum it needs to stay ahead of the pack. "We're focused on the basics," Maggio says.