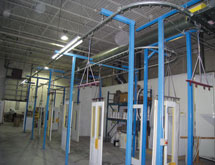 PACLINE Overhead Conveyors
To many material-handling professionals, the brand name "PACLINE" has become synonymous with overhead conveyor automation. PACLINE Overhead Conveyors General Manager Karl Scholz says the company has become so well-known for its systems that it has followed its customers' lead in naming its core product.
"Industrial and mechanical project engineers think of PACLINE when they embark on any kind of study of their production processes," he says. "Many operation managers and production personnel have come to think of PACLINE as the backbone of their plant assembly line or paintline. In fact, our original enclosed track conveyor product was so often referred to by customers as the 'PACLINE' that we have now officially named it as such – the PAC-LINE™."
Since its incorporation in 1980, PACLINE has installed more than 3 million feet of conveyor systems in all regions of the globe. From its manufacturing facility and warehouse in Mississauga, Ontario, Canada, PACLINE ships equipment to locations such as Saudi Arabia, Chile, China and India. The company's customers in the United States are served primarily through its facility in Buffalo, N.Y.
PACLINE's projects range from simple conveyor loops to complex power and free conveyor circuits involving pneumatics, computers, programmable logic controllers and automatic identification.
"Our customers can be GM, Ford and Chrysler one day and Amazon, Walmart or Target on the next," Scholz explains. "We serve a wide spectrum of industries and companies, but the common thread is that we are fast to respond to requests for quotes and we have the shortest delivery times in the industry – we set the standard in that regard."
Key Advantages
One of the biggest advantages PACLINE has going for it is the positive impact overhead conveyor systems can have on a production facility. "We are the go-to guys, the 'git-r-done' guys when it comes to improving efficiency through automation in a wide range of factory and warehouse settings," Scholz says.
According to PACLINE, overhead conveyors are the least-expensive solution when a plant runs out of space or has too many hands touching the products it is producing. For example, implementing a simple conveyor system that is a rectangular loop with an elevation change at one end would require no less than four drive units if you were using a roller conveyor, but the same effect can be achieved with an overhead conveyor using a single drive unit. Additionally, overhead conveyors can carry virtually any type of load, even those considered non-conveyable on other types of conveyors.
PACLINE combines these attractive advantages for customers with a highly skilled workforce capable of ensuring the highest-quality systems, according to Scholz. "We have built our reputation around not only producing high-quality conveyor products, but in hiring skilled engineers and installers and delivering outstanding workmanship and service from start to finish," he says.
"We treat people fairly and have a very low turnover of staff, resulting in continuity that our customers appreciate," Scholz adds. "Many of our customers have been working with the same PACLINE engineers and installers for over 20 years."
Making Improvements
Even with these advantages, however, PACLINE has not been immune to the same challenges the rest of the industry has faced. Nevertheless, the company has been better equipped to handle them than many of its competitors. "The most recent recession was a rough time for almost everyone in any industry," Scholz continues. "At PACLINE, we weathered the storm without a single layoff or job elimination. We acted quickly, got better at our craft and took on some strategic initiatives that proved to make the difference. And now, we are poised to take on increased volume, more complicated projects and to serve even more customers throughout the world."
PACLINE's new facility in Mississauga contains a customer testing area, an upgraded quality control area with testing equipment for hardness and tensile strength, a crane-serviced weld shop, and a wet spray paint booth. A second building contains some additional manufacturing processes and product storage. Scholz says these new capabilities, combined with the strengths and advantages the company already is known for, will provide PACLINE with a solid foundation for sustained success. "Our new facilities and manufacturing capabilities will serve us well in the next up cycle," he says.