From hand to road
Situated in the City of Coventry in the heart of the industrial Midlands, Pailton Engineering Ltd maintains a proven track record in the design, manufacture, validation and delivery of world-class steering systems
Pailton Engineering Ltd (PEL) was founded in 1969 as a subcontractor and toolmaker, before emerging as a First Tier supplier of steering components a decade later in 1979. Following over 40 years of industry experience, the company today operates from its headquarters located in Phoenix House, Coventry and employs around 170 dedicated members of staff. PEL operates out of its 80,000 sq. ft. facility in Coventry, with a sales office in Europe and a sales and distribution centre in the US.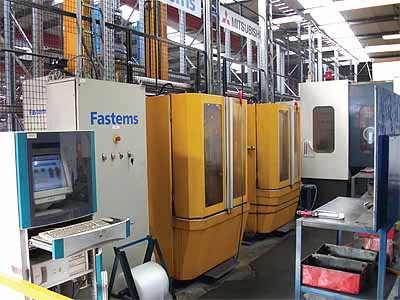 The company's clients include leading OEMs within the bus and coach; truck; utility, including specialist vehicles such as road sweepers and waste disposal trucks; specialist commercial; off highway; and military markets around the world.
PEL products are rarely off-the-shelf solutions and are designed to meet the specific requirements of its customers, which the company meets through the design, testing and delivery of world-class steering systems 'from the drivers hand to the road wheel.'
Utilising state-of-the-art CAD seats (Solid Works), modern manufacturing facilities and purpose built test and validation equipment, PEL supplies bespoke components to suit the exact requirements of its clients, regardless of vehicle type, size or quantity. "We work directly with clients to provide a solution to their requirements," elaborates Managing Director, Cy Wilkinson. "We're a full service supplier – so we design, manufacture and validate our products to suit what the customer needs, taking into account considerations such as weight, load, endurance, functionality and life cycle requirements."
The product range supplied by PEL includes in-house designed and manufactured components such as steering column assemblies; sliding steering shafts; steering universal joints; panhard rods and suspension links; bevel and mitre boxes; drag link assemblies; steering and suspension ball joints and drop arms. The bespoke products delivered by PEL are designed and manufactured to the highest standards of quality and the company's highly skilled design and production engineers provide clients with a comprehensive level of service every step in the way of bringing full-tested solutions to fruition. The company's steering assemblies for example are expertly designed to the client's exact specification. By taking the customer's 3D CAD interface data, PEL can produce a 3D model in Solid Works and provide parts, purpose designed to fit the desired vehicle for maximum performance and ergonomics. This bespoke solution provides significant advantages in terms of precision control and reduced driver fatigue when compared to off-the-shelf solutions.
Items such as sliding steering shafts are also designed to meet the customer's exact requirements on open and closed lengths and wear characteristics. End connectors for the units can be supplied in plain or serrated configurations, with serrations available including 1×54, 1×66, 1×79, 19.05×48 and 22.03×48. This impressive range of options allows clients to take advantage of PEL's flexible assembly methods and therefore ensure that cost, quality and delivery are all world class. Special sizes, shapes and serrations can also be manufactured to suit customer specifications. PEL sliding steering shafts can be supplied as fixed units or with a detachable universal joint to allow for low cost easy servicing and the units can either have a re-grease facility or be sealed for life dependant on the application.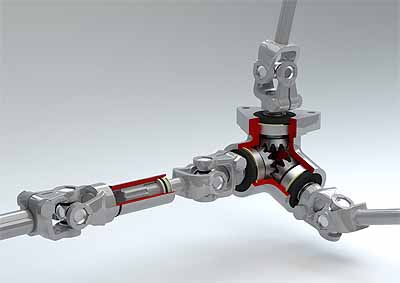 Additionally, for steering shafts subjected to a harsh environment, a gaiter arrangement can also be fitted preventing the ingress of both dirt and water ensuring the maximum durability. "Our products are made in England to a very high standard," Cy observes. "We have a highly skilled and experienced team, which means that we can respond to the requests of our clients very quickly."
PEL is committed to the highest levels of quality throughout all of its design and manufacturing practices and operates to BSI/ISO 9001 quality management system. Furthermore as the company continues to strive for greater standards of practice, PEL is currently implementing ISO/TS 16949. ISO/TS 16949 was jointly developed by the International Automotive Task Force (IATF) members, including BMW Group, Chrysler Group, Daimler AG, Fiat Group Automobile, Ford Motor Company, General Motors Company, PSA Peugeot Citroen, Renault SA, Volkswagen AG, AIAG (U.S.), ANFIA (Italy), FIEV (France), SMMT (UK), VDA (Germany). The standard represents a common automotive quality system based on ISO 9001, as well as customer specific requirements for within the automotive industry and provides a quality management system for continual improvement, defect prevention and the reduction of variation and waste in the supply chain.
During 2016 PEL will continue to supply market-leading steering solutions to its clients, while focusing on the on-going development of its manufacturing process to deliver ever-higher levels of quality. "We are in the process of implementing TS16949 now with our stage one audit in Q1 and stage two in Q2 of 2016 – this represents a significant milestone for us," Cy concludes.
"There are certainly opportunities for us to sell more products to our current customers, as well as growth opportunities with new clients in the future. As always in any business, a key challenge is being better, faster and more efficient in everything we do. Our whole philosophy at PEL is focused around how we can improve the business and create better products."
Pailton Engineering Ltd.
Products/Services: World class steering systems