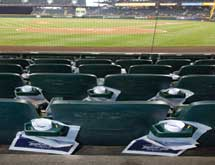 We've always been taught that it's what's on the inside that truly counts, but Pak-Sher knows that what's outside can be just as important. As one of the leading manufacturers of plastic bags used in the foodservice and grocery industries, Pak-Sher understands the specific needs of its customers and uses that information better than any of its competitors.
Since 1973, Pak-Sher has been producing polyethylene bags for grocery stores, eventually branching out to restaurants and other foodservice applications. Vice President of Product Development Terry Gebhardt says the company was the first in the United States to offer flip-top deli bags as an alternative to butcher paper, and was the first in the country to utilize high-density polyethylene blown film extruders in its manufacturing pro­cess. The company continues to be an innovator to this day, he says, as it develops compostable products to meet the growing demand for environmentally sustainable packaging.
The company's ability to develop custom products for its customers and respond quickly to their requests has earned Pak-Sher some solid relationships with some of the biggest names in foodservice. For example, President Don James says Pak-Sher has supplied KFC for more than 15 years. "One of the things we're most proud of is the long-term relationships we have with many of our clients," James says.
Customer-Driven Philosophy
The key to developing those long-term relationships lies in Pak-Sher's philosophy, which James explains is customer-driven, rather than product-driven. Whereas some manufacturers will develop a product on their own and then try to sell it to their customers, Pak-Sher starts with assessing customers' needs and then developing a product to suit them. "We're not out there developing products and trying to drive those to the marketplace," James says.
For example, the company is in the midst of creating training tools for sales reps to help them assess how customers actually use Pak-Sher's products and find ways to improve products based on that information. James says the focus is on keeping the customer's needs in mind and making it easy for customers to understand the products. "A lot of foodservice companies don't have engineers on staff, so seeing engineer drawings of our products does mean a whole lot to them," he says.
One example of these efforts is the work the company recently did with the Seattle Mariners to develop a line of custom trash bags that are compostable. Marketing Manager Michele Talucci says the company's work with the team allowed the Mariners to get closer to its goal of recycling all of the waste generated at Safeco Field.
Once Pak-Sher understands what customers need, it brings those products to them quickly with the help of its state-of-the-art, 125,000-square-foot manufacturing facility. Gebhardt says Pak-Sher's manufacturing pro­cess has been optimized in recent years to bring products to customers faster and more efficiently. "Pak-Sher is definitely taking lean manufacturing to heart," he says. "We do look at ways to utilize new technologies to [streamline our processes]."
Green Initiative
Another area in which Pak-Sher is walking the walk along with talking the talk is in green products. As with the trash bags it developed for the Seattle Mariners, Pak-Sher is leading the market in creating compostable bags that can be used for trash as well as carry-out bags and food preparation products.
Through the company's education efforts and its devotion to being a customer-centered manufacturer, James says he's confident Pak-Sher will continue to be a major presence in the industry for years to come. "We are the premier printer of bags for the foodservice industry," he says.