Staying on top
With an ever-developing product portfolio and strong dealer network PALOMAT is stacking its successes high as it experiences record growth
The PALOMAT concept was invented back in 1992 when its founder, afflicted with a bad back from manual pallet handling, needed to find a solution to facilitate this heavy-duty task. Born was the PALOMAT pallet magazine, designed to take away the manual requirement for pallet handling, greatly improving workflow and safety within the factory. Since this time the system has undergone a continuous process of development and optimisation and today, under BILA's industrial robot and automation umbrella, the Danish firm is the world's largest and leading supplier of pallet magazines.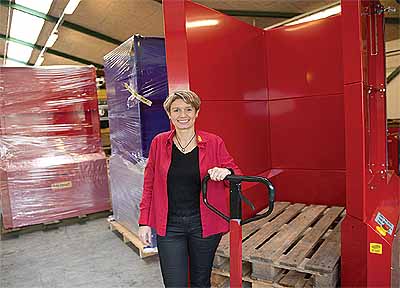 "We now have two core product lines," begins Manager, Majbritt Svane. "The stand-alone system and the inline system. The stand-alone system is by far our biggest selling unit and it is our main focus. The machine can be placed anywhere within the production line where pallets are needed, taking away the need for unnecessary handling, keeping the area clear and tidy and improving workflow. At the moment, we are seeing more and more companies focusing on optimising their working environment and improving efficiency that can have positive results on their profitability and our offering helps them achieve this."
PALOMAT's inline offering on the other hand serves the same purpose but is 100 per cent designed to be integrated into an existing conveyor system. "Technically these companies could design and build the same technology themselves with the engineering capacity they tend to have," explains Majbritt. "However, because of the volumes that we produce we are able to provide cost effective machines that no company will be able to match on price when it comes down to designing, building, testing and securing legal documentation."
A recent development within its product range includes the PALOMAT Greenline, a plug-and-play 230V machine that puts energy efficiency at the forefront of its market proposition. Majbritt notes that this has become the biggest seller in the range as it coincides with the growing trend to reduce carbon footprints and energy consumption. "We have also been developing the PALOMAT 5, which came from listening to market requests and can handle between one and five pallets at a time," she adds.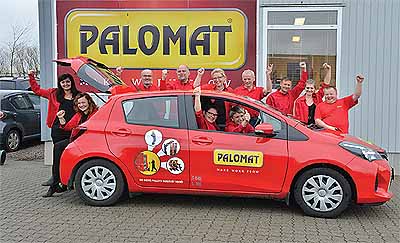 At present PALOMAT is active right across the European market and is starting to make significant progress into the Australian and US markets. Allowing it to occupy a leading position in such a vast marketplace is a combination of product quality and a strong dealer network. In terms of price, the company's stand-alone machines sit at the premium end of the market yet its attention to quality means that it has established an unfaltering reputation that major global brands like P&G, Unilever, Coca Cola and Pepsico continue to return to. "This is the foundation of PALOMAT," says Majbritt. "We only use well-known, world-class, reputable components, never compromising on quality or safety for the sake of cost."
Aside from its products, Majbritt openly attributes a lot of PALOMAT's success to the people spread across its sales division and extensive dealer network. "The business is like a big family," she says. "We work to make sure we can provide a excellent service both before and after sale and also continuously ensure our network of dealers are updated with our knowledge to support the brand and the market in the best way possible. When selecting our dealers we carefully analyse their companies to be sure that they are ready to work as we expect and that they can provide the right feedback from the market. We don't have any dealers who can't add something back to PALOMAT and as a result we have a strong organisation. Without them we would not be able to the do the job we are doing and by supporting them we have great network to serve our end-users."
Over the last couple of years, growth for PALOMAT has been unprecedented and such levels look set to continue. It saw 33 per cent growth over 2014 levels in 2015 with an additional 24 new dealers brought into the network. As part of the Bila group, all manufacturing capabilities are held in-house and, with lean processes in place, additional production capacity exists to be flexible to future rises in demand. "We also implement lean strategies within our sales organisation, with twice-weekly meetings establishing targets and keeping track of KPIs to see how we can improve," Majbritt outlines. Recent growth is also a result of its continued focus on marketing to let companies, large and small, know of the workflow and safety benefits that PALOMAT products inevitably bring.
Strategically, PALOMAT aims to achieve 20 per cent annual growth and with recent results to go by, maintaining this level of success is secured by the business's robust approach to continuous improvement both in terms of its products and its organisation. "As the saying goes, 'never change a winning team'," comments Majbritt. "Right now we don't need to make any big changes, we just need to continue doing what we are good at. We need to co-operate with the dealer network, we need to find new dealers and we need to open up market opportunities in new countries like in the US and Australia where we will need to make some alterations to be compatible with their pallets. Continuing to develop, improve and support this network will be key to the PALOMAT community creating a strong brand and keeping hold of our leading position as we move forward."
PALOMAT
Products: Manufacture pallet magazines for pallet handling