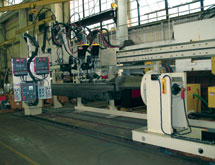 Over the course of more than 65 years, Pandjiris has become known for its weld positioning and welding automation solutions in North America and beyond. The company strives to serve the welding, joining and positioning industries through efficient, safe, consistent and reliable automated welding and positioning solutions.
"We started as a small metal fabricator and saw a need for weld positioning equipment to improve the quality of welds and the efficiency of welding operations," President Robert Mann says. "We developed a standard product line that has continued to evolve, and we earned recognition in the industry."
Pieces of the Puzzle
Founded in 1946, Pandjiris' focus is on the sales, design, manufacture, service and installation of automatic arc welding systems and positioning equipment. The company is based in St. Louis, where it has more than 46,000 square feet of office, warehouse and production floor space. Its products include welding positioners, welding manipulators, tank turning rolls, weld controllers, self-centering welding grippers, seam welders, slides and swivels, head and tailstocks, turntables and custom systems.
Over the years, the company has demonstrated its commitment to innovation on many occasions, including designing and patenting an array of mechanical designs. These include specialized welding grippers and clamping systems. One of the most notable was a 45-foot cantilevered seamer used to manufacture Delta II Launch Vehicle fuel tanks. Pandjiris' goal is to continue to offer technological advances in the design of equipment for the welding industry.
In addition to offering a variety of standard equipment, the company has the engineering expertise and flexibility needed to design and manufacture automated systems for many applications. Some of the industries served by Pandjiris include truck and trailer manufacturing, earthmoving equipment, metal furniture and container manufacturing, power generation equipment, defense, shipbuilding, railroad car production, pressure vessel production and aerospace.
"Our customer base is global, and we may export as much as 30 percent of our business in some years," Mann says. "However, the majority of our business is in North America. Our work outside North America tends to be on larger projects, the multimillion-dollar, high-tech systems."
The company's production plant has two large bays set up to ensure a smooth production flow. Each production bay has large-capacity overhead cranes. Its fabrication, machining, assembly, painting and electrical departments can produce automated systems from raw material to final product.
"Long-standing relationships are key within all of the industries we serve," Mann says. "Everything we do is focused on the long term."
The company combines the latest design technology, tooling concepts and welding expertise to create automated welding systems that can increase product quality and production throughput.
"We also do a lot of communicating with customers and providing services such as onsite training and installation supervisions," Mann says. "We work closely with suppliers, integrators and OEMs to develop more plug-and-play, user-friendly, robust controls. These can enhance the customers' ability to perform more functions and provide them with real-time feedback and monitoring."
All About Quality
Pandjiris says it does everything possible to provide products with no defects, on time and at competitive prices. Pandjiris oversees its ongoing pursuit of customer satisfaction through a total quality management (TQM) process.
The TQM process requires commitment from everyone within the organization, as well as from its suppliers. It also requires a thorough knowledge of customers and their needs and expectations. By working as a teammate, Pandjiris' aim is to promote customer satisfaction through achieving the highest quality at the lowest possible cost.
"Training is a critical part of quality for us, as we do a lot of cross-training internally and training with suppliers and subcontractors," Mann says. "To maintain quality levels, efficiency and throughput, we put a lot of focus on cross-training."
In the years to come, Pandjiris will continue to make strides in the development of advanced systems for its customers. It will seek to improve controls, robotics and total systems integration capabilities, providing customers with complete turnkey solutions whenever possible. Through the continued creation of high-quality automated systems, Pandjiris will work to ensure that customers are satisfied at every step along the way. "We've been investing in more controls, working in close collaboration with OEMs and end-users to continually enhance the controls and welding systems we provide," Mann says.
Mann says the company is well positioned for the future. It sees a lot of opportunity coming from the oil and gas industry and the high level of activity in the shale plays. Pandjiris' goal is to keep up with customer demand in that industry while continuing to establish and expand ties with customers in all of the industries the company serves.
"We will reorganize ourselves and expand to address the demand we are encountering, and we will also emphasize our controls capabilities and try to stay at or near the top of our industry in terms of using state-of-the-art technology," Mann says.
"We want to produce the most reliable, durable and user-friendly products with the best commercially available components," he adds. "We will work with suppliers, OEMs and end-users to find ways that we can all work together better. Striving to emulate and partner with The Lincoln Electric Company, the world leader in welding equipment, welding consumables and welding technology, has been invaluable to Pandjiris."