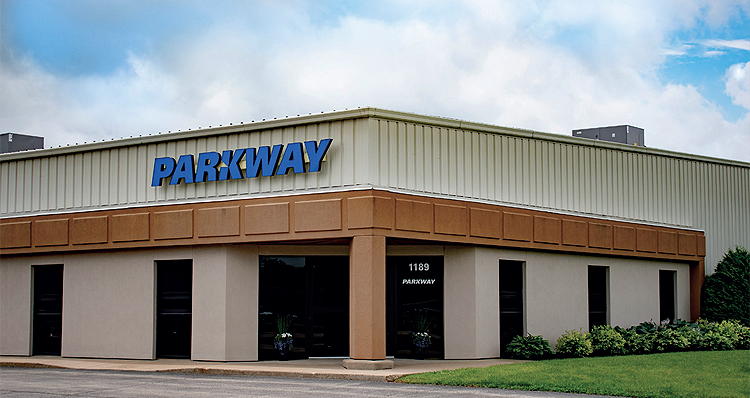 Advanced solutions
A single source for precision molded products requiring both high performance and advanced materials, Parkway Products is 75 years old and still growing
Though Parkway Products has an extensive history, advanced technologies, industry-leading expertise and a deep understanding of the markets it serves, CEO Andrew Green was first attracted to the company by its culture. An industry veteran with experience of multiple organizations, Andrew knew instantly that Parkway was different from the rest.
"It all goes back to the company's founders, the Willig family, who started a business called Parkway Patterns in 1946," Andrew says. "Of comcourse, the Parkway we know today is very different, and no longer family-owned, but the spirit of the Willigs, and the culture they instilled in the firm, lives on."
The culture Andrew refers to is summed up by the Parkway Prayer. Written for the original plant team many years ago, the prayer, which touches on the importance of values like safety, customer care and hard work, seems as relevant to the way Parkway operates today as it was for the company back in 1946.
"What really struck me about the Parkway Prayer is that while it doesn't have any specific reference to religion, it does proclaim a culture of respect for the individual, their family and loved ones, no matter who they are. It contains a real message of inclusion," Andrew states. "Similarly, the prayer talks about bringing true benefit to many and harm to no one, which reflects our social responsibility initiatives, respect for customers, which is important for our business, and teamwork, which is a key part of the way we work. The prayer is a distillation of Parkway's culture and when I first read it, I thought it would be a privilege to lead that kind of business."
Won over by the spirit of the organization, Andrew joined Parkway in 2020, just in time to celebrate the company's 75th anniversary in 2021. Today, the once-small firm is a major precision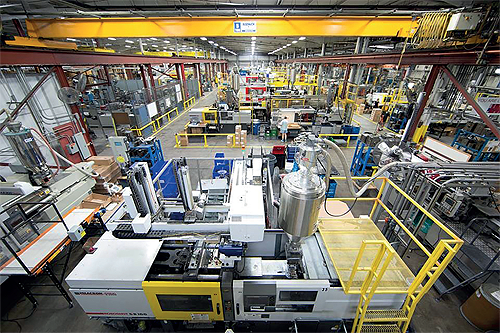 molding and advanced materials business operating throughout North America, offering five highly engineered manufacturing technologies: High Performance Polymer Molding, Magnesium Thixomolding, Machined Plastic Solutions, Thermoset Composite Molding and Thermoplastic Injection Molding.
"Parkway's diverse portfolio of highly engineered product offerings allows customers to consolidate suppliers for tangible benefits, including tool design for manufacturing success, increased speed to market with rapid prototyping, consistent quality and reduced cost," Andrew explains. "The company has demonstrated success for decades now and developed a long tradition of exceeding customer needs and expectations. Our commitment to quality and customer service is evident each time our client partners bring their most challenging projects to Parkway."
The customer base Andrew refers to consists of top tier OEMs in six core end markets – those being the infrastructure; agriculture, truck and off-road; aerospace and electronics; industrial; healthcare; and automotive sectors. Boasting more than 25 Fortune 500 clients, Parkway has always prided itself on a deep understanding of the markets the company serves.
"We do not have many customer relationships that are strictly transactional in nature," Andrew reports. "They are long-standing connections built on the credibility of doing many projects together over the years and delivering value. Our business development team is highly trusted and we know how to apply our knowledge of highly engineered resins, tool design and manufacturing technologies to collaborate with clients on how to best meet their needs."
Following an increase in client demand for weight reduction in component parts and added complexity from smart technology, Magnesium Thixomolding and High Performance Polymers have been two key drivers behind Parkway's recent growth. Capable of fulfilling many common customer requirements, both technologies offer superior strength and performance under high stress conditions.
"The lightweight yet durable characteristics of magnesium also make it a key technology for multiple other product types," Andrew adds. "These include medical devices, oxygen concentrators, scanners, cameras, surveying and GPS system components as well as aerospace and many other applications. Magnesium Thixomolding offers increased rigidity at just two thirds of the weight of aluminum, combined with the precision necessary to mold the thin walled, complex shapes needed to construct pressure tight components. The material provides inherent EMI/RFI shielding, is a great heat sink, reduces vibration, maintains low inertia and has high impact resistance. Component engineers love it for high value parts."
After a spate of acquisition activity in 2019 brought the company's total number of facilities to nine, Parkway now operates more than 230 custom molding machines across six states and two countries. One recently acquired highlight is a high-tech machining center in Machesney Park, Illinois, which houses 33 high speed CNC machines and has allowed Parkway to introduce rapid part prototyping. This, in turn, has reduced the need to outsource machining for quality, speed and cost benefits, and to pass these benefits on to Parkway customers.
"Each of our facilities are continuously monitored and analyzed for improvement to help us achieve better productivity and efficiency, including installing automation to increase throughput, which is a vital component of the industrial engineering process," Andrew remarks. "This is especially true during the design phase of a new program to make sure we offer the customer the highest value possible.
"2020 was obviously heavily impacted by the Covid-19 pandemic, but our investment in these facilities continued," he points out. "Many people speak about 'bolting-on' an acquisition as if it is a one-time event, but at Parkway, we do a range of soft- and hard-wired integrations. For example, we implement our 'employer of choice' and health and safety programs, but we also do the hard work of bringing a business onto our operating systems and we have a common ERP implemented throughout our organization. All of these efforts help to ensure that customers get a high value-added product and service from Parkway, no matter where we do business. A customer gets the same benefits of a Parkway relationship whether we are doing business in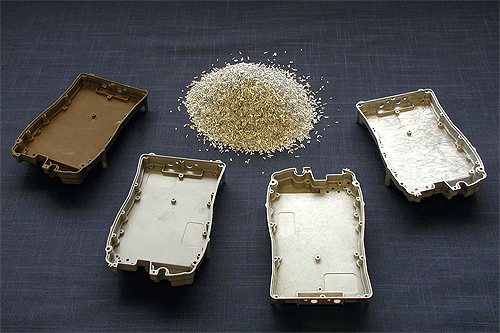 Loveland, CO, Greeneville, TN or Saltillo, Mexico."
Having operated as an essential business throughout the Covid-19 pandemic, Parkway has played an integral role in supporting customers in the oxygen concentrator market over the last 18 months. During a time of crisis, the company ramped up supply of complex parts using a combination of Thixomolding, thermoplastic custom molding and robotic assembly, helping customers provide life-saving products to patients in a critical condition.
"I'm really proud to say that, over the last year and a half, we have played our part in getting oxygen to Covid patients across the world," Andrew declares. "So much of that success is thanks to our workforce and the great people that make up Parkway.
"We've always believed that there are two customers – the external customer, and the internal customer – and to ensure the external customer is satisfied, we must first ensure that we respect and value each individual who forms a part of our team. That's why we have created a group that focuses on hiring and retaining the best people in the industry, and increasing job satisfaction. Thanks to them, our employees enjoy a number of benefits, including a daily pay initiative, sign-on bonuses, referral bonuses, and a unique wellness program."
As we move into the second half of 2021, Parkway finds itself well-positioned for both organic growth and continued expansion through mergers and acquisitions. With an engaged leadership team, an enviable client base, and a commitment to putting the needs of its customers and associates first, the company now hopes to embark on the next chapter of its growth. "We enjoy terrific support from Heartwood Partners, including the benefit of their responsible, low-debt approach to private equity investing and possess a strong balance sheet.
"We are engaged in strategic planning and want to double the size of the company over the next three to five year period," Andrew reveals. "Of course, in five years' time, we will also be closer to our 100-year milestone.
"In the statistics I have researched, one in three companies makes it ten years, one in five companies makes it 20 years, but only one in ten makes it past its 50th anniversary. We are already in rarified air now that we have reached 75 and we seriously aspire to be the one in 200 businesses that reaches that magic century mark!"
An organization that has battled through difficult business cycles, recessions, various social crises, and now a pandemic, Parkway always finds a way forward with the humility and persistence to seek answers and to solve problems. No matter what the future holds, Andrew knows that the company will work through it together.
"Not many companies last 75 years, and what we have learned over that time is that asserts. "We have never forgotten that we must take care of each other in order to be successful and that value is shared by everyone from our Board of Managers down to our most recently hired associate.
"We recently put together a video commemorating our 75th anniversary, in which we interviewed employees across all nine facilities, and there was one common theme; when asked 'What do you enjoy most about working for Parkway?', the most prevalent response was 'The people I work with'. This is indicative of the Parkway culture. It is all about people, collaboration, and community. I'm confident that those values will continue to define us and provide a competitive advantage as we continue to on-board new team members, add new customers and achieve new milestones."
Parkway Products LLC
www.parkwayproducts.com
Products: Precision molded products