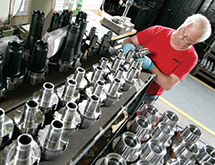 Parlec Inc. is best known for manufacturing accessory products for the metal cutting industry, but the company didn't start out that way.
It began in Rochester, N.Y., in 1948 producing sulky hubs for harness racing. It was then a manufacturing shop for many years until an engineer acquired it in the 1970s and started developing and patenting products. In the late 1970s, Parlec began producing tool holders and started developing its product lines.
"Our business is tied very closely to machine tool sales," says Chris Nuccitelli, vice president of sales and marketing. "The more machine tools people buy, the more machine tool holders they will need."
In 1985, Parlec built a 42,000-square-foot manufacturing facility in Fairport just outside of Rochester, N.Y. Then in 1992, it started to manufacture and distribute a line of boring tools. After this, things really took off. Sales tripled from 1992 to 1997, when it became ISO 9001 certified.
With sales continuing to increase, the company added workholding to its product line in 1998 and enhanced production with a 58,000-square-foot plant addition to its factory.
Not So Easy Nowadays
In 2003, Parlec opened a sales and service office in China's 12th-largest urban area, Nanjing. In 2006, the company became a Wholly Owned Foreign Enterprise, allowing for full sales, engineering, customer support and distribution in China.
Earning this designation was not easy, however. "We are fortunate that we started the process in 2002. It is not so easy nowadays due to additional regulations and restrictions implemented by the Chinese government," Nuccitelli says.
Although it does export business in China, Parlec continues to manufacture in New York state for better quality control and lower shipping costs, the company says.
In 2004, Parlec acquired Bristol Tool, adding a new facility in Bristol, England. In 2008, it partnered with Mahr GMBH for European tool presetter distribution and then, in 2009, Parlec expanded its Chinese presence, adding offices in four more locations Tianjin, Xian, Wuxi and Chengdu.
Its five major product lines consist of more than 8,000 individual products with more than 750 global distributors. As a machine tool manufacturer and distributor, Parlec is committed to total machining solutions, the company says. Parlec stands out in its marketplace as a leader. It is the only American-made producer operating in its market for many products, it says.
Parlec says it is proud of its CNC tooling innovation. Products include solutions for high-performance toolholding, modular production boring, tapping and tool measuring and inspection. Parlec has more than 30 patented processes and technologies.
In November, the Rochester Business Journal named it a top-100 company. The list ranks the fastest-growing privately held companies headquartered in the region.
"Machine tool sales have seen steady growth in the U.S. and China," Nuccitelli says. "We've been very successful as the market for the product we make has been growing. Our outlook for 2014 is moderate growth. We see sales growing by 8 to 10 percent."
Parlec is very loyal to its distributor network, making it easy for them to do business, he says.
Pushing the Envelope
During the economic downturn that started in 2008, Parlec's business dropped and it reduced its overall employment slightly.
Although its payroll declined, the company did not suffer as much as others in the metal-cutting industry.
"We managed to hold onto a fair market share," Nuccitelli says. "When some declined 50 to 70 percent, we only went down about 35 percent. It was not as bad as some worst-case scenarios in manufacturing."
During the recession, Parlec reinvested in its facility and equipment. Since it had a fair amount of cash on hand and it was not as busy as usual, managers determined it was time to push the envelope for higher quality and reinvested $5.5 million in new equipment and processes.
High-End Production Cells
As Parlec manufactures four different product lines, it faces a unique challenge. With thousands of SKUs and so many product lines, what are the best manufacturing tactics? It relies on high-end production cells with specific groups dedicated to certain groups of tool holders, Nuccitelli says. "We really take a shop-wide approach," he says, explaining Parlec's revamped operation features even higher application, higher-performance levels than before.
What is its approach to inventory management? Parlec believes in maintaining a proper inventory for success.
"If it's in our catalog, it is on the shelf and ready to go," Nuccitelli says. "Customers want it now, not in three weeks, so we make sure we have an appropriate inventory of the things we advertise in our catalog."