Not content to rest on its laurels, machine tool accessory manufacturer Parlec has been on an upward trajectory in both growth and innovation since its company first began manufacturing sulky wheel hubs in 1948.
Today, Parlec's product line consists of more than 8,000 products that perform tool-holding, presetting, boring and tapping functions for a wide array of industries. "Our products can be found in manufacturing lines that make a diverse range of products from delicate electronics to heavy machinery parts," Director of Product Marketing Matthew Ricotta says. "We're constantly developing new products by listening to what our clients need and want to improve their manufacturing processes."
Ricotta adds that most of its product innovation has stemmed from customer demand. "Almost every feature of our presettersoftware has been grown from customer specifications," he says. "In a three-month timeframe, we developed an inspection analysis software program for an electronics manufacturing client to maintain extremely tight tolerances for one of its new product lines.
"Most times, our product specialist will visit the client's site to understand their manufacturing process," Ricotta notes. "We've developed solutions for so many different industries, we've become the experts and we know the right questions to ask our clients."
Innovative Ideas
The only manufacturer of presetters in the United States, Parlec has made many advancements to this product line. "Our presetters are modular in design so clients are able to pick and choose the features they need without having to invest in extra features they may not need," Ricotta says. "Because our equipment can last 10 years or more, our clients can add to or update their presetting systems as their business needs grow."
Parlec presetters combine the latest measuring systems, inspection tools and data management features. Its standard product line includes the 1550, 1850, 2500 and Origin. They collect numerous geometric features and measurements by scanning the cutting tool's surface using video sensors. Able to measure accurately to a sub-micron level, these systems are designed to improve product accuracy, reduce scrap and accelerate production times, says Ricotta. The software that works with these systems uses an icon-based interface that makes it very simple for the line technician to operate, he adds.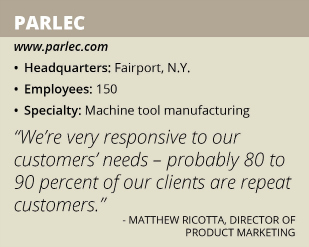 "We continually develop and update our measuring algorithms that enable the presetter to better analyze the data it reads," Ricotta notes. "That data can then be transferred to other parts of the network to increase the machine's accuracy or to simply add a barcode or label to the finished product."
Helping its clients conform to ISO13399 standards, Parlec is also developing applications that can interface with the digital world. "We're revising our system software to allow different peripheral devices to communicate more effectively," Ricotta says. "Companies will be able to add drawings that can be stored in a cloud for such purposes as measurement comparison or extracted to make modifications to the original designs."
Wide Assortment
In the area of tool-holders, Ricotta notes that Parlec has the largest range of Collet chucks available. Designed and manufactured to maintain functionality, precision and durability, the line includes, "CAT, DIN, BT, HSK, NMTB,  and morse taper holders along with solutions for balanced and balanceable heat shrink, ER collet chucks, power milling and shell mill holders," the company says.
"Our ERos line [of tool-holders] offers very high performance and precision," Ricotta says. "The design combines a 2-micron collet with a precision chuck to achieve a system accuracy of 3 microns at three times diameter." The company claims that that level of accuracy is the best available in the world.
Parlec's line of Evolution angle heads is modular in design and can be retrofitted onto existing machinery.
"We have many different shank styles that can adapt to multiple connections or spindle types," Ricotta boasts. "This enables our clients to gain another axis onto its existing head, eliminating the need to purchase a whole new piece of equipment for a new or updated product line."
In addition to standard tool-holder offerings, custom solutions are available, as well. Almost 95 percent of its products are made within the United States, which helps the company offer speedy turnaround times. "We're very good at maintaining a stock of our standard products," Ricotta says. "However, having our engineering staff and machining center in our manufacturing plant enables us to create any custom tool solution our clients may need."
Ricotta adds that although most custom tooling is ordinarily shipped between four to six weeks after the order is placed, "if they want it faster, we'll make it faster," he says. "We're very responsive to our customers' needs – probably 80 to 90 percent of our clients are repeat customers."
Having a well-trained staff also helps ensure product quality and client satisfaction. "We have a specific training program for each job title – from service technicians to engineers," Ricotta says. "We provide checklists that reference processes within our quality management system enabling our employees to know precisely what's expected of them.
"Our owners are willing to invest in people and technology to give our customers exactly what they need," Ricotta notes. "This helps us form ongoing partnerships with our clients."