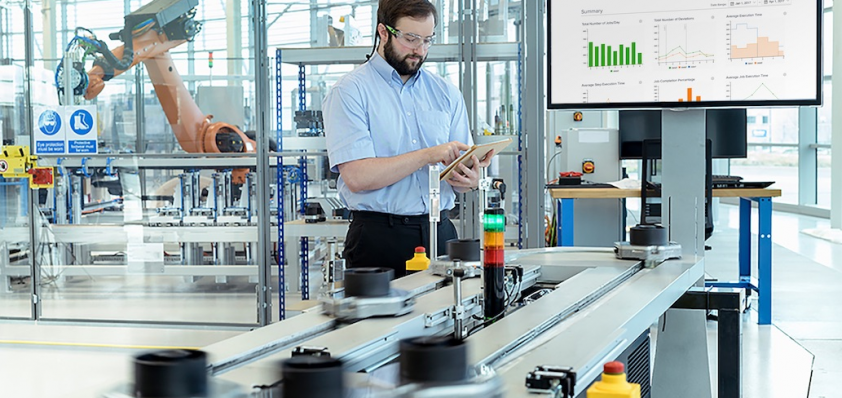 Most of the discussion surrounding manufacturing's Industry 4.0 transformation in recent years has focused on automation and robotics. Software solutions provider Parsable wants to expand the industry conversation about enhanced productivity and data collection to include a group that is often overlooked – the industrial worker.
"We believe that providing technology to workers is our biggest positive as a company," CEO Lawrence Whittle says. "For years, industrial workers have been underserved – we are liberating them with an intuitive solution to make their jobs easier and happier."
Parsable's Connected Worker Platform is designed to help deskless workers get the job done more safely and consistently, while increasing the overall efficiency of the companies they work for. The software-as-a-service platform, which runs on mobile and other devices, allows teams to digitize procedures, plan and execute work, and gather data that can be used for continuous process improvement.
Ease of Use
The platform is designed to be extremely user friendly. "You should be able to pick it up and use it without almost any training," Whittle says. "Our solution interacts with the user as though it were a consumer app, which drives unbelievable acceptance."
Companies using the platform enter standard operating procedures and project information using a simple web interface. "We codify manual procedures using an intuitive web application that designs interactive multimedia procedures," he adds.
Parsable maintains a library of best practices that companies can choose from, and companies can also author their own procedures. "We begin with an initial set of procedures or settings and train companies on this very intuitive tool so they can later do it themselves," Whittle says. "This is user configurable software that doesn't require coding."
Once a job is scheduled, manufacturing personnel receive push notifications on their smartphones, launching Parsable's mobile app and taking them directly to the steps that need to be completed. They also have access to digital procedures, including videos and PDFs, and can capture data or take photos of their work. Supervisors can remotely inspect and digitally sign off when a task is complete. "Workers are digitally prompted to ensure the most important tasks are taken on time, every time," he adds. "For each activity, supervisors determine the risk and value of adherence and require multiple levels of variation."
Users are also connected to subject matter experts in real time, who can assist them through non-standard activities. "Our whole hypothesis is that if we have workers connected with the best practices for every job, then quality will be built into every process," Whittle says. "[The platform] is all about imbedding best practices into every step of human activity around manufacturing operations with a digital audit trail."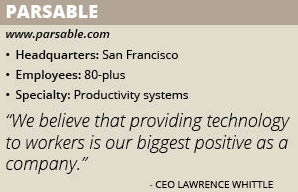 Use Cases
The Connected Worker Platform can be used six main ways. The first is in field and production operations, which includes helping manage line changeovers and startups, documenting processes and services, and inspecting equipment. The second main use case is in supply chain collaboration. "When a manufacturing company is building something for a customer, that customer can use the platform to digitally observe the work that's taking place," Whittle notes.
Parsable's solution is also commonly used in quality processes including product inspection and issue management. This is closely related to the fourth main use case, which involves health, safety and environmental policies. Users can follow prompts within the platform to follow standard procedures such as lock out/tag out protocols.
The fifth main use for the platform is asset maintenance. "We can help maintain the connectivity between machines and humans," Whittle says. "When a machine identifies that it is overheating, for example, our platform can communicate that."
The last major use case for the Connected Worker Platform is in human resources and training. "[The platform] is all about how you can provide the best information through phone, tablets and computers to help people best execute their work," he adds.
Future Ready
Parsable was established in 2013 by Ryan Junee and partners Chase Feiger and Yan-David Erlich. Junee's experience includes working for a company that was purchased by Google, as well as working as a product manager for YouTube.
During the early development stages of the Connected Worker Platform, the Parsable team visited various manufacturing companies across North America. "We saw a huge proliferation of paper as well as people relying on walkie-talkies and their own memories to do their work," says Whittle, who joined the company in 2015 to help commercialize the platform. "There was a huge opportunity to move paper-based processes from six-inch binders to the digital world."
Today, the Connected Worker Platform has more than 40,000 registered users globally in more than 50 countries. Parsable's customers include global oil and gas, consumer product manufacturing, discrete manufacturing, and process manufacturing such as Schlumberger, Proctor and Gamble, Green Chef, Shell, and DowDuPont Inc.
"The commonality between our customers is the need for quality, safety and efficiency," Whittle says. "Our customers are challenged with having to move to the factory of the future; if their machines are more automated, the people running those machines need to be given the same level of technology."
The platform is proving to be effective in helping its users increase their operational efficiency. For the past year, DowDuPont's Corteva Agriscience has used Parsable's software in its seed processing operations on 40 sites. "Seed harvesting and processing is a very safety and quality-intense environment," Whittle says. "[DowDuPont] has seen an amazing increase in efficiency and reduced their number of quality incidents [using the platform].
Green Chef, a fast-growing organic meal kit manufacturer owned by Hello Fresh, implemented the platform to help it achieve its goal of having zero product issues. "We are in every step of their process from raw materials to packing and distribution, to ensure that every product delivered to the consumer is 100 percent correct," Whittle says.