In a league of its own
Well-versed in manufacturing difficult parts to make contact assemblies for the switch industry, P&B Metal Components is enlarging its geographical footprint by growing its Malaysia facility
Being passionate about people has been imprinted in P&B Metal Components' system of values for more than 55 years. The company's consideration for both its own workforce and customers has run as an uninterrupted thread throughout its history, playing a huge role in the business' successful exploits. Founded in 1961 as a one-man company by Peter Bushell, P&B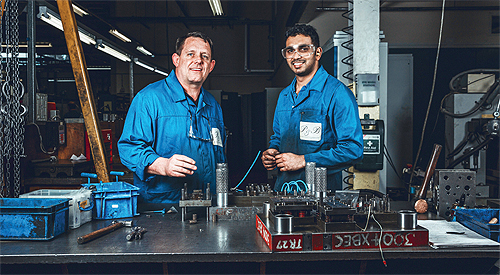 specialises in the production of contacted parts for the switch industry. Today, the organisation remains family-owned and is led by Peter's son – Paul, who is its Managing Director.
"We originally started in London, but by 1970, the company had outgrown itself and my father decided move it to Kent. This happened due to the increased volume of orders the business was receiving, driven by the exceptional customer care it had become known for," Paul goes back in time to discuss some of the historical milestones P&B has achieved. Having grown considerably, the company was able to acquire its main competitor in 1990, and another smaller business that specialises in a niche area of the low-volume contact assemblies market in 2017, thus broadening its expertise. As a result of its successful trading activities, P&B was presented with a Queen's Award for Enterprise in the Export category in 2012.
"Export accounts for about 80 per cent of our turnover and it is truly gratifying to know that we supply a large number of countries all over the world. This has helped us establish our name as a trusted brand across our industry, which is very important for our future activities, because we tend to specialise in taking more complex parts and manufacturing them to a very high-quality level. By doing this, we aim to give our customers much-valued consistency in their automation," Paul explains.
P&B's speciality lies in the manufacturing of silver bearing parts attached to non-ferrous metal carriers and, more rarely, to steel or ferrous metal carriers. In addition, its capabilities extend to the production of in-lay and on-lay bi-metal strips, as well as contact tapes. "We have a selection of over 80 different presses where we can stamp out high-precision components and attach contacts via automatic riveting or welding," Paul details. "Inevitably, we also display excellent tool making capabilities to produce metal stamping tools. What sets us apart, is the fact that not many other companies in the world can perform such a wide range of processes. We are among the few who specialise in manufacturing full electrical contact assemblies, which gives us a distinct advantage in the marketplace."
Stressing the uniqueness of the company's production techniques, it merits mentioning that P&B has time and again demonstrated its proclivity to improving and customising the machines it purchases from Europe, so they can suit its processes. "Streamlining the efficiency of these machines is key in maintaining high speed and volume rates, which is essential in our business," Paul remarks. "Thanks to being skilled in working both quickly and accurately, we can ship approximately 70 million parts per month from our UK facilities."
Previously operating from two sites in Sheffield and Whitstable, in 2014, the company opened its first overseas facility in Malaysia, which has enjoyed an encouraging period of high production rates since. "It is absolutely clear that our focus over the next 12 months will be to take our Malaysia business to a good level of profitability. When we opened the unit, we took a different approach to the usual production transfer model, moving only part of our low-volume and hand-assembly tasks, instead of shutting a whole site down in the UK and taking all the manufacturing to Asia. This meant that the Malaysia facility was free to find its own revenue streams and grow accordingly. I am proud to say that over the last year, we have had some amazing success, launching a number of new products that contain substantial volumes of parts manufactured in our Malaysia factory," Paul enthuses. "Our ambitions for the new unit do not end with just making it a profitable entity. Far from that, we are keen on turning it into a veritable centre of excellence for tool making and sample and prototype production, and we are confident that it possesses the agility to become an industry leader in this discipline."
Agility has positively been cited as one of the company's core strengths, alongside P&B's flexibility and ability to offer comprehensive technical support. These traits appear even more prominent when placed in the context of the business' diversified customer base. "We supply from small family-owned companies to many of the big names in our industry, such as Honeywell, Schneider, Siemens, and Rockwell Automation. Similarly, we cover the entire spectrum of the switch industry, providing our solutions to the aviation, automotive, HVAC, and domestic appliances sectors. Another part of the business is the components we make for the standard light switches and sockets that can be found in nearly every home around the world," Paul reviews P&B's action zones.
Dedicated to steadily evolving its offering, the business is presently examining the viability of applying a new 3D printing technology for the production of prototype parts. "Simultaneously, we are investing in the contact tape manufacturing area of our UK factory with a view to be number one in Europe in this department. We are also expanding our rivet manufacturing capability, having just taken delivery of one new machine, with another being in consideration."
The presence of state-of-the-art machinery is key for any business, if it wants to stay in tune with the market requirements of the day. What is often forgotten, however, is that the need for qualified people to operate these machines ably is more urgent, especially in times when skilled labour is scant. In what could be seen as an act of future-proofing the organisation, P&B initiated its 'Next-gen' project two years ago, whose aim is to entice new talent to the company. Paul elaborates: "The most important thing that we have recognised, is that we have to take the initiative, be the proactive side, and turn up at schools and colleges, as well as career fairs, and talk about 37what we can offer and what young people could become within our environment. At the moment, we have 14 apprentices, which represents about ten per cent of our production workforce. All of them are buddied with senior colleagues, so they can learn from them, and it certainly looks like a very successful initiative, at the moment. Our ambition is not just to attract young people in engineering, but also retain them in the sector, because, admittedly, there are a lot of distractions along the way.
"As a family company, we have always postulated that our business is all about the people who work for it. We need good workers and we enjoy having good workers across our facilities. In P&B, nobody is a number. Everybody is part of the family and without these family members, the company could not be what it is today," he sums up emphatically.
P&B Metal Components
Products: Electrical contact assemblies