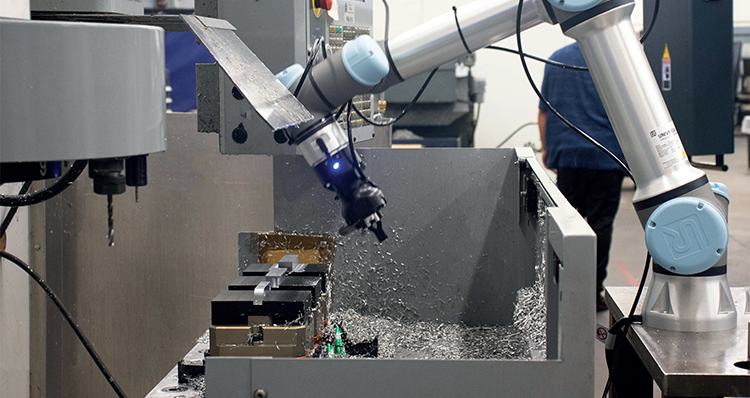 Continuous improvement
Based in New York State, PEKO Precision Products strives for perfection. With the help of automation advancements and an epic team of experts, the company continues to service the machinery manufacturing industry to the best of its abilities
As far as journeys to success go, PEKO Precision Products (PEKO) has made the most of the opportunities presented to it. As it celebrates 55 years in the machinery and equipment manufacturing business, having originally started in the tool and die industry, the company reflects back on its legacy, with Jeff Lake, its VP of New Product Introduction, leading the conversation. "We've grown steadily over the years to expand our client network; from doing automation, to electromechanical-based products for Xerox and Kodak right here in Rochester, New York," Jeff begins. These developments are what have pushed PEKO into the full contract manufacturing of electromechanical devices, with products such as the MRIdian MRI-Guided Linac, which was created for ViewRay. "This, for example, is an MRI guided radiation therapy system, which we build several sub-assemblies for, complete and test, and make ready to install at any hospital or treatment center," he says.
"But our products do range quite a bit. We have our smaller per sale unit costs, which would be in our semi-conductor sectors. We supply to the lithography part of that industry, for example, and we only supply precision assemblies and components to build that equipment, we do not build it all the way to the top level. Our services then spans all the way to fully manufactured medical devices such as the previously mentioned MRI radiation therapy systems."
Although the industries to which the company supplies are wide-ranging and diverse, execution of complexity and a robust quality management system is guaranteed to each of PEKO's customers. This is what Jeff believes separates PEKO from its competition. "Our operations are sturdy enough to stand up to regulatory review, from the ISO13485, which would be in medicine, to the AS 9100 aspect, which applies to anything aerospace or DoD, and our industrial customers benefit from that as well," he says.
But what would be some of the secrets considered to be pivotal to the success of the business throughout the years? Well, Jeff shares how the first approach is to recognize a problem, and pull the necessary tools together to solve it. Then, complementing that, being privately held and self-funded has been a massive advantage, as this allows PEKO to make the crucial investments needed to upgrade its equipment and facilities. "We are able to execute multi-year plans a little easier than a public company, as we don't have the direct quarterly pressures that one would have as a public entity. I think the private aspect of it up to this point has been a big benefit for our company."
Developing automation
Continuing on the topic of investments, Jeff informs us of the added benefits that automation has brought to PEKO's success. "One of our largest offering areas is CNC machining, with investment in this space having contributed to many improvements in operational efficiency and to the products themselves. From the tooling to the software used to program it, the level of autonomy these machines can achieve now allows them to run longer, and alongside multiple machines, and that is what we are investing heavily in," Jeff expresses.
In addition to these capabilities, PEKO is now employing robotic technology owing to the fact that the interface has proven to be far superior when compared to previous innovations. "We have been taking advantage of those developments. We are seeing quite a lot of efficiency gains as we look forward to exploiting the capabilities of automation, or even semi-automation to stay ahead of the game.
"There does seem to be a paradigm shift here for where things are sourced. End users in our business are looking at total cost of ownership, total landed cost, and I think just simply the logistics of whether they will really be able to get their product or not. The automation is a necessity to amplify our resources, and allows us to step up and meet demand," he emphasizes.
On the other hand, the problem with machines, according to Jeff, is that they only do as they are told, and in order to excel with robotics, businesses need to understand their specifications and data sets. "Because you have to program and automate it so that it does it repeatedly, that can be a bit of an upfront development that needs to be done. So, there is a balancing act there of where you deploy it, and how quickly you can get it up and going. The longer it takes, the higher the implementation cost is, so you might lose out on making it effective for a business in production."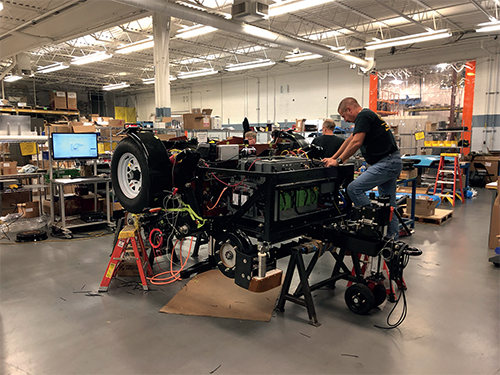 Fantastic opportunities
At the moment, while the manufacturing industry is drastically evolving to incorporate a greater reliance on technology, PEKO still has a great appreciation for the talent of its people. This is why the company has curated a culture that orbits a family-like atmosphere. "We are in a spot where we have enough of a back log that we are still looking for people. We sit here as a company of over 400 people, and I we have something close to between 40 and 50 postings for positions that we still need.
"We very much seek to be a very fair employer, and an advocate for equal opportunity and inclusivity, and we strive to achieve this in how we conduct ourselves as professionals, and with dignity.
"Many of the folks that are here have a 20-to-30-year tenure, and, from their feedback, they feel as though this is a good place to be. Right now, obviously we are trying to attract new talent, and let them know there is a career path available with us, especially in skilled trades. I think that is one of the areas, where we are trying to demonstrate that there are fantastic opportunities with cutting edge technology, and that is something attractive to a lot of people right now.
"As far as what I try to drive forward with my team: I'm constantly checking whether we are achieving our goals, is our plan to do this strong and dependable? Do we need to modify or change and try to empower everybody to see the business succeed as defined through the data? With this approach in place, you can't go too far wrong," Jeff summarizes for us.
With this strategy in mind, the company is now set on a five-year plan to maintain its momentum. As Jeff brings our discussion to a close, he shares how PEKO is looking to further diversify its client base, and push the boundaries on automation development. "We do see a number of our customers growing organically, and we tend to grow alongside them. We have had some good luck working with mid-size startups and so we do see that as being one of the areas we continue to focus on; looking for those electromechanical opportunities that may be coming out of the startup sector. One of the impacts of the pandemic that looks to be affecting business significantly is inflation. We don't know how far that is going to go this year, so those are the things we need to keep in mind, and we will just have to adjust course as we go," he concludes.
PEKO Precision
www.PEKOprecision.com
Services: Machinery & Equipment Manufacturing solutions