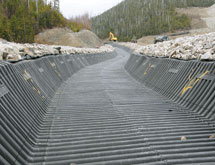 Although this remains one of the Portage, Wis.-based manufacturer's core competencies, its capabilities have expanded in recent years. From sophisticated molded-in-color vehicle components to smart solutions for industries as diverse as water management, Penda has established the market-leading position as an industry expert in heavy-gauge thermoforming, Presi­dent and CEO Ulf Buergel says.
When Buergel assumed leadership of Penda in 2004, his goals were to maintain the company's existing fo­cus on automotive accessories, in­cluding bedliners, while diversifying into other industries. Soon, Penda launched a plastic tonneau cover that utilized molded-in-color technology to eliminate the need for painting while still matching the color of the truck. By offering time-saving, cost-effective solutions to its high-profile client base – which includes Ford, General Motors, Chrysler, Nissan and Toyota – Penda was able to secure its position among Tier 1 suppliers. "That has been one of our biggest growth platforms outside of bedliners," Buergel notes.
Penda's solutions-driven philosophy and innovative capabilities prompted the company to further expand outside of the automotive market. Specifically, Penda's SmartDitch™ channel lining system – which utilizes the same thermoforming technology and high-density polyethylene materials found in the company's truck bedliners – benefits a number of applications within the water management industry such as drainage systems, erosion control and irrigation.
Milestone Merger
Early 2009 marked a significant milestone for Penda when it merged with Durakon Industries Inc. Durakon was an automotive accessories manufacturer that supplied thermoformed automotive components, such as cargo management systems for the GM Avalanche and Honda Ridgeline, to the automotive assembly plants. The merge "provided us with significant synergies," Buergel says. It also allowed the former competitors to offer their proprietary technologies to a broader customer base, thus securing Penda's position in a marketplace that had seen better days.
Penda moved Durakon's manufacturing operations in Lapeer, Mich., to its Portage facility, which totals more than 360,000 square feet of production and warehouse space with an additional 35,000 square feet of warehouse and distribution space nearby. However, it kept its automotive components program management and sales support functions in Lapeer so that it could remain close to its automotive customers, Buergel explains.Penda also held on to a 150,000-square-foot, state-of-the-art manufacturing facility in Mexico, which supplies GM, Chrysler and Ford assembly plants with components and accessories in Mexico.
"Being an automotive component and accessories supplier, there is a lot we have to do to ensure quality," Buergel states. Penda is TS qualified and ISO 9001 qualified, but its quality assurance philosophy is unique compared to its competition in that quality is designed into every process.
"Iso­lating the quality department makes them seem like the bad guys looking over the shoulders of everyone else," Buergel points out.
"Our organization understands the quality department is here to support and train people to ensure that we are going to make a quality part rather than checking on them to make sure they're doing what they're supposed to be doing," he says.
Achieving its Goals
Penda seeks to maintain an open and collaborative atmosphere among every­­one involved in the company. "We make sure our business strategy is cascaded down in the organization through our strategic initiatives pro­cess," Buergel explains.
"We identify five or six specific corporate objectives that we need to focus on, and set goals that need to be what I call SMART, which stands for specific, measurable, actionable, realistic and time bond."
The goals are broken down into quarterly personal goals that are honored by Penda's bonus system. "We have a strong focus on teamwork, but I do not believe in team accountability," Buergel adds. "Each team member is accountable for certain activities the team agrees on."