Raising the bar
Penny Hydraulics carries out all the functions of a fully integrated manufacturing company. The lifting equipment manufacturer offers design, manufacturing, quality control, after sales support and a nationwide service operation
Penny Hydraulics was founded in 1978 by mining engineer, John Penny, as a company offering nationwide hydraulic garage equipment and mining equipment repairs. As Japanese imports started to become more common and the mining industry started to decline, the company diversified into new markets, primarily lifting equipment including cranes for commercial vehicles.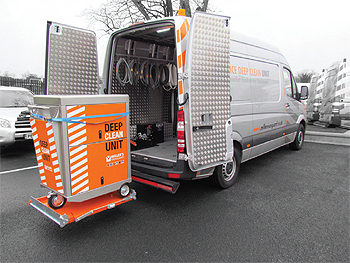 Today, although the core business remains cranes for vans, the company has diversified, venturing further into the lifting equipment industry with goods lifts, winches and tyre handling equipment.
One area that sets Penny Hydraulics apart is its market leading product design capability, which general manager of sales Jessica Penny discussed: "We undertake these activities in-house, which means we can develop new products and get them to market quickly." This is something the business has undertaken frequently over the years, and it was especially beneficial during the recent recession when confidence in the economy dropped resulting in a change in the market. Many businesses that needed to free up space opted to implement mezzanine floors in their current sites instead of investing in entirely new facilities. This resulted in a large number of companies requiring Penny Hydraulics' expertise to develop a lift that could facilitate the use of mezzanine floors, and since then this has been an important part of the business.
Dedication to innovation also extends to the production process. Penny Hydraulics has made a number of improvements in this area, some of which have been recognised by awards. These include a regional Chamber of Commerce Business Improvement Award, as well as being in the running for National Business of the Year, and a number of others. Many of these were won for one specific improvement, which involved the company using a productivity tool called iLogic to solve a bottleneck in design for the bespoke goods lifts. Jessica laid out the extent of its benefits: "This enabled us to develop a process where it is possible to reuse design and automate repetitive tasks in Inventor. That has meant we are able to reduce manufacturing drawing times from two hours per drawing to five minutes per drawing, without throwing any more people at it. It is a really good example of the use of design automation, and has lead to a manufacturing capability increase by 40 per cent within the division, turnover increase of 60 per cent, as well as a net profit increase of 140 per cent within the division."
Due to the high level of demand for its equipment, Penny Hydraulics is currently expanding its facilities, which it expects to finish in the first quarter of 2017. This investment will expand production space, increase warehousing space, create a larger office size to handle more personnel, as well as providing larger parking facilities. Another positive impact of the improvement was presented by Jessica: "Many of our key Upload Filescustomers are really big blue chip companies, and the new site will convey an image of the size and level of quality that Penny Hydraulics offers today. We have changed a lot over the last 37 years, so it is important to provide our customers with a perspective that tells them who we are now."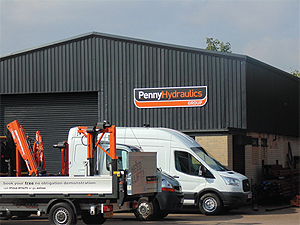 In addition to Penny Hydraulics' innovations, improved efficiency, and facility expansion, it also aims to play an important role in engaging with the next generation of engineers. The skills gap and the lack of young people pursuing a future in STEM (science, technology, engineering and mathematics) subjects are commonly discussed among those within the industry. However, Penny Hydraulics aims to help counter these issues, as Jessica elaborated: "We liaise with primary and secondary schools, as well as colleges and universities. We feel that engaging with children as young as possible about STEM subjects will greatly increase the likelihood of them going into a career in engineering. We have apprentices; children that come here on long-term work experience and a partnership with Sheffield Hallam University. This is in the form of a Knowledge Transfer Partnership scheme, which enables engineering students to gain practical experience on specific projects with us while studying. This is beneficial for the students as they get some hands-on experience, and we get to test them out and see if we want to offer them a job upon the completion of their degree."
This partnership continues to be a great success for all involved, and one specific example highlights this: "We had one chap called Simon that came to us on a Knowledge Transfer Partnership through the university, and his task was to create a strategy for us to break into the nuclear industry. As a result of his work this area of the business has come on in leaps and bounds, and he now heads up our nuclear department," Jessica said.
Penny Hydraulics is helping to bring through bright talents into the industry, offering them real opportunities to get them involved and interested in an engineering career. The company has found great success in hard times, and repeatedly demonstrates its ability to be flexible and adapt to changing markets and has built a stronger business because of this. All of which suggests Penny Hydraulics is one to watch for many years to come.
Penny Hydraulics Ltd
Products: Lifting applications