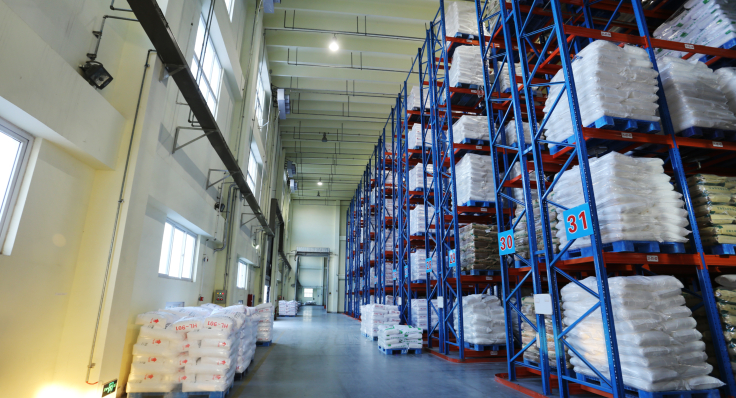 Performance Additives' goal is to be the premier sales, service and distribution company of quality plastic additives from Asia to North American manufacturers. "Customer service is key for us," Vice President of Sales Eric Vanderpool says. "Performance Additives is a group of about 15 people and almost everyone comes from a PVC industry background."
The Yardley, Pa.-based company was founded in 2005 by former Arkema executive Arthur Van Nostrand and several partners with the goal of providing plastic processors with quality plastic additives backed by the support, testing and service of a North American organization.
"We work in the plastics industry and with a current focus in PVC, but we are looking to expand our horizons," Vanderpool explains. "Our key customers now are making PVC pipe, deck and trim board in the United States, and we want them to have the Asian additive market available to them. Our expansion goals include rubber, wire/cable and automotive industries, but we are looking to help wherever we can."
Performance Additives offers acrylic impact modifiers and processing aids, CPE and ACM impact modifiers, MBS impact modifiers and SAN processing aids. "One of our key partners, Shandong RIKE Chemical, manufactures process aids for foam/cellular PVC that have delivered huge advantages to our customers via usage and density reduction," Vanderpool says. "They make the best process aids in the world and we are able to coordinate with them, distribute their products and stock it stateside. Additionally, we have a stateside lab in Tennessee to help provide quality control and customer support. That's what we bring to the table – quality control and stocking raw materials in the United States – which is why a lot of our customers consider us a domestic supplier."
Overseeing the Supply
The company's logistics team oversees its global supply chain, offering timely and flexible deliveries to meet its customers' needs. Performance Additives offers five strategically located full-service warehouses that are routinely stocked to meet its customers' expected demand with room for continued growth. With five warehouses scattered around the United States, Performance Additives never keeps one customer's material at just one warehouse as part of its safety protocol.
"At Performance Additives, we offer some of the fastest order processing times in the industry," Vanderpool says. "Our ability to leverage strategic partnerships with specific warehouses across the United States market makes us reliable, efficient and convenient to work with. At Performance Additives, the customer comes first, and we will do everything possible to meet their needs."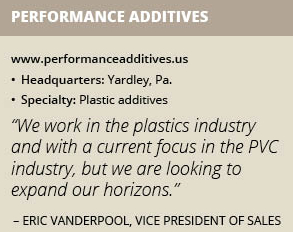 Performance Additives' secret sauce is not only the raw materials it supplies, but also the expertise of its employees. The company employs industry professionals who have considerable experience up and down the supply chain for PVC compounding and processing.
In addition to logistics and sales experts, Performance Additives employs chemical engineers, extrusion consultants, former plant managers and compound blend professionals.
Quality Control
In 2016, Performance Additives established a technical lab in Johnson City, Tenn., where it compiles trial data, develops new products, tests final products and tracks quality control. All the manufacturing of raw materials is done by its partners in Asia, but Performance Additives' lab helps tweak their products to be more appropriate for the U.S. market.
"With Shandong RIKE, for example, we are involved in the advisory side of their manufacturing but aren't doing the actual manufacturing," Vanderpool emphasizes.
Performance Additives lab works daily to understand what its products can offer compared to the competition's. "Our job is to get in front of the customer and understand if they have certain specs they are trying to meet, then we can run tests on our products to see which one offers the best solution without impacting their processing parameters," Vanderpool says.
Shandong RIKE recently completed an expansion to their facility that made them the largest producer of chlorinated polyethylene elastomers (CPE) in the world. The company has the production capacity to produce 450 million pounds of CPE a year and has been a key partner to Performance Additives for more than a decade. "With capacity like that, we want to sell it and are actively seeking new markets where that's available," Vanderpool explains. "We have also partnered up with other manufacturers that offer complementary products to CPE, and we now offer antioxidants, flame retardants and several other products used in rubber and automotive applications."
Performance Additives is constantly developing new products – whether that be tweaking its existing products or developing ones from scratch. "We are tweaking them by learning what we have done successfully and what we haven't done successfully to ensure we are moving in the right direction," Vanderpool says. "With our lab in Tennessee, we can vet any Asian-based supplier that comes to us. We pre-qualify all the materials before taking it to our customers. We are expanding our product line not only with our current suppliers, but also by adding new manufacturing partners when appropriate."
The approval process for a new product takes about eight weeks as Performance Additives runs quality checks to ensure the product will do what it promises. "Consistency is one of the concerns most people have when working with Asian manufacturers," Vanderpool says. "Part of our job is to relieve them of that concern."
Moving forward, Performance Additives plans to continue diversifying its portfolio as well as the customers it services. "Diversification is very important for us from multiple standpoints," Vanderpool says. "Sure, we don't want to put all our eggs in one basket, but more importantly, we want to be diverse to ensure we are the key advisor and supplier that our customer comes to no matter what ingredient they are looking for. The goal is to be their first phone call and provide them with the support and material they need. With the technology available and our internal analysis in the lab, we focus on bringing the best options to our customers."