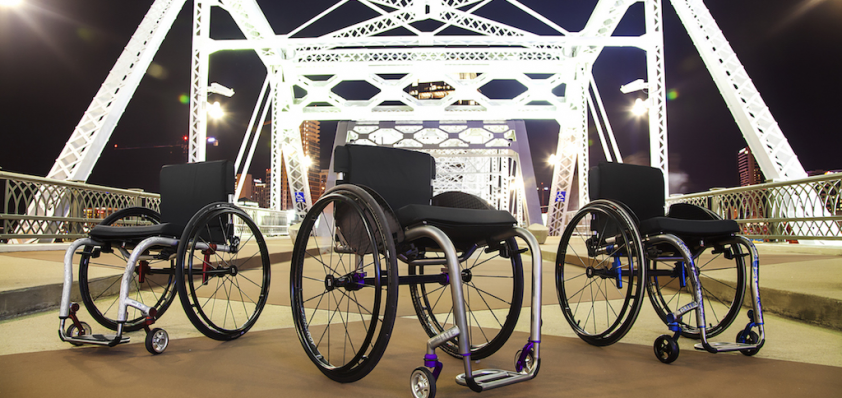 For more than 40 years, Permobil has been focused on improving the lives of people with disabilities. The company develops, manufactures and markets wheelchairs, seating and positioning and communication systems for people with disabilities.
Founded in Sweden, Permobil has its North American headquarters in Lebanon, Tenn. In recent years, the company increased its strength in the rehab industry with its acquisitions of TiLite and ROHO. The three companies have a rich history of advancing the industry.
TiLite, a leading manufacturer of innovative and customized manual wheelchairs, was acquired by Permobil in 2014.
ROHO, the global leader in skin protection and positioning solutions for individuals with disabilities, joined the group in  2015.
Power Wheelchairs
Power wheelchairs are Permobil's specialty. Using the latest technology, the company offers power wheelchairs in a variety of styles that include front-wheel drive, mid-wheel drive, rear-wheel drive, standing and pediatric.
This year, Permobil unveiled its newest power wheelchair:  the M5 Corpus. The mid-wheel drive power wheelchair can travel at speeds up to 3.2 miles per hour with an elevated seat height of up to 14 inches. This seat elevator maintains full suspension at any seating position and drive speed.
The wheelchair also utilizes Permobil's trademark ActiveReach technology that allows the user to tilt forward 20 degrees when reaching for something. This technology enables its user to reach beyond obstructions, into high cabinets and can even assist in transfers.
In addition, the M5 features Permobil's FlexLink Pro dynamic suspension that is designed for stability and comfort, coupled with advanced vibration reduction. The M5 offers different tire options for both casters and drive wheels, giving the user the ability to customize his ride and travel destination.
"Permobil is proud to continue our tradition of innovation," stated Larry Jackson, president of Permobil North America, in a press release. "When our founder invented the first power wheelchair 50 years ago, he paved the way for the M5 Corpus. As groundbreaking as the M5 is, we will continue to innovate, because we believe that independence is a basic human right for all people."
Manual Wheelchairs
TiLite is known for its ability to customize manual wheelchairs to a user's specific dimensions. By building wheelchairs that are custom-fit to the individual, utilizing the best possible construction and manufacturing with aesthetics in mind, TiLite has carved out a successful niche in the wheelchair market.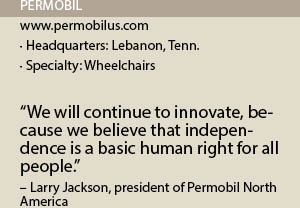 One of TiLite's crown jewels is the TiFit system, which produces custom-fit wheelchairs specifically designed and constructed to provide the most ergonomic fit to improve safety and comfort.
The difference between a TiFit chair and other wheelchairs in the market is that this chair is specifically tailored to the individual person. Every chair is a made-to-measure, optimally fitted, wheeled prosthetic. Using a person's precise measurements, the TiFit frame starts as a computer blueprint. Those precise measurements factor into the overall construction of each individual wheelchair, and the company says its ability to offer customized frame depth ensures a perfect fit.
The custom frame depth enables the user to optimize the fit, balance and footprint of the chair. It allows for the specification of frame depth to be determined independently of seat depth. For example, the user can add length to the front of the frame [beyond the end of the seat sling] to help balance the chair and adjust his or her center of gravity forward. The enhanced balance, increased handrim access and space saved by moving the user's center of gravity gives them more performance and efficiency without affecting the chair's footprint.
The company adds that its ability to perform more precise and complex bends during the manufacturing process is one reason why its TiFit process is so successful.
Seating and Positioning
ROHO, Permobil's most recent acquisition, is known in the industry for manufacturing seating and positioning systems for wheelchairs. Its patented air-cell technology lets the cushion move with the user, preventing pressure injuries and ensuring long-term comfort and safety.
It offers a variety of products that include cushioning, wheelchair accessories and mattress support surfaces. Its adjustable air-filled cushions mimic the pressure relieving properties of water, removing friction and delivering stability and comfort.
Decades of Experience
Permobil has roughly 1,500 employees in 17 countries. Its production sites are scattered throughout Sweden, China, France and the United States.
Founded in 1967 by a Swedish doctor, Per Uddén, the company has developed a reputation for its personal approach to wheelchairs and seating systems for the disabled community. Permobil has been wholly owned by Patricia Industries, a subsidiary of Investor, since 2013.