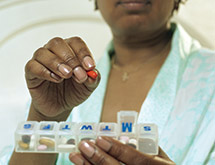 About the only thing that has not changed at Pernix Therapeutics versus a year ago is its name. "Under the new leadership, we radically changed the company and brought in a very experienced management team to take it to the next level," COO Terry Novak says. "Silenor was the hidden gem in sleep medicine and was just the beginning in building a central nervous system company."
Pernix Therapeutics' portfolio of specialty, primary care and generic medicines drives its overarching strategy to maximize value for its key stakeholders. The Morristown, N.J.-based company employs a lean operating model with focused and disciplined execution that allows it to pursue growth opportunities both organically and through selective acquisitions. Pernix Therapeutics' mission is to identify, develop and commercialize specialty products that exceed the expectations of patients, customers and shareholders.
Over the past year, Pernix Therapeutics has realigned its salesforce, added sales representatives and built first-class marketing and supply chain teams. "Focus is the reason for our success," according to Novak.
"We eliminated a lot of distractions in the company," he adds. "Originally, it was four different companies with different product lines and the salesforce wasn't cross-trained to sell all the branded products. So we got to work to quickly focus the salesforce on key products while our operations team took a razor sharp focus on streamlining processes and optimizing resources."
Focusing on Supply
Two of Pernix Therapeutics' biggest challenges over the past year have been getting the right contracts in place with adequate coverage to ensure patient access and transitioning the supply chain to ensure security of supply for all of its products.
One of the first initiatives at Pernix Therapeutics was to identify and prioritize the core products to focus on and to develop exemplary operational standards not only for Pernix, but also for its suppliers. "I am a big believer in scorecards to measure performance," Novak adds. "Now we have a number of quality and supply metrics standards in place to measure our success and the success of our partners."
Prior to the new management team taking control of Pernix Therapeutics in February 2013, there was no connection between sales and the supply chain. The company quickly implemented an inclusive sales and operations planning process with monthly meetings that involve all areas of senior management. "There is a connection now across sales, operations, supply chain and so on. Transparency is imperative in ensuring the successful execution of any product delivery," Novak adds. "We put short- and long-term visibility into our forecast, greatly improving efficiency, cost and product supply."
Every product supply is different based on any number of factors, but the company provides its suppliers with thorough and accurate forecasts with enough lead-time to ensure it will have the right amount of product when it is needed. Treximet, for example, has a higher level of stock on-hand because it is made in the United Kingdom, requiring greater lead-times and preparation for contingencies such as customs delays.
Future Focus
Pernix Therapeutics recently acquired the Zohydro ER, an extended-release opioid agonist indicated for the management of chronic severe pain. Pernix recently launched the second generation of the Zohydro ER with BeadTek and is in the research and development stage of a third generation expected to be available in 2019. "The business development team is looking at other pain assets to acquire, as well as products in adjacent therapeutic areas that are a strategic fit with our current portfolio," Novak notes.
Pernix Therapeutics is focusing on the continued increase in sales of the core promoted brands: Treximet, Zohydro ER with BeadTek and Silenor. "We are eager to show our shareholders and investors that we can successfully acquire and grow specialty products," Novak says.
Moving forward, Pernix Therapeutics will increase its R&D spend in areas focused on lifecycle management. With Silenor, for example, Pernix is working with the FDA to solidify a development path to take Silenor from a prescription to an over-the-counter medication, due to its safety profile, that could be approved and launched as early as 2019. "We will continue to strive to maximize the utility of our existing products for appropriate patients and acquire new products, adding value for our shareholders and customers," Novak says.