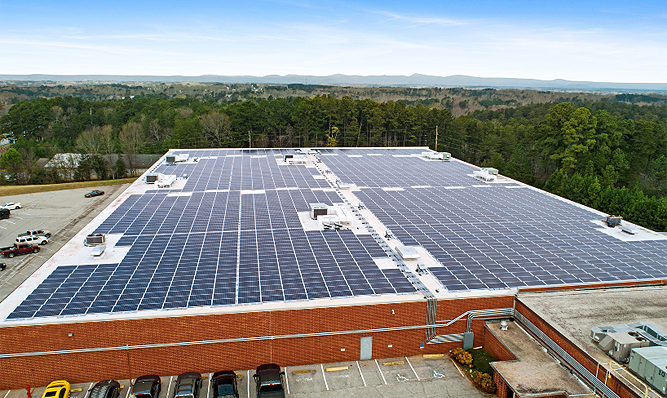 Perry Ellis International Inc.
Perry Ellis International founder George Feldenkreis regains control, taking the company private and charging forward with a focus on sustainable practices.
Perry Ellis International (PEI) has remained a global fashion powerhouse for 52 years with its broad portfolio of internationally recognized lifestyle brands. Although the company continues to adapt to the ever-changing landscape of fashion and retail, its success is rooted in an unwavering family culture and adoption of best practices.
Executive Vice President Joseph Roisman has been with the company for 49 years, which is a testament to his belief that Perry Ellis International is a great company to work for. "The company was founded by the Feldenkreis brothers, and we have maintained our family values," he says. "Every person who gets hired is assigned a mentor to make sure they understand the culture and learn our business. We invest in our associates and focus on developing and retaining talent. I'm a great example of a seasoned tenured executive."
George Feldenkreis founded the Miami-based clothing company six years after he left Cuba and arrived in the United States in 1961 with only $700 in his pocket. In 1967, Feldenkreis and his brother, Isaac, created Supreme International, manufacturing school uniforms and traditional Latin four-pocket linen shirts. "I joined in 1970 with the purpose of developing the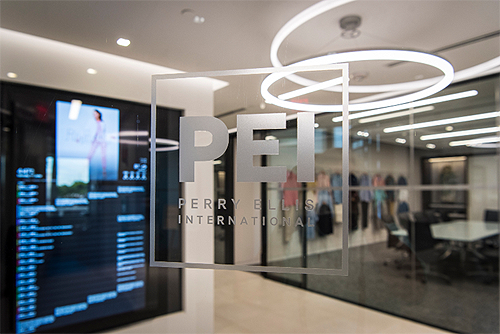 Hispanic market in the U.S., traveling to the Latin areas of New York, New Jersey, Chicago, Texas and Southern California," Roisman remembers. "Eventually we diversified our product offering and retail distribution channels."
Fast forward to 1993 and Feldenkreis took Supreme International public with $33 million in revenue. After going public, the company acquired Musingwear®, which is a more than 100-year-old brand. Grand Slam® by Musingwear was known for its world-famous knit golf shirts that were worn by numerous famous golfers and celebrities.
In 1997, Supreme International acquired the Perry Ellis®, Manhattan® and John Henry® brands. At this time, the company became known as Perry Ellis International. Today, Perry Ellis International, through its wholly owned subsidiaries, owns a portfolio of nationally and internationally recognized brands, including: Perry Ellis®, Perry Ellis America®, An Original Penguin® by Musingwear®, Rafaella®, Cubavera®, Ben Hogan®, Savane®, Grand Slam®, John Henry®, Manhattan®, Axist® and Farah®.
Perry Ellis International has enhanced its roster of brands by licensing trademarks from third parties, including Nike Swim®, Callaway®, PGA TOUR® and Jack Nicklaus® for golf and Laundry by Shelli Segal® for ladies apparel.
PEI is a global fashion house that represents an array of lifestyle and licensed brands. The way Roisman describes its business model is broken into the following groups: wholesale, which sells brands to a variety of retailers from Walmart to Saks Fifth Avenue. Its direct-to-consumer division focuses on e-commerce and its 70 retail stores under the Perry Ellis and An Original Penguin brands. The third is the licensing division.
Regaining Control
In October, Feldenkreis regained control of Perry Ellis International and once again became a private company through a $437 million transaction. "Today, Perry Ellis International enters an exciting new chapter as a private enterprise," Feldenkreis said at the time of acquisition. "I want to thank all of our associates at PEI for their support and hard work to accomplish this transaction. We are also very grateful to our bankers and advisors that have helped the Feldenkreis family to complete this herculean achievement."
Feldenkreis' son, Oscar Feldenkreis, is the president and CEO of Perry Ellis International and says taking the company private will allow the company to focus on its long-term vision versus short-term goals. The focus is to continue to cultivate its entrepreneurial spirit and continue to seek new opportunities and make faster decisions. Roisman says the company's objective is to increase profitability by expanding its global footprint, while always seeking initiatives to be more sustainable.
Sustainable Efforts
Perry Ellis International completed installing 2,432 solar panels atop the roof of its largest distribution centers in Seneca, S.C. Constructed on the 83,000-square-foot roof of one of the buildings, the solar panels are fully functional today and are generating 65 percent of the facility's annual energy consumption.
The company achieved a new milestone in its commitment to reducing its carbon footprint and its ongoing sustainability mission by installing the solar panels this year. Perry Ellis International launched the system as a pilot program, which it expects will help direct future alternative energy initiatives. "We are very focused on sustainability," Roisman says. "On the weekends, the energy that's generated we sell back to the utility company. We also have two additional distribution centers; one in Miami and one in Tampa, Fla. They all have LED lights and motion sensors so the lights turn off if no one is in the area."
Perry Ellis International strives to increase responsible stewardship on a daily basis, from materials sourcing to fabrication and throughout the supply chain. Together with its retail partners, the company has made substantial progress towards reducing the quantity of packaging materials and increasing the quality of component materials. In some instances, it has removed poly bags on replenishment programs, increased quantities per shipment, printing hangtags on partially-recycled papers, and producing clothing with organic materials or recycled polyester.
"We are staying away from packaging materials that are not necessarily needed to maintain the integrity of the product and are trying to put more units into the box to reduce our use of corrugated boxes," Roisman notes. "We are trying to recycle as much as possible in the inbound containers to ship to our customers and whatever we can't recycle, we compact it and sell it for recycling."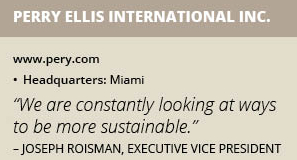 Last year, Perry Ellis International upgraded its headquarters in Miami with new cubicles and installed energy efficient lighting. The company has been in the same building for 22 years. In addition to its headquarters, Perry Ellis also has a design and sales office in New York, and a sales office in Portland, Ore., that acts as the liaison for the Nike swim brand. Perry Ellis International also has offices in Toronto and Mexico City, as well as a subsidiary in the UK to handle its expansion into Europe.
Perry Ellis International's associates get involved in the sustainability committee, as well as think sustainably outside the office. "We try to encourage our associates to be as green as possible," Roisman says. "We recently collected money to plant trees for water conservation. The company culture is to reduce our carbon footprint and make sure that our associates are conscious not only in the office, but in their homes as well."
Partners in Production
Perry Ellis International prefers to have the freedom and flexibility to source globally. "We have a network of established factories who are loyal to us, and the loyalty and respect is mutual," Roisman says.
Because Perry Ellis International is known for its high-quality clothing, the company employs quality control inspectors in all of its facilities. Nothing is shipped without their approval. In addition to that, every shipment that comes into the country goes through a random in-bound quality control audit to make sure everything is of the highest-quality, Roisman explains.
To add efficiency to its design, sales and production processes, Perry Ellis International recently invested in 3-D software. "In the software, you can turn the garment around, see the back and zoom in to see the stitches on the fabric. It's tremendous," Roisman explains. "Our aim is to save money in samples because its true to the color and our sales people can bring the collection with them in their laptops and show our customers. We have already started working with major accounts and the reaction has been favorable because we have a very long track record of experience with a lot of major customers who trust us."
Moving forward, Perry Ellis International will continue to focus on sustainability and lean operating processes while ensuring it gets the right product to the right place at the right time. "We are also seeking innovative and technological advances for our distribution centers," Roisman says. "Our mantra is to do everything faster at a lower cost."