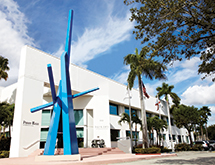 Perry Ellis International
For Perry Ellis International, variety – in its brand portfolio as well as its supply and shipping base – is truly the spice of life. "Our strength is in our sourcing capabilities, design capabilities and the array of brands we can offer to customers and consumers," Executive Vice President Joseph Roisman says. "The reason for our success is we do not depend on any one level of distribution – we sell to anyone who has credit."
The company's brands can be found in regional, national and international department stores, national and regional chain stores, mass merchants and specialty stores throughout North America as well as in Puerto Rico and the United Kingdom.
Perry Ellis International's retail partners include Macy's, Dillard's, Nordstrom, Saks Fifth Avenue, Kohl's, Walmart and J.C. Penney. The company also operates 67 branded stores and outlets and offers products online. "During the recession, the luxury market suffered, but also being in mid-tier and department stores helped us, as we were able to shift from one market segment to another," Roisman adds.
The apparel, distribution and licensing company owns a portfolio of more than 30 brands including Perry Ellis®, Jantzen®, Ben Hogan® and Original Penguin® by Perry Ellis®. The company also licenses trademarks from third parties including Nike® for swimwear and Callaway®, PGA TOUR®, Champions Tour® and Jack Nicklaus® for golf apparel. Perry Ellis International also licenses its proprietary brands to third parties that manufacture products outside of its main product lines of men and women's apparel.
The company continues to seek opportunities to expand what it refers to as its "family" of brands. "We're constantly looking for opportunities to acquire compatible, struggling brands we can apply our talents to and make them flourish," Roisman says.
Shipping Capabilities
Perry Ellis International operates 800,000 total square feet of warehouse and distribution space including two distribution centers in Miami, one of which also houses the company's head office; and centers in Tampa, Fla., and Seneca, S.C. U.S. sales offices are located in New York City; Dallas; Milwaukee; Portland, Ore.; and Commerce, Calif. The company also operates sales offices in Toronto, London and Mexico City and sourcing operations in China,  Taiwan, Hong Kong, Bangladesh and Vietnam.
Products are sourced from  overseas factories the company contracts with directly. Contracting its production out instead of performing it in-house allows the company to meet changing demands for products and prevents excess inventory, Roisman notes.
The company moves more than 75 million units annually thanks to the efforts of a number of third-party logistics (3PL) providers. These providers include a company in New Jersey that receives products arriving by sea from the Middle East and Africa, and two 3PLs handling products from Asia.
The distribution centers serve the company's retail customers, who ship to stores using their own trucks; as well as 3PLs that handle the distribution to Perry Ellis-branded retail locations. The company also uses FedEx and UPS to ship to its smaller accounts, Vice President of Corporate Logistics Marvin Leto says.
Making it Happen
Perry Ellis International utilizes a number of technologies in its logistics and supply chain operations. Retail customers plan and route their shipments using their own transportation management system (TMS), which Perry taps into to finalize routings. The company also uses an electronic data interchange (EDI) to process purchase orders and invoices electronically.
"We have become more sophisticated in terms of the software and systems we use," Leto says.
The company's sales planning and sourcing department also uses demographic software to determine the quantities of items to ship to locations. "We have a strong planning department that looks at these numbers and can determine whether a customer can sell what they are trying to buy," Roisman says. "If we don't think they can sell it in their market, we will let them know."
Although technology plays an important role in getting Perry Ellis International's products to retail customers and consumers, Roisman says the company's true strength is in its personnel. "I'm most proud of our vendors and our people," he adds. "Our associates are really the ones who make it all happen here."