Growth through innovation
Formed in 2003 to enhance Lucite International's Perspex® acrylic sales performance in the UK, Perspex Distribution delivers industry leading service and support to customers
A distributor of Perspex® cast acrylic and a range of other thermoplastic sheet, rod and tube, Perspex Distribution Ltd (PDL) operates under the Lucite International (LI) umbrella. Using LI's manufacturing capability and resources, together with Managing Director of PDL Keith Piggott's long-term knowledge of the market, PDL has grown from one branch in Chelmsford in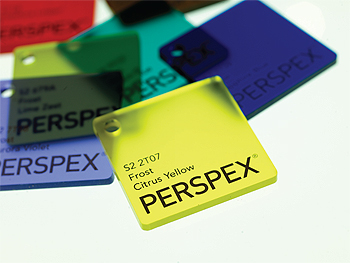 October 2003 to five branches strategically located throughout the UK.
"Thirteen years ago I met with the directors of LI to discuss possible solutions that would improve Lucite's Perspex sales performance in the UK market. I had previously been founder and Managing Director of Amari Plastics from 1975 to 2001, a new business started as part of Amari Group; using this experience and LI's manufacturing capability and resources, PDL has taken Perspex® cast acrylic sheet from a UK market share of 18 per cent to over 50 per cent. In fact, PDL has achieved financial returns that are industry-leading within both plastics distribution and the wider industrial distribution sector," says Keith.
"In line with overseeing the successful development of PDL as MD, I was also appointed General Manager of the EMEA Sheet and Composites production business at Lucite in 2014. As a result of this development, PDL and LI now work even closer together and we have improved the way with which we respond to changes in the market and the speed of our new product development," he adds.
As a global leader in the design, development and manufacture of acrylic-based products with capabilities across EMEA, the Americas and Asia Pacific, LI has been producing Perspex® acrylic in Lancashire since 1934. Offering a strong heritage, expertise and stability, LI's capabilities were further strengthened when it was acquired by Mitsubishi Rayon Co Ltd (MRC) in 2009. As part of LI, PDL has been given the freedom to grow and develop its operations, however, the company maintains close ties to LI's manufacturing plant, regularly delivering invaluable knowledge and feedback on both manufacturing and product development.
"Our factory in Lancashire is one of the largest cast cell sheet facilities in the world, however the strength of LI extends further than purely cast acrylic production. Our ability to customproduce products is a key reason customers choose Perspex® acrylic; our expertise includes our own team of colour technicians and we can produce bespoke colours, textures and light diffusion within our sheets at our in-house colour lab and semi-tech plant," highlights Keith. "With all products produced in the UK, it is particularly useful to European manufacturers who are looking for bespoke products and a quick turnaround time."
With PDL's business foundations built on a core customer base of signmakers and plastic fabricators, the company has developed a strong presence in sectors such as construction, printing, retail and lighting. While sales of Perspex® acrylic remain key to PDL's activities, over time the company has successfully diversified into a number of complimentary sheet products and technologies, which now represent a significant proportion of the business. The diversified range now includes polycarbonate, aluminium composite, PVC foam, PETG and LED lighting, which has thus expanded its target markets and activity.
Discussing recent product developments, Keith highlights: "In the last four months alone we have launched four new ranges in the commercial lighting and illumination industries with great success: Perspex® Edge, Perspex® Diffuse, Perspex® Reflect and Perspex® G-Lux. These particulate-filled technologies give opportunities for more creative designs, offering brighter, slimmer lighting units that weigh and cost less, without the need for additional fabrication costs required in other light guide panel technologies. This offers a much more compelling proposition all round.
"As we have extended our product offering, our customer base has grown with us into new markets. Today, our customer base is as diverse as the products produced, with Perspex® cast acrylic seen in luxury yacht glazing, exterior building cladding, medical equipment and fine writing pens. Furthermore, it is also being used to promote the world's largest brands in store promotions and fashion shows.
"Our range of non-Perspex acrylic products is also highly visible on a daily basis once our customers have transformed them into finished goods. Our aluminium composite panels are printed and used to build TV studios, for example, while our polycarbonate may be used to protect your local bus shelter glazing; our LED lighting, meanwhile, will be providing brand recognition and atmospheric lighting at your local restaurant chain. Each month we supply material to more than 1000 UK creative and manufacturing businesses with the only limit on the end use being our customers imagination," he adds.
Following this expansion of products and increase in demand from both new and existing customers, PDL has expanded its operations into Leeds; this strategic decision that will not only enable the company to meet this increase in supply requests, but also provide PDL with a strong foundation for further growth of both products and clients over the coming years. "We specified the site design, which has enabled us to house our largest levels of stock for local distribution as well as establish a purpose built storage and distribution area for smaller products such as LEDs, which are centrally dispatched throughout the UK. Basing the branch in Leeds places us in a central location for many key customers; our location within Leeds City Region enterprise zone also offers a fantastic base for distribution," comments Keith.
With demand for Perspex® acrylic growing by 20 per cent in the UK and Continental Europe over the last four years, PDL is keen to continue this remarkable growth through the continuation of a competitive service that adds value without compromising on quality, service and safety. "We believe that our commitment to product development and adding value to our customers provides us with a strong foundation for further growth in the years to come," concludes Keith.
Perspex Distribution Ltd
Services: Distributor of thermoplastic sheets