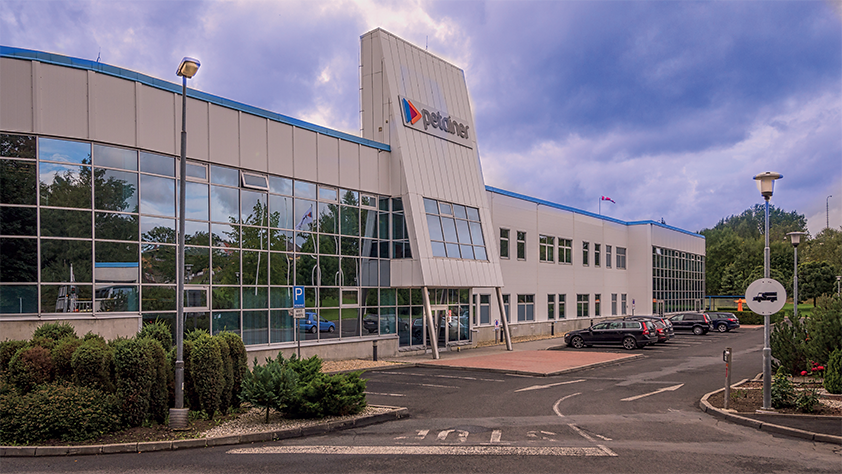 Sustainable innovation
With over 35 years of experience designing and manufacturing high-quality, cost-efficient products, Petainer offers a wide range of lightweight, sustainable PET packaging solutions to help businesses across the globe reduce their carbon footprints
Petainer is a manufacturer of sustainable PET products, with a history that dates back to 1983 when its first site in Lidköping, Sweden, began manufacturing PET bottles. Since then, the company has acquired facilities across Europe which have helped expand its portfolio. Manufacturing Today speaks with Hugh Ross, the CEO, and Jack Denley, the Marketing Manager, to discuss Petainer's best practices, and its passion for an eco-friendly future.
"We work with PET, which is 100 percent recyclable, shatterproof, food safe and can be used to replace heavy or carbon intensive packaging materials. Petainer offers solutions to support our customers' environmental and carbon reduction initiatives," Hugh begins.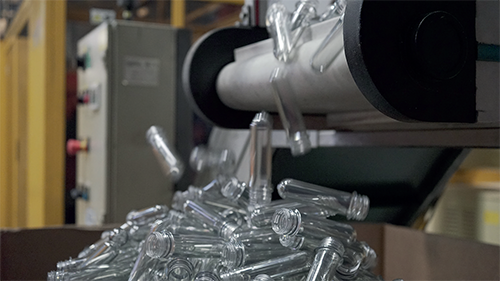 "We started off with PET bottles, and have since moved to PET kegs, PET jars, and PET water cooler bottles. Throughout this journey, what we have been able to do is offer customers across a number of different markets a sustainable solution for their products. For example clients in the beer sector who are moving from steel to one-way kegs which are more environmentally friendly. We are also trying to replace plastics that are hard to recycle with easier-to-recycle PET," says Jack, diving deeper into the company's capabilities.
To make this possible, Petainer has European core manufacturing sites that are located in the Czech Republic and Sweden. The factories have been moved to renewable energy, and from these favourable positions Petainer has been able to partner with some of the biggest food and beverage brands to assist in delivering their own sustainability targets.
"In addition, we have blowing hubs strategically positioned around the world in Asia, North America and South America in order to keep our manufacturing operations as close to our customers as possible," Hugh continues. "These blowing hubs operate a two-stage manufacturing model, receiving preforms from our core factories to then blow into finished product within the end users' markets. Preforms are lightweight and can be shipped at ten times the volume or more, per container, compared to a finished blown product. The result being a more economical and carbon friendly delivery process for both Petainer and its global customer base. Simply put, reducing the transport associated with each unit of product reduces the amount of carbon in our customers' supply chain.
"By producing closer to the customer, we eliminate logistics cost and reduce our customers' carbon footprint. These regional centres have the added benefit of being led by Petainer's regional teams. This has proven to be particularly useful for our customers as they move their own product around the world. For example, the keg is regularly used for export of product. It is not unusual for the keg supplied from a local blow mould site to be filled with beer, say produced in North America, to then be exported for use in bars in Asia. Once the keg is received in Asia, our in-region team can provide in-market support for new product launches. Having teams in the receiving export markets brings an extra layer of professionalism and support for customers as they globalise their brands."
"At our site in, Lidköping, Sweden, we focus on preforms, one-way bottles, and manage an overall production capability of approximately two billion units," says Jack. "The site is a lead supplier of bottles for mineral water and soft drinks in the highly sustainability driven Nordics market."
Recycling culture
The Czech Republic, is home to Petainer's broadest manufacturing facility in terms of capability. "Although we have tremendous reach in the Nordics where usage of PET bottles and the overall recycling culture is well established, the Czech Republic allows us to showcase our expertise in an alternative sustainability solution, namely the reusable PET bottle," Jack continues. "We strongly believe this will be the leading sustainability solution for the beverage sector in future as pressures on supply chain, particularly with regard to the quality of feedstock being maintained in the recycling process together with energy usage in manufacturing of alternative reusable products such as glass bottles, force customers to seek a PET reusable solution. Petainer's factory in Czech Republic has long been regarded by the Beverage sector in Central Europe as the technical leader in reusable PET. Our standard bottle solution today can be reused 20 times, meaning 19 batches of manufacturing being removed from the supply chain. We currently supply this solution with recycled content and will launch an extended reuse product in Europe in 2023."
"Our ability to open up locations in different parts of the world has been quite powerful," Hugh states. "We currently have two sites in North America, and are about to open a third in Tennessee. We also launched the site in Thailand at the height of the pandemic, because we could see that the South East Asian market in particular was struggling with lead times and logistics cost involved with delivery from its traditional supply base in Europe. The local team in Asia led the setting up of the operation and are now able to take orders from customers in Asia and deliver to end-users within two-to-four week lead times."
Consistent quality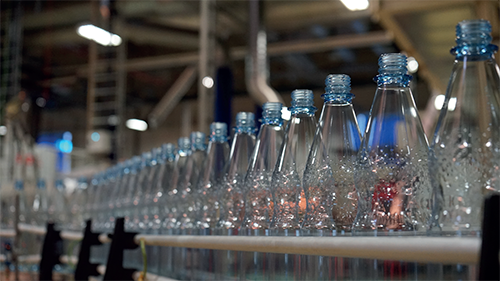 Jack continues to add; "Having an international reach was part of the company's strategy to expand market share in each end-user market. We have this two-stage manufacturing process, which can be replicated anywhere in the world, to help embed ourselves within the end user economy, and then deliver the preform to be blown locally in a much more economical manor with no detriment to quality."
"Coupled with its extensive manufacturing infrastructure, Petainer has an impressive track record of bringing products to market that can replace less sustainable packaging," Hugh explains. "For example, we have launched the Hybrid Keg, which is a technical alternative to traditional steel kegs. The keg has been designed to function exactly like a steel keg, running down steel keg filling lines. It is lightweight, has UV protection as well as an oxygen scavenger to protect the contents from oxidation. Recently we've improved it even further. In conjunction with our multinational customers' technical teams, we have developed a patented solution to safely alleviate too much pressure building up in the keg using a patent protected pressure release function, so that safety can be assured at all stages of use be it filling, delivery or ultimately use in a bar. Obviously the most important element of the product for our customers namely, taste quality, is assured throughout the supply process due to the recipe we control in the preform when it is manufactured as part of the Stage 1 process in Czech Republic."
Both gentlemen agree that the extent of Petainer's capability is buttressed by an expert team of engineers who dedicate their skills to solving the problems of their customers. "Whether it is handling the product or executing projects – you name it – our team guarantee a consistent quality from whatever location they are based, and we pretty much ship to most places in the world with zero-change in product performance," expresses Jack.
One might think that with a history and development trajectory as packed as Petainer's, the company would take some time to level out before plans for expansion. However, both Hugh and Jack are excited to continue pushing the company's capabilities to reach its full potential. Looking to the future, Hugh expects the PET water cooler bottle range to start growing substantially especially as the regulatory environment starts to rule against polycarbonate solutions containing BPA. The expansion of PET bottles with recycled content and expanded use of the reusable PET bottle is also expected to become more prevalent across markets.
"We have markets we serve where retail is pivoting towards climate smart packaging – packaging that has low emissions and is recyclable. The big shift is moving from glass bottles to PET bottles. We have seen a massive change in trend in which beverage companies have noted the environmental harm associated with heavy glass bottles that are energy intensive to make.
"So, I see the market shifting away from glass towards reusable PET, and I think that is the path forward for our product solutions. I hope that as we move further forward, we will be introducing the reusable range into broader markets. Reusable PET is sustainable, with up to 81 percent less carbon emissions compared to refillable glass over its lifespan. We have invested in our refillable PET solutions and use our technical expertise built up over two decades to constantly improve the life of our reusable product range. We expect to see refillable solutions filter to other par ts of Europe, and what we will look to do is push our potential to move with those trends to support our clients. As new proposed EU directives to increase the amount of reusable packaging as a percentage of all packaging become more prevalent we are pleased to see brand owners come to Petainer for advice, guidance and ultimately PET based product solutions which can meet with both the legislative requirements and the brand owners' sustainability goals," says Hugh.
Some of the exciting developments taking shape this year include Petainer's closed loop offering, utilising Petainer's skillset in processing rPET Flake. Product from this process will be available to some of its customers by the end of this year. "The process is based in our Aš factory and involves taking material generated from specific customers' baled bottle waste stream via the German deposit return scheme. We process this material into rPET Flake which is then ultimately converted back into recycled content preforms to be used by the same customers in fresh bottles."
This represents a true closed loop, whereby customers purchase both reusable bottles and recycled content preforms from Petainer, which get filled and sent to market. When the bottle reaches the end of its life, the same process repeats with the bottle entering the recycling stream, Petainer takes the material in flake form, processes it and creates new bottles for the customer to put back on the market. "This is the next evolution in PET Bottle sustainability and we all at Petainer are happy to be involved in dynamic discussions with our customers as we work with them to create their own closed loop process," Jack concludes. "I look forward to the continuing to expand our technical innovations as the environmental challenges expand and working with our customers to deliver a greener future to their markets around the world."
Petainer
www.petainer.com
Services: PET packaging solutions