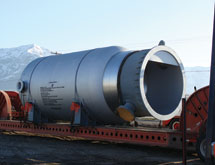 "From that garage that's probably 200 feet square, today we're over 1.2 million square feet under roof," Vice President of Business Development Rob Despain says. "It's really kind of an all-American success story."
Petersen Inc. provides custom steel fabrication and machining services from its facilities in Ogden and Pocatello, Idaho. The company also provides field services and third-party logistics. Its customer base includes companies in the nuclear, petrochemical, mining, aerospace and industrial fabrication markets. "We see ourselves as truly an industry leader in fabrication, precision machining both large and small, as well as warehouse and distribution," Despain says. "We focus on more than market share – we focus on vertical markets, where the company is well-positioned."
An Invaluable Part
As a fabricator and machine shop, Petersen Inc.'s goal is to be an invaluable part of its customers' lives and a perfect fit for their operations. "The unwritten rule here at Petersen is that we under-promise and over-deliver," Despain says. "We partner with our customers, and we make our facilities an extension of their operations."
Even though the majority of the equipment Petersen Inc. builds for its customers is custom, Despain says the company has no problem turning that equipment around quickly and at the highest level of quality possible. "We're a company that pays very close attention to our customers' deliveries," he says. "In 2010, we delivered more than 400 jobs at an on-time percentage above 96 percent."
Achieving that level of quality is as much the result of the company's hard work and dedication as it is due to its facilities and capabilities, Des­pain says. "It's come from years of managing and planning," he says. "It didn't just happen overnight."
One of the methods by which Peter­sen Inc. has achieved its high level of success is the introduction of lean manufacturing principles. CEO Jon Ballantyne brought those principles to Petersen Inc. when he joined the company as COO 10 years ago. As a manufacturing engineer by training, Ballan­tyne says he learned the Toyota production system first-hand during his time in the automotive industry.
Ballantyne says the use of lean and just-in-time manufacturing concepts has helped the company become more efficient, especially considering its location. "Being that we're in Ogden, Utah, a lot of the things we need aren't here close to us," he says. "This forced us to bring many different processes in-house to reduce lead times and improve quality."
In particular, lean principles have helped Petersen Inc. coordinate its design, fabrication and field installation services to tackle significant projects and begin manufacturing before they are fully designed.
Nevertheless, Ballantyne says the company's lean focus would not be nearly as effective without the philosophy he learned from Steve Petersen, son of the company's founder. "He taught us what it means to take care of the customer," Ballantyne says.
"Steve's philosophy has always been to deliver what the customer wants, and the little stuff will work itself out," Despain says.
Foot on the Gas
Petersen Inc.'s dedication to high-quality service is further evidenced by the company's reaction to the recession. Despain says the company has been stymied by customers' in­ability to get financing for new projects, the same as the rest of the industry, but Petersen responded by forging ahead with modernizing its facilities and building its Idaho location.
"You can solve a lot of issues with horsepower, and we decided to keep our foot firmly on the gas and both hands on the steering wheel," Despain says.