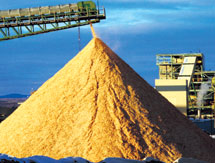 From its roots as a heavy construction company founded in 1981, Peterson Corp. has grown to develop a unique understanding of what its clients need in the equipment they use on a daily basis. Today, as an industry-leading manufacturer of equipment designed to meet land-clearing and construction needs, Peterson has developed a reputation for quality and innovation.
"The operating challenges our clients face today are greater than ever before, including how to minimize fuel use and increase production at the same time," the company states. "Everyone is focused on how to squeeze every ton of productivity out of each tank of diesel. When operating a Peterson grinder, customers realize that getting the work tools right can make a big difference in profitability."
In 1990, Peterson developed its first wood waste-recycling machine, and continuous innovation has led to the firm's current line of horizontal feed wood grinders. "These models have been very well received both in the United States and overseas, with production rates up to 150 tons per hour," the company says.
In 1993, the company expanded and built its 60,000-square-foot manufacturing plant in Eugene, Ore., expanding again through a 50,000-square-foot addition in 2000. In 2001, the company acquired manufacturing rights for the BioTech line of blower trucks, extending its reach into the soil erosion and landscape markets by producing trucks that distribute bark, mulch, compost and soil amendments.
To ensure clients select the right piece of equipment, Peterson offers consulting services and courses online to help educate customers. The company's Grinder Tooling class is designed to help owners, operators and those who support them understand the variety of options available to match the right tool for the job.
"Whether you are grinding green waste, regrind, whole logs, scrap wood, municipal solid waste, asphalt shingles or biomass fuel, we have different tooling that can match up with our clients' challenge and help them achieve lower fuel use and greater productivity," the company says.
Peterson also developed a new grinding bit designed to save clients both time and money. The new Peterson Knife Edge Bit fits several grinder models, as well as other similar machines. This piece is a heat-treated tool featuring steel forging with sharp cutting edges. "This bit has shown great benefits to customers grinding contaminant-free whole logs and trees, forestry residuals, scrap wood and pallets for biomass fuel and mulch," the company states.
Customers report a significant reduction in fuel consumption combined with an increase in production, resulting in lower operating costs per ton of product produced. "The clean, chunky, cross-cut wood chips generated by the Peterson Knife Edge Bit increases end-product quality and is highly desired for use with biomass fuel boilers," the company states. "Stringy, fuzzy wood fragments can clump together creating a product that will bridge, often resulting in inefficient, uneven flow of fuel to the boiler." The clean, chunky material produced by the Peterson Knife Edge Bit is proven to create a smooth flow of fuel, maximizing combustion efficiency and reducing emissions, the company adds.
The product is also 45 percent less costly than heat-treated steel tools that it replaces, and test results demonstrate the product's success. "The greatest benefits are in solid logs, but even tops, branches and scrap wood provide fuel savings of 10 to 15 percent, not including benefits derived from reduced transportation costs due to denser product," the company states.
In the past, similar pieces manufactured by competitors were limited by high cost and a reduced wear life, but Peterson's product line gives clients the benefit of higher productivity and lower fuel use at competitive prices.
Construction and demolition cli-ents look to Peterson products for equipment designed to minimize volume on the job sites. "Volume reduction and compacted density of many materials can be achieved with a combination of size reduction, optimal size distribution and compaction," the company states. "Many types of machines are manufactured to reduce large material pieces to smaller sizes. Cone, jaw or impact crushers are often used to reduce the particle sizes of construction and demolition debris that is primarily concrete or bricks, depending on the materials' hardness and size requirements."
The company's parts sales department works hard to ensure pieces are replaced or repaired on a timely basis. "An inoperable transmitter can shut down a job, adding costly expenses that affect our customer's bottom line," Peterson says. "In an effort to minimize down time, minor repairs to most transmitters can be completed and shipped back within 24 hours."