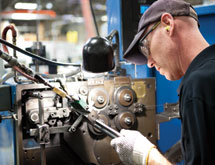 Peterson Spring, which operates under the Peterson American Corp. (PAC) umbrella of companies, has found great success in remaining on the cutting-edge of industry trends. What began in 1914 as a spring-making operation for the railroad and then-budding automotive industry has grown to become the largest privately held spring maker in North America, says Donald Lowe, senior vice president of sales and marketing. PAC is still in the spring-making business, but it also added rings, clips/clamps, wire forms and stampings, as well as a specialty product division that offers short-run and prototyping services for these items.
"Springs are ubiquitous," notes Les Smith, vice president of purchasing. "In appliances, in car engines, in furniture – they're just about everywhere."
PAC offers an array of products to its more than 450 customers around the world. In addition to its automotive, appliance and furniture industry clients, the company serves sectors such as agriculture, lawn and garden, medical, heavy equipment and motorsports.
Including its Southfield, Mich., headquarters, and two sales offices, the firm has 11 manufacturing operations across the United States as well as in England, Mexico and Canada. PAC serves more than 450 customers in 48 countries around the world.
Technology Leaders
"Our corporate culture expects excellence in every area of our organization," Lowe says. "From both a business and operational standpoint, we insist on integrity and hard work from all of our employees, from management down."
Not content to rest on its past success, PAC is continuously developing ways to improve its products and the industries it serves by encompassing the entire process of designing, prototyping, testing and manufacturing. "We are always challenging our employees to solve application demands," Smith says. "As the industries we serve evolve, so do our manufacturing methods and materials."
One example of this innovation is in PAC's racing engine parts development. "A racing car offers up to 1,000 horsepower, whereas a typical passenger car offers about 200 to 250 horsepower," Smith explains.
"As we develop these high-performance products, we use that information to develop longer-lasting, higher-performance springs for the standard car market."
Whether using a new material, a new manufacturing technique or a combination of both, PAC hones these new technologies to improve the performance of parts on standard engine applications.
Lowe compares this technology evolution with the computer and cellular phone industries in that those technologies are offering faster-performing equipment at lower prices and in more compact sizes. "It's an iterative process," Lowe explains. "When our customers come to us with their challenges, we vet the technologies that exist now and try to discover ways to make the products lighter, faster or stronger – whether it's through production or materials."
In addition to offering prototyping services for its clients, assemblies, painting, packaging and sequencing can also be handled at any of its manufacturing facilities.
Forging good relationships with suppliers has also helped promote these advancements. When developing a new product, in addition to soliciting information internally, PAC is able to enlist the help of its wire- or steel-making suppliers to determine the ideal material for that application. "We have the metallurgical expertise to distinguish among the different grades of steel," Lowe attests. "We employ the latest raw materials by partnering with suppliers to generate products that increase marketshare for our clients,"
This same philosophy applies to its equipment-manufacturing suppliers. "Though we may design and build our own equipment, we also have good, strong relationships with our equipment suppliers," Smith says.
Aside from employing some of the most experienced designers in the industry, PAC also equips its operations with a proprietary computer model and full tool room, as well as state-of-the-art CNC manufacturing equipment.
Quality standards are further ensured through the latest laser and camera equipment to measure every product's tolerance. "Every spring goes through that security process," Lowe claims. "If it doesn't measure to the tolerance, it's kicked from the production line."
"We subscribe to many modern management tools that most manufacturers have, including lean manufacturing and Six Sigma techniques," he adds.
Sharing Ideas
From top management down to the shop floor workers, every individual at PAC is enlisted to help improve the products the company manufactures. Using kaizen events, all ideas are brought forth and vetted, Lowe says. "Whether it's moving boxes to a more efficient location or combining two steps to speed production, we're all involved in both improving operations and making better products for our clients," he asserts. "We have even sent shop floor workers to our other plants to offer new ideas."
"We will always take suggestions from our team and garner as much feedback from both our clients and employees as possible," Smith says. In addition, he claims PAC's vision is very clear and communicated throughout all levels of management and work staff.
"Everyone has the ability to align themselves and provide ideas and insights to best achieve these visions," Smith says. "We foster a culture of innovation and success."
Today, Peterson Spring continues to serve clients of a wide variety of industries through its global footprint of manufacturing facilities, providing comprehensive capabilities and world-class expertise in designing, prototyping, testing and manufacturing.