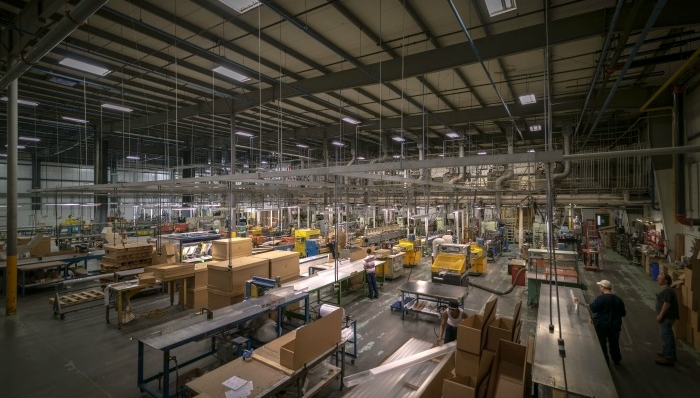 The marketplace for plastics manufacturing has changed a lot in the last 25 years, according to Pexco LLC Executive Vice President of Sales Joe Joyner. It is a more-concentrated, highly competitive marketplace, Joyner says, with fewer U.S. manufacturers chasing fewer qualified suppliers, all the while confronting a truly global economy. The type of service OEMs receive from their supplier base is more critical than ever. "Everything is about speed to market and managing best costs, so they are pushing more and more to their supply base," he says.
Fortunately, this is the type of competitive environment in which Pexco's core competencies give it a significant edge over the competition. As Vice President of Business Development Matt Robida explains, no other specialty plastics manufacturer in the industry has the combination of expertise and plastics engineering capabilities that Pexco brings to its customers. Even though the company has changed and evolved a lot over the years, adapting to newer circumstances, those changes have brought with them a stronger set of capabilities and some of the best practices in the industry, and Robida says those are the qualities that will continue to carry the company to success in the future.
The roots of Pexco begin more than 45 years ago with fiber extruder American Filtrona, which diversified into plastics manufacturing with the acquisition of Southern Plastics in 1970. Over the subsequent years, the company underwent numerous organizational and brand changes, leading to its current identity as Pexco starting in 2009. Today, Pexco is a leader in design and fabrication of specialty extruded plastics products for OEM customers in applications including commercial products, industrial products, medical equipment and defense.
Numerous Advantages
Pexco's history has been characterized by consistent change, resulting from numerous acquisitions and divestments over the years. However, Robida says that history of change has given Pexco some of its greatest strengths. He says the institutional knowledge and manufacturing capabilities that have been brought into the company through these acquisitions have given Pexco the ability to meet a broader range of customer needs than many of its competitors. "Our history has been one of absorbing smaller operations and their experience around a specific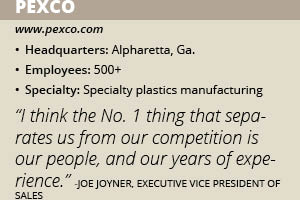 set of market requirements," Robida says. "That's a really unique advantage."
Joyner says the company's extensive full-service capabilities are possible because of the diverse expertise and knowledge that have been gathered the last 60 years, both via its acquisitions as well as its long-standing operational culture. "I think the No. 1 thing that separates us from our competition is our people, and our years of experience," he says.
Another major advantage Pexco brings to market is its footprint, Joyner adds. With seven manufacturing locations in the United States and two in Mexico, the company can be closer to its customers than many other manufacturers. Joyner also points to the buying power Pexco's footprint affords it and the cost savings that can mean for customers. "When you bundle that up, you're taking a very nice toolbox to a customer," he says.
Driving Engagement
The advantages Pexco has over the competition make the company a stronger fit in the new realities of the manufacturing sector, where customers depend on suppliers to provide more engineering and design support. At the same time, manufacturers are less engaged with their customers today as collaboration mainly takes place over the Internet.
That's why Pexco has invested in its recently announced extrusion-engineering center of excellence at its facility in Philadelphia. Robida says the engineering workshop and showroom provides OEM customers with the chance to see the company's plastic extrusion capabilities up close and helps Pexco present itself to customers with greater engagement. Robida says the investments fit into the company's thematic goal for 2016, which is increasing the ease of doing business with Pexco.
In the near future, Joyner says, Pexco expects to continue driving new developments and improvements to help its customers meet their challenges and advance their market position. Those efforts also include driving the company's customer engagement, and Joyner says the improvements the company has made to its extrusion-engineering center of excellence are a major component of that initiative.
Further into the future, Robida says Pexco is always on the lookout for potential acquisitions that could bring more capabilities and expertise into the company. With its expertise in adapting quickly to change and its broad capabilities, Pexco stands ready to be a trusted partner for OEMs for many years to come.