The complete package
One of the UK's largest independent food packaging manufacturers, PFF Packaging Group has always valued innovation, sustainability, and creativity in its mission to provide intelligent packaging solutions from conception to delivery
A company undaunted by change, PFF has experienced significant growth and development across the business over the past two and a half years. Kenton Robbins, the firm's Group Managing Director, suggests the period is best summarised by the mantra 'review, improve, move on.'
"We've really moved the business forward in almost all aspects of the operation, from quality to technical processes to people, everything really", Kenton states. "We've gone through just about every single system we have in the business and improved it in one way or another. Not only have we seen huge growth in the capability of our teams, but, as is our goal, we have continued to deliver innovation."
As recently as April 2020, PFF made a five-figure investment into the company's 100,000 square foot production site in Washington, Tyne and Wear. The installation of new extrusion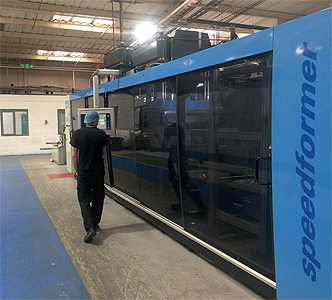 measuring systems, supplied by SBI International, will enable precision gauge control over the width of film used for the manufacture of thermoformed products, including over 20 million units of polypropylene trays produced at the site each month.
"In essence, it's an environmental investment as much as a business efficiency investment," Kenton reports. "Two of the machines we have at our Keighley site in West Yorkshire already have the mewasuring equipment and it gives us the ability to produce a very accurate, polypropylene sheet that is uniformly flat all the way across. The SBI systems monitor the sheet constantly and give us the ability to adjust the machines to maximise the specification parameters and improve manufacturing efficiency.
"It's a good investment. It's fantastic in terms of what it will mean for the business because that efficiency flows all the way through the metric. If you make a product ten per cent lighter, in theory you make everything ten per cent lighter. It's less waste, a more focused product environmentally with less plastic being used, and it gives us the opportunity to be very accurate with customer specifications, rather than operating above and below target weight."
Fast response
The investment is positive news for PFF in a year that, for most businesses, has been dominated by Covid-19. Designated as key workers in the UK food chain, the company's production staff have kept the business operating at its normal capacity since the outbreak, despite difficulties imposed by social distancing measures and other initiatives put in place to keep staff safe. Though PFF has certainly felt the impact of the pandemic, Kenton is proud of how the firm's workforce has reacted.
"After informing our sites about the changes early on, it was quite staggering how quickly our employees adapted and maneuvered themselves into a position of comfort," he declares. "We had various key meetings, designed policies, implemented those policies, and they were in place more or less overnight. The social distancing measures were announced, and teams onsite adapted in a blink of an eye. It was seamless.
"We have a strong belief in being open and honest with our workforce about challenges we face and that can sometimes be difficult, but everyone bought into it. They understood the work we were doing was as important to them as it was to us. From the start, we encouraged people to keep within their own social bubble to ensure that our facilities could stay operating without any cross contamination. It was a strategy that worked very, very well and ensured that we could maintain production all the way through this crisis, which has been really encouraging."
For many years, PFF has been at the forefront of the latest technologies and cutting-edge processes. In 2016, the company opened an Innovation Centre near its Washington production facility in Tyne and Wear, where it is proud to work in partnership with its customers to produce bespoke and innovative solutions. As pioneers in the plastic packaging sector, it is unsurprising that PFF has been a key voice in the recent debate surrounding the use of plastics in the industry. Renowned for its strong record on sustainability – many of PFF's products are made from food-grade recycled rPET containing over 90 per cent recycled material, over half of which is post-consumer waste – the company was ideally placed to approach the argument in a positive manner.
"We have really engaged with the plastics debate over the last two years," Kenton says. "I think it's fair to say that we've done a great job of working with the industry and our supply base to drive it forward. Despite having spent the last ten years trying to lightweight our products and drive recycling usage within manufacturing, we have still, at times, found ourselves pariahised for being a part of the industry. However, we continue to do our best to understand everybody's point of view and we think sensible conversations with regard to the usage of plastic and where you apply it and where you can lightweight it, are fundamental to the industry's future."
In April 2020, the UK Government announced the introduction of a tax on packaging that does not contain a minimum of 30 per cent recycled content. Set to be enforced from April 2022, the law states that any plastic packaging that does not meet the threshold will be liable for a charge of £200 per tonne.
"Everything we're working on at the moment is geared towards limiting our customers' exposure to attract the new 30 per cent tax," Kenton explains. "We're now looking at products where the overall percentage of the packaging has been reduced, or we are engineering into the product aspects of design to ensure they use less plastic altogether. For example, a standard dairy tub can be replaced with something that's half, or even a third, of the thickness and then wrapped in cardboard.
"Our customers are very acutely aware of the consumer insight into plastic and they're obviously keen to drive the agenda as well. It's a real shame when we find products on the market that are more akin to what customers think is the right way to go about environmentally friendly packaging, when in fact that's not the case. Sustainable production is about energy usage in total, not whether something is simply plastic or card. The consumption of energy on any manufacturing process is always key to us. We look to minimise the impact of our required energy input and make sure our products follow the right ethos, not just a deceptive, consumer friendly aesthetic."
Dedicated to the environment
In early May, PFF's production site at Keighley received a certificate of recognition from Operation Clean Sweep, an international initiative, led by the British Plastics Federation (BPF) in the UK, that aims to ensure that plastic pellets, flakes, and powders passing through manufacturing facilities do not end up in seas or rivers. PFF's participation in the programme is yet more evidence of the company's dedication to eco-conscious practices and active awareness of its corporate responsibilities.
"When you work in manufacturing, it's not always about just trying to ensure that a product is using less plastic, but also that there is no leakage of dust, particles, or beads into the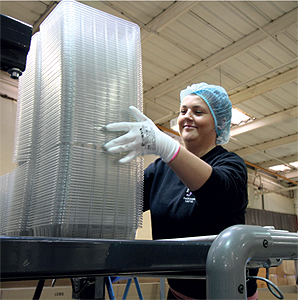 environment," Kenton argues. "One of the biggest pollutants in the sea is microparticles generated from car tyres. They are a bigger pollutant of our seas than plastic packaging from food and nobody notices it because they are almost invisible.
"For us, Operation Clean Sweep recognition was not a difficult standard to attain because our capturing of dust and microparticles was already second to none. It's also good business sense because the less material you lose, the more effective your manufacturing processes are. It's an essential part of ensuring you've got an efficient facility."
Better future
As we approach the halfway point of 2020, PFF remains one of the industry's most active proponents of sustainable packaging solutions and the company continues to engage with consumers, industry professionals, and government organisations in its search for ways to tackle our world's growing environmental challenges. Education, communication, and teamwork will all seemingly play a vital role in helping our society find realistic ways forward.
"At the moment, we are seeing solutions for replacing plastic packaging that are actually more damaging to our planet," Kenton claims. "For example, replacing plastic straws with bamboo from the other side of the world is much worse with regards to carbon emissions than using plastic that is correctly recycled. It's about a sensible, balanced approach and educating people on how to recycle.
"We've done our very best over the last 18 months to engage with local councils to understand what is the capacity for us to get involved with our own local recycling companies, but unfortunately, the council has no real desire to crystallise these opportunities. Unless we are prepared to establish our own recycling company, which is something we have discussed at length, it's almost impossible to get things up and running because local government varies so widely from region to region.
"Standardisation of these processes is absolutely key, and it's got to be down to industry campaigns and government supported campaigns to make sure that recycled material goes through the right streams."
While PFF persists in its quest for a better future, in the more immediate term, the company is preparing to release new products as part of a programme of reinvention. In a move that Kenton hopes will reinvigorate the marketplace, the firm has taken a string of common, 'mundane' products and developed them in way that is more practical, more functional, and more engaging. Working as part of a coalition with its customers and suppliers, PFF aims to deliver solutions that other manufacturers are yet to even think of.
"Rather than chasing the big volume lines over the next few years, we will look towards real innovation, real smart approaches to our commercial packaging and the way we approach our customers in alliance with our machine manufacturers," Kenton asserts. "One of our key company mannerisms, and something that has served us really well when managed and led correctly, is scepticism. We are sceptical of just about everything we do. We refuse to accept the norm and we are constantly challenging ourselves to make things more efficient."
Almost 27 years ago, PFF Packaging began operating from the garage of the company's CEO, Andy Bairstow. Led by Andy, the business has come a long way since then, and Kenton suggests the company's workforce deserves the lion's share of the credit.
"We are hugely grateful for the people that work in our business," he proclaims. "As a leadership team, we guide, we lead, and we strategise, but actually, on a day-to-day basis, it is the people who populate our 12-hour shifts that make the business work and we are extremely thankful for it."
PFF Packaging
Services: Food packaging manufacturer