Treating plastic with respect
PFF Packaging is renowned for its innovative solutions for the plastic food packaging industry, and is determined to continue its tradition of implementing sustainable measures across all of its operations
The UK's plastic industry is going through interesting times. A pointed demand from the public to reduce plastic use has been picking up pace since the beginning of the 21st century, which
has posed certain questions for the companies operating in the sector. PFF Packaging is an industry leader that sticks to its creed to be as proactive as possible in promoting the virtues of recyclability, whilst creating high quality products, which consumers all over the country inevitably need.
Founded nearly 30 years ago, today PFF Packaging is the largest independent thermoforming business in the UK, running its operations from two facilities in the North – one in Keighley, West Yorkshire, and one in Washington in Tyne and Wear. Manufacturing Today Europe contacted the company's new Managing Director, Kenton Robbins, to learn more about PFF Packaging's capabilities.
"We have an enviable reputation in the marketplace for two of our technologies – thermoforming and dry offset printing and decoration, where the quality we reach is second-to-none. We operate about ten thermoforming machines on each site that work in different ways for all the different food products we provide packaging for. We benefit from a wide variety of machines that enable us to supply ranges of close to 50 products for some individual customers, because of this varied ability to create in different widths and depths," Kenton tells us."While we can draw upon a long history of thermoforming, only four years ago we acquired Intelligent Packaging Solutions (IPS), which gave us the ability to decorate products and print directly onto a product in line, and we are now very well-known for this skill. We do this for a lot of products, such as ice-cream containers and an extensive range of porridge, noodles, and soup pots," he points out.
The company is also growing its reputation for developing and releasing innovative and unique products in the market, and this can be attributed to the opening of PFF Packaging's new Innovation Centre in 2016. The new facility in Washington was a result of a £1 million investment, and one of its recent highlights was the launch of a new thermoform plastic bowl for Italian restaurant chain Zizzi. The latter, aiming to target the takeaway market, introduced a new suite of branded takeaway packaging, in an attempt to closely replicate the 'eat in' experience, engage with its customers, and reinforce its brand values.
Kenton explains how the Innovation Centre works: "It is basically a rapid prototyping facility, which adds real value to the relationships with our customers. For example, we had clients of ours with us for a day and a half. Within this time, we did some initial research, created several concepts, had these products drawn up, prototyped into tooling design, and then routed in our prototyping area. By the end of the day, we were able to mock up a number of bowls and trays to actually show the clients some physical objects. It is a fantastic opportunity for them, because they can fast-track themselves from the point of just seeing a concept to holding an actual product. It is a process that would normally take weeks or even months elsewhere.This is how we grow our relationships and partnerships. For us, the most important thing is to understand our customers' needs and they to understand the unique solutions we can offer."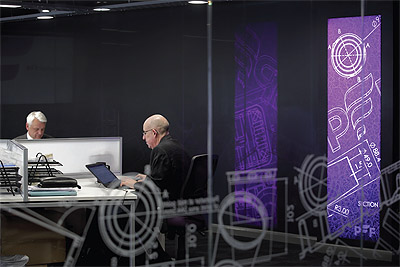 PFF Packaging's culture is based on: 'Innovation, Sustainability, Creativity', and indeed, the company places huge emphasis on integrating as many environmentally-friendly initiatives into the business as possible.This is reflected through the fact that 80 per cent of the plastic it uses to manufacture its products, has been recycled. "We recycle almost all of our plastic materials onsite and we are confident that our understanding of how to control our production cycles is very clear. For example, all the skeletal waste that comes from the thermoforming processes, stays onsite, where we can recycle it. Unfortunately, it is human nature that lets so many products slip into wrong places and end up in a landfill.We have always treated our materials as valuable commodities, and we try to avoid the landfill as much as possible," Kenton remarks.
"The increased awareness of plastic usage in recent years is fantastic for us, because we would like nothing more than to get our consumers to return the used products for recycling. We are hearing encouraging news from the Government that it is planning to introduce a return systems for bottles, which is definitely a good initiative, although according to industry figures, 76 per cent of all bottles are already recycled, so this solution is going to address only 24 per cent. Nevertheless, it is a step in the right direction," he adds.
For Kenton, the industry needs to help the Government take the right decisions and at the same time educate the public on PFF Packaging the ever-present value of plastic:"At the moment, it is quite hard to get your voice heard in the marketplace, when you are predominantly a plastic manufacturer.Three or four years ago, the packaging industry stressed the importance of reducing waste and a lot of the solutions we see on the shelves today are the result of making sure that we do not throw away products.
"However, it is incredible how people focus on plastic as a problem and almost demonise us as an industry, when the reality is, it is an essential part of human life.They might be critical of use of plastic coffee cups, but they do not necessarily realise how much more plastic is being used in the cars that we all drive around, for example. It is key for them to realise that the true measure of whether something is environmentally-friendly, is not whether we throw it in the ocean or not, but the impact it has on the environment via the energy that is used to create and reuse it, because it takes much more energy to recycle glass or metal, than it takes to recycle plastic.
"The problem is that this change in perception is fuelled by the media, rather than by robust facts. From my point of view, the more we focus on facts, the better our chance to educate consumers and help them understand that it can be a fantastic solution, if it is applied in the right way, but becomes a problem when treated with disrespect," adds Kenton
PFF Packaging
Services: Extrusion, thermoforming, injection moulding,dry offset printing, desto packaging, andlabelling for the food industry