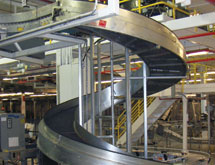 When companies that use or manufacture automated manufacturing equipment need actuators, grippers or other components of their systems, they know they can obtain what they need quickly and reliably from PHD Inc. "We sell to both people doing their own design and build but also system integrators," Manufacturing Manager William Givens declares. The company also supplies several robotics and automated equipment manufacturers, the distributorship of one – Yamaha Robotics North America – PHD is the single supplier for North America.
With a 250,000-square-foot plant in Fort Wayne, Ind., and a 350,000-square-foot plant in Huntington, Ind., PHD Inc. meets the needs of its customers in the automotive, medical, aerospace and plastic bottle equipment industries. "The biggest advantage is our quality and quality in design," Givens emphasizes. "We're very good at custom applications with a reasonable rate of return."
Privately owned PHD Inc. can supply components to customers in a day. "If we have the raw material in stock and the tooling, once we get it in our system, we can reproduce that in a day because of the quick-change tooling and the investment we made in equipment," Givens maintains.
A manufacturer of industrial automation actuators, PHD can help companies in all industries optimize their manufacturing processes. If a customer needs to push, pull, lift, rotate, turn, grip, reach, clamp, hold, position, escape, insert, load, unload, pick, place or orient parts or materials in its manufacturing processes, PHD can supply a product to do that.
These include a full line of cylinders, escapements, grippers, linear slides, rotary actuators, clamps, multimotion actuators, switches and sensors. Givens estimates that approximately three-fourths of the components PHD manufactures were designed by its engineering department to meet a need its distributor perceived.
Massive Manufacturing
PHD sells more than 300 products worldwide in approximately 2.5 million potential combinations that it manufactures on its battery of 30 horizontal machining centers, 20 CNC lathes and two multipallet CNC machines, one of which has 34 pallets.
Operators can run two or three machining centers simultaneously and perform finishing operations and package a product that is destined to be plated or heat-treated by a sublet company or put into stock. Most of the sublet companies are within 50 miles of the manufacturing plant and all are within 200 miles.
"This eliminates a lot of handling and a lot of steps in the process," Givens points out. "We also use employees to multitask not only as machine operators but to do assembly work to the point where they do sworn documentation for export shipment. We've also tied some of these work cells together where there will be an assembly function along with a machining function being performed by employees."
PHD has improved manufacturing by using a probe to reduce setup time of the CNC machines. "We probe our fixtures before loading a part, and that let's us get the first part good," Givens explains. "Normally when you load a part into the fixture the first time, you have to qualify the location of that fixture. The probe will do that qualification and send the information to the machine, so it actually makes the adjustment before you machine the first part."
The company also has a presetter system. "That qualifies our tool presets so the machine knows the actual length and diameter of the tool within eight decimal places," Givens says. The presetter feeds into a CAM system.
"Tying those two systems together has been a big improvement for us," he says. It has eliminated the need to reenter the same part data from the presetter into the CAM system. "It allows the machine programmers to go in and access the tooling from our presetter system," Givens explains.
Clamp Down
PHD has three divisions, the first of which is called group one and manufactures actuators and the company's primary product line. The second is the clamp division, which manufactures unique transfer clamps for holding and moving sheet metal in position when it is stamped for parts.
The third division is Plastic Packaging and Components, which manufactures components and tooling to manufacture and fill plastic bottles. The company also manufactures electrically driven cylinders that are designed to provide more flexibility and control than pneumatic cylinders.
PHD has not had problems of supply or price spikes for the steel or seals it obtains from other companies, but it has had shortages of magnetic products. "We do use a lot of magnets for coupling of parts or sensing," Givens reveals. "We've had to work with companies to engineer and develop the magnetic products, because the rare earth magnets we've used in the past have been hard to obtain."
For the future, Givens sees further expansion of bottle blowing into transfer arms and stretch rod cylinders. He also thinks the clamps will expand into pinpoint applications, dual pins and pin clamps. For grippers, he thinks they will further expand the electronics line and supply automation for medical device manufacturing and packaging.
Givens says PHD remains focused on its primary products and the synergies among its divisions rather than providing plating or heat-treating. "We decided to let the experts in that arena handle that for us," Givens concedes. "But when it comes to the design of pneumatic products and industrial products that can solve problems, we stayed true to our base product line."