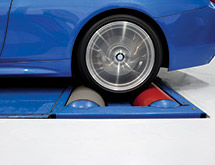 Phoenix Dynamometer Systems LLC
Sometimes, a company leads its particular industry because it has a long legacy of products and technology that reaches back decades. In some cases, however, a company's willingness to go back to the drawing board and start over completely from scratch is what gives it the edge over its competitors.
That's the story of Phoenix Dynamometer Systems LLC, a Wisconsin-based design-build manufacturer of dynamometer systems used in chassis and engine applications for a variety of vehicles. As Vice President Drake Miller II explains, being able to look at its customers' needs through a completely fresh set of eyes has been the key to the company's success.
Miller and the other principals spent years working for a competing dynamometer manufacturer before a round of major changes made it clear that the company would no longer be in a good position for the future. It was shortly after that in 2008 that Miller and several of his co-workers left to found Phoenix Dynamometer.
Today, Phoenix Dynamometer has grown quickly to become a global company, servicing customers around the world. Miller says everywhere the company does business, it faces some of the strongest competition around in the form of much larger manufacturers. Most of the company's larger competitors have been in the business for decades, and have more resources at their disposal. "We're typically up against a very mature competitor," Miller says.
Nevertheless, Phoenix Dynamometer's youth has been a major advantage for the company, Miller says. Even though it doesn't have the resources its larger competitors do, Phoenix Dynamometer is catching up to them quickly, based on the unbeatable offer of increased system performance at an affordable cost.
New Legacy
Miller says the principals at Phoenix Dynamometer made the decision early on to throw out all of the legacy designs they had been working with for years and design a new set of dynamometer products. "What sets us apart from our competitors that have 50, 60, 70 years of experience is that when we started Phoenix, we started with a brand-new slate," Miller says. "We started from scratch on everything, and our products are thus much more modern than any other products on the market."
Because Phoenix Dynamometer isn't tied to legacy products, its products are as technologically advanced as possible, with more efficient mechanical components as well as the latest software. Miller says the company's competition is limited by its legacy products because technological advancements have to be reverse-engineered to accommodate the older technology. "Legacy is one of the things that keeps the competition from moving forward because they have to service the large amount of products that are already out there," Miller says. "We're not bound by that because all of our solutions are designed for today and tomorrow, not for anything in the past."
Small and Flexible
Miller says the company's relatively small size compared to its competitors is another advantage Phoenix Dynamometer brings to the table. He says this means the company's employees all wear many hats and put in long hours, but it also means that the company can provide customers with more efficient and personable service. "We're very in tune with our customers, they know that if they need anything they can call us on Sundays," Miller says. "For us, every single customer we run into is a customer who is important to us."
Many of these customers have become so used to the type of legacy products offered by Phoenix's competitors that they are skeptical of the company's products at first. However, Miller adds, once customers have an opportunity to see Phoenix Dynamometer's products in action and understand the advanced technology at play, the majority choose to go with Phoenix.
Phoenix Dynamometer's design-build expertise, flexibility and personalized service mean there is practically no system that the company can't cost-effectively design and manufacture for its customers. Miller says the company never turns down a customer's request and is dedicated to helping them by delivering true system solutions that have the highest ROI in the industry.
Expansion Focused
Miller says Phoenix Dynamometer's focus over the next few years will be on expanding its capabilities to better serve its expanding customer base. He sees the company adding more people and engineering and manufacturing resources soon, including a move into a larger space.
No matter what the future holds for Phoenix Dynamometer or how much it grows, Miller says the company wants to retain the small-business culture it has developed over the last few years. The company's ability to work closely with its customers is appreciated, and has contributed to the extremely high customer satisfaction rate that Phoenix Dynamometer enjoys today.
"Every single one of those customers would give us a letter of recommendation," Miller says.