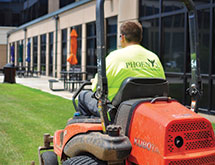 For Phoenix Manufacturing, there's more to business than just profitability or market dominance. "In our society, business has become cut-throat," Vice President of Development and Manufacturing Wes Tyler says. "We are in the business of building relationships and partnerships, not taking business from another company. We believe in putting people to work and strengthening our business as well as the business of our customers."
Providing jobs for people with all disabilities is the main mission for the Huntsville, Ala.-based nonprofit organization, incorporated in 1973 as the Huntsville Rehabilitation Foundation. "Without question, the thing that we are most proud of is our focus on employment opportunities for the people we serve. That is what will always come first here," Tyler says, noting that 84 percent of the company's workforce is made up of people with disabilities. "When a new job opportunity presents itself, the first thing we do is determine how it can be accomplished by a person with a disability."
The majority of Phoenix's employees are referred by the Alabama Department of Rehabilitation Services. The company pays roughly $21 million annually in wages to employees working in one of  three business areas: manufacturing, janitorial services and grounds maintenance. The company cleans 8 million square feet a day and maintains a total of 4,500 acres of grounds at Redstone Arsenal, a U.S. Army post in Huntsville, Tyler notes.
The U.S. Military is one of Phoenix's largest customers  for manufacturing, which includes commercial sewing and custom embroidery services. The company's three largest product lines are U.S. interment flags presented during funeral services for U. S. Veterans; single-point release parachute harnesses, of which the company is the sole supplier nationwide; and air cargo delivery nets.
Phoenix also produces more than 160 different national stock numbers for both government and commercial customers such as seat cushions and tote bags. "We take an aggressive approach to business opportunities and typically don't say 'no' to a job, and that has enabled us to grow and diversify our business lines into new markets," Tyler says. "We're like any other company from a profit/loss standpoint – if we don't generate revenue, we will go out of business."
Several of the company's commercial customers look to Phoenix to help bring back jobs that they previously outsourced overseas. "One of these companies – tote bag manufacturer Haul Couture of Huntsville – previously outsourced its sewing out to a factory in Guatemala," he adds.
Phoenix Manufacturing recently added to its capabilities. The company's manufacturing facility will soon serve as a drop-off point for electronic recycling. The company will dismantle and ship to Tier 3 recyclers, who then will complete the process. Phoenix also recently partnered with document management firm Doma Technologies to provide document conversion and electronic storage services.
Electronic waste recycling services are provided in conjunction with CyclePoint, a national network established by SourceAmerica, a national nonprofit organization. SourceAmerica is one of two nonprofit agencies established to carry out the federal AbilityOne program, which provides jobs to more than 50,000 people with significant disabilities nationwide. The program was established after the 1973 passage of the Javits Wagner O'Day Act, which enables the federal government to dedicate some of its purchasing power to organizations that employ people with disabilities. SourceAmerica helps Phoenix and other like-minded organizations secure government contracts, Tyler adds.
Quality Operations
All of Phoenix's business offerings have one thing in common. "Our biggest strength is our superior quality," Tyler says. "Whether it's in janitorial services, ground maintenance or our sewing plant, our quality is as good as anyone else in the country."
Products are inspected during production as well as when they are completed. The company also tracks daily productivity for each of its manufacturing operations. "We try to continually improve our efficiency on a daily, weekly, monthly and yearly basis," he adds. "We are very hands-on in our operations."
Phoenix alone produces more than 85,000 interment flags annually. The sewing plant includes automatic single or double-needle sewing machines as well as programmable machines capable of heavy or light-duty sewing. Employees are placed on manufacturing lines based on their skill levels, and machines can be modified if necessary. "Through job carving we will find a way for the majority of our employees to excel within our workforce," Tyler says, noting that employees are also cross-trained to fill in for others in the event of an absence.
Phoenix employees take pride in their final products. "We exceed our customers' expectations," he adds. "If you were to ask the folks in our plant, that would be the thing that they are most proud of."