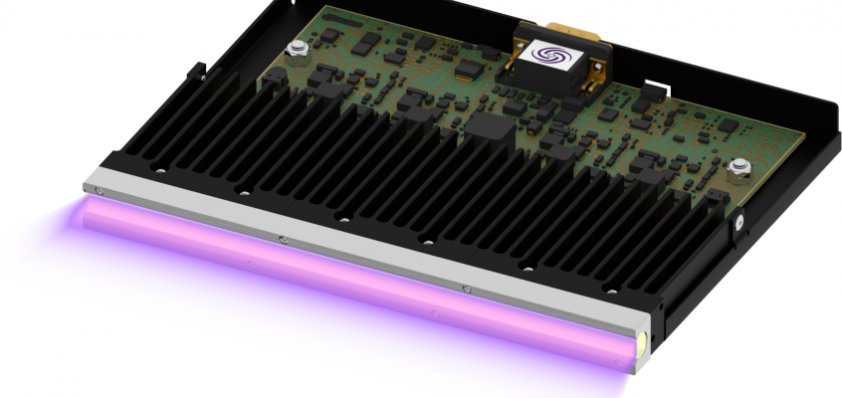 Its technology can be applied to products that people use every day. But the naked eye won't see it. It's used in the process of bonding electronics together – such as smartphones and tablets.
Some wine bottles, yogurt cups and applesauce flexi pouches have it applied to their labels. Furniture companies can use it to cure wood. Medical laboratories can implement it to decontaminate equipment between uses and food manufacturers can disinfect a conveyor belt with it after food has passed through.
"We have many different types of solutions," says Marine Faucher, global marketing manager at Phoseon Technology. "And we discover new applications every day."
Phoseon is a privately-owned electronic manufacturing company based in Hillsboro, Ore. Founded in 2002, the company makes products and solutions that use ultraviolet light produced by light emitting diodes (LEDs) that are used for curing products in industrial settings – specifically for curing adhesives, coatings and ink.
Since last year, the company has been expanding its life sciences division that includes applications such as chromatography, decontamination and disinfection. "It's a fast-growing part of the business for us," Faucher points out.
Patented Technology
Phoseon calls its technology Semiconductor Light MatrixTM (SLM), which does not use mercury and is a solid-state electronic technology. Its solutions feature an LED lamp, control system and power unit.
"The magic of those lamps is that they are electronically controlled," Faucher says. "That's what makes us unique. We are also the only company that has 290 granted or pending patents for that technology. There are others on the market but they are the old generation of UV curing solutions. Their technology is different."
Phoseon's patented SLM technology encapsulates LEDs, arrays, optics and cooling to maximize UV LED performance. These components are engineered into a system that enables significant process improvements for a wide array of applications in life sciences and industrial manufacturing.
Phoseon's solutions do not generate ozone and its lamps can last for more than 70,000 hours – compared to a few thousand hours offered by some of its competitors.
"Our concept is much simpler to implement and much more efficient than our competitors because it uses less energy," Faucher says. "And since we don't use mercury, our LED lamps simply switch on/off instantly."
For example, conventional optical detection systems for chromatography and spectroscopy are bulky and slow to start, due to the arc lamps used as light sources. Phoseon's LED-based UV detectors for high performance liquid chromatography are small in size and allow for immediate operation.
"A mercury system needs time to warm up in order to be efficient," Faucher adds. "That could take 20 to 40 minutes. So, our system saves time and money because it doesn't use as much energy."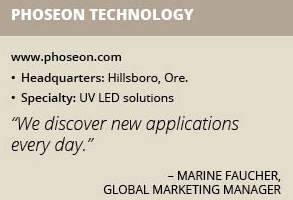 In February, Phoseon announced that utilizing its patented SLM technology and proprietary thermal management system achieves a breakthrough level of deep-UV irradiance targeted at disinfection and decontamination for life science applications.
It is the first company to develop a UVC LED disinfection system that surpasses 5 W/cm, which is significantly higher than the 0.3 W/cm levels reached by other technologies in the market. It enables the company to produce a level of irradiance that provides scientists, researchers and equipment manufacturers with the capability to think and act beyond traditional methodologies. For the past 30 years, low irradiance has limited the efficacy of UV-C solutions.
Phoseon is providing a new path based on high power that allows its customers to build high-performance, long-lasting products that reduce research times, lower operating costs and provide improved disinfection capabilities.
A New Solution
Since UV LED arrays are typically cooled with either air or liquid, they emit higher output power. The ability to control and remove heat has become more crucial to building reliable systems.
In September, Phoseon introduced its first natural convection UV LED light source for industrial curing. Called FireEdge FE100, the revolutionary curing lamp is designed for digital inkjet pinning, has no internal fan and is cooled passively through natural convection. A secondary application for FireEdge FE100 is edge curing during the manufacture of flat panel displays.
"Air cooled solutions are becoming very trendy in the printing industry," Faucher explains. "It's becoming more popular because it's quicker, simpler and delivers the same result as water cooled."
With its instant on/off and full intensity control, the FE100 enables precise finish control for digital inkjet pinning and its slim form factor makes it ideal for flat panel display edge curing.
Using only ambient air for cooling, it eliminates the need for any external forced-air cooling system or chiller to remove heat from the UV light source.
The FE100 joins the family of Phoseon FireEdge compact air-cooled UV LED light sources that minimize the distance required between inkjet heads and offer a simple and quick programmable logic controller (PLC) interface with high reliability and long life.
A Pioneer
Known as a pioneer in UV LED solutions, Phoseon's focus on customer collaboration has resulted in a world-wide market leadership position.
For its growing life sciences market, Phoseon's solutions provide precisely controlled, long-lasting and stable light for biological inactivation, molecular detection and advanced imaging.
In the food market, UV LED technology offers significant process improvements and new capabilities in many food and beverage processing applications. These include the disinfection of a conveyor belt using UV LED technology to inactivate pathogens after the food has passed through the conveyor.
Its disinfection solutions can be applied to pharmaceutical, medical, food, beverage and cosmetic industries.
Phoseon operates in markets all over the world between the Americas, Europe, the Middle East and Asia. It is ISO 9001 certified with a global sales and support network.